Looking for things to do in Hong Kong with kids this summer? You've landed in the right place! There are family activities, new places to visit, indoor activities and more. Plus, there are loads of cheap or free things to do in Hong Kong with kids. You're welcome!
We all have days when we just can't think of any things to do in Hong Kong with kids. Never fear! The city is absolutely teeming with kids' activities and adventure outings, which is why we've rounded up a whopping 98 amazing, memory-making family activities and things to do in Hong Kong with kids. Being the incredible parents that you are, there's no doubt you've already ticked off a few — but we're sure there are some kids' activities on our list (in no particular order) that you haven't done yet!
Jump To:
Free Things To Do In Hong Kong
Places To Visit In Hong Kong
Indoor Activities In Hong Kong
Outdoor Activities In Hong Kong
Even More Things To Do In Hong Kong With Kids
Read More: Kids' Activities — Things To Do In Hong Kong This Month
---
Free Things To Do In Hong Kong With Kids
1. Take A Harbourfront Stroll
An easy stroll is always one of our favourite free things to do in Hong Kong with kids. Walk all the way from the playground at the promenade in Shek Tong Shui to Wan Chai North (5.5km!) taking in Sun Yat-Sen Memorial Park and the Central Ferry along the way.
---
2. Hong Kong Park
With its central location, six-level outdoor kids' play area, fascinating Museum of Teaware and conservation corner (with rare dragonflies and wild squirrels), Hong Kong Park is one of those places to visit in Hong Kong for a quick stroll or a full day out with the kids. The park has a fascinating aviary with free guided bird-watching walks every Wednesday morning.
Read More: Sassy Mama's Neighbourhood Guide To Sai Ying Pun
---
5. Explore Hong Kong's Street Art Scene
Checking out the street art from the latest HK Walls installations is one of our favourite things to do in Hong Kong with kids. With murals adorning Sai Kung, Wan Chai and Sai Ying Pun you don't have to look too far for a dose of culture!
---
4. View Ancient Rock Carvings
Inspire your budding culture vultures and go exploring for pre-historic rock carvings in various locations around Hong Kong. Usually showing geometric patterns, you can find these wonders at Big Wave Bay, Po Toi Island and Cheung Chau (amongst other locations!).
---
3. Visit the 10,000 Buddhas Monastery, Sha Tin
Feel the burn as you climb over 400 steps to the 10,000 Buddhas Monastery. Along the way, you'll pass thousands of gold statues, each with unique expressions ranging from, calm and serene, angry, charming, happy, or yes…even Sassy!
---
6. Hong Kong History Museum
The History Museum's permanent exhibition, "Hong Kong Story" is a must-see. Hong Kong's history and development have been researched, collected and preserved in eight different galleries.
Read More: Hong Kong's Street Art Scene — What To See And Where To Go
---
7. Pack A Picnic
Take the kids to eat alfresco at one of Hong Kong's fabulous picnic spots. Stick close to the harbour and catch the skyline views at favourites like Tamar Park or West Kowloon, or venture a little further afield to the country parks and outlying islands.
---
8. Hit The Beach
Hit the beach! With 262 islands there sure are a lot of coastal stretches to explore! Don't forget swimwear for the kids and for you. Oh! And your sunglasses and sunscreen.
Read More: Best Beaches In Hong Kong To Visit With Your Family
---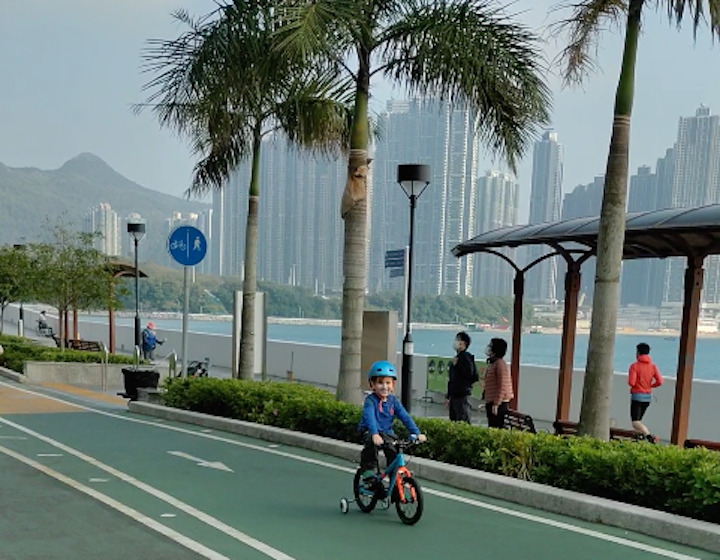 9. Take The Kids For A Bike Ride
Is there anything better than some fresh air and exercise? Get out exploring Hong Kong by bike! There are some great cycling trails including the New Territories Cycling Network, mountain biking trails in the country parks and even city parks where kids can learn to ride.
---
10. Visit The Mong Kok Flower Market
When you're wondering what to do in Hong Kong when the kids have gotten you up a little earlier than anticipated, get out the door and wander around the Flower Market! It's especially lovely during the Lunar New Year and Mid-Autumn Festival.
Read More: Cycling With Kids — Where To Ride Your Bike In Hong Kong
---
11. Fly A Kite
Who would have thought that there are designated areas specifically for you to fly your kite in Hong Kong? Our pick is the grassy hilltop at Tai Hang Tun Kite Flying Area in Clearwater Bay Country Park, but you can also head to the waterfront promenade in Sai Kung most weekend afternoons and see the experts in action.
---
12. Watch Some Local Tai Chi
Start the day with some morning tai chi. This gentle exercise certainly is a popular thing to do in Hong Kong for the locals. Wander the many parks and you're sure to find a crowd. Popular spots include the Tsim Sha Tsui waterfront, Victoria Park and Sun Yat-Sen Park.
Read More: Sun Yat Sen Memorial Park — Family-Friendly Facilities
---
13. Nan Lian Gardens and Chi Lin Nunnery
Give your kids a dose of culture and history by heading out to the Chi Lin Nunnery and Nan Lian Gardens in Diamond Hill.
---
14. Toy Library At Hong Kong Central Library, Causeway Bay
Plan ahead and book a session at one of the four play corners at the Toy Library at the Hong Kong Central Library.
Read More: Taking Your Kids To The Library — How, Why And When To Start
---
15. Watch The Sunset at Ha Pak Nai
We all know that Hong Kong can turn on some pretty epic sunsets! Catch it in all its glory from the 6km stretch of coastline that runs adjacent to Deep Bay Road at Ha Pak Nai. You'll see the sky turn its vibrant pinks and oranges against the backdrop of the mangrove forests, mudflats (making some great reflections) and Pearl River Delta.
---
16. Spot Monkeys At Kam Shan Country Park
Kam Shan Country Park has well-earned its nickname "Monkey Mountain"! Home to more than 2,000 wild macaques, chances are high that you'll encounter these cheeky animals. Just be sure to have all food and personal items safely stowed away.
Read More: Picnics In Hong Kong — The Best Picnic Spots For The Family
---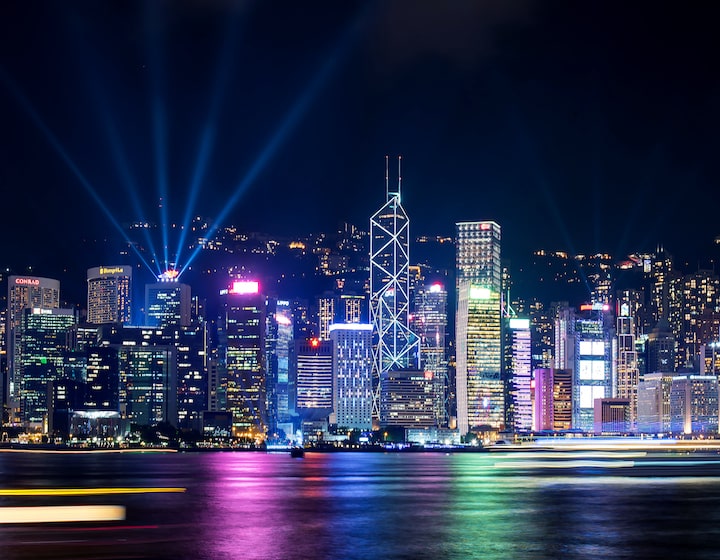 17. Watch The Symphony Of Lights
Something magical happens every night at 8pm in Hong Kong. It doesn't matter how long we've lived here, we'll still pause to see the glittering light show. It's no wonder that this is one of the most popular things to do in Hong Kong.
---
18. Victoria Park, Causeway Bay
This is the biggest park on Hong Kong Island and it's easily accessible by public transport! It has football pitches, basketball courts, a swimming complex and tennis courts as well as plenty of space to wear the kids out! The model-boat lake is nestled between five children's outdoor playground areas making it an easy pick of things to do in Hong Kong.
Read More:  The Best Museums In Hong Kong To Visit With Kids
---
19. Tuen Mun Park
This park is worth the trip to the New Territories! The inclusive play facilities for children of different ages and abilities make it a wonderful place to visit in Hong Kong. It also has a reptile house for budding herpetologists, a model boat pool, a conservation corner and more.
---
20. Ride The Mid-Levels Escalator
Ok, so this might already be part of your day-to-day commute, but the kids will still get a kick from riding all the way from the bottom to the top. Stop off along the way for a bite to eat in Soho, and go for a stroll through Tai Kwun before making your way to the leafy surrounds of Conduit Road.
Read More: Chi Lin Nunnery And Kowloon Walled City Park: A Family-Friendly Day Out
---
Places To Visit In Hong Kong With Kids
21. West Kowloon
The more time we spend at West Kowloon the more we love it! From museum hopping, riding the free bikes or simply soaking up the cheerful atmosphere by the harbour, this has quickly become one of our favourite places to visit in Hong Kong with kids.
Read More: Sassy Mama's Guide To West Kowloon Cultural District
---
22. The Ping Shan Heritage Trail
With the Tang Clan's history dating back over 1,000 years, take a moment to slow down and appreciate the long, proud history of the local residents in this Yuen Long village. Follow the historical hiking trail to get a glimpse into Hong Kong's early rural culture. Featuring 10 conserved sites, the Ping Shan Heritage Trail begins at the 600-year-old Tsui Sing Lau Pagoda – Hong Kong's only surviving pagoda and a declared monument.
---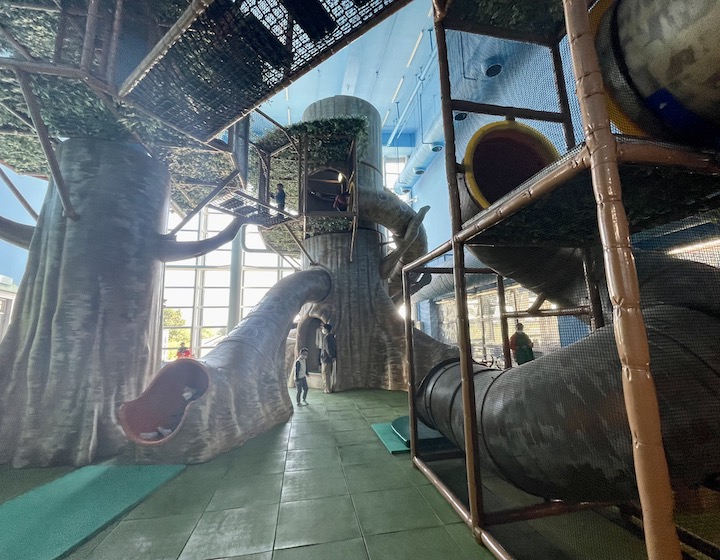 23. Hong Kong Wetland Park
Hong Kong's very own world-class ecotourism park, Hong Kong Wetland Park is home to an impressive cast of birds, butterflies, reptiles, mammals and fish! The outdoor reserve recreates the wetland habitat, with a butterfly garden, a boardwalk and three bird hides to discover. There's also a Wetland Interactive World, with themed exhibition galleries, a theatre, a resource centre and a "Swamp Adventure" playroom.
Read More: Hong Kong Wetland Park — An Eco Day Trip To Hong Kong's Wetlands
---
24. Peng Chau
This horseshoe-shaped isle, which was home to factories for everything from lime and matches to porcelain and rattan furniture, was once the only industrial island in Hong Kong. Peng Chau island is now a sleepy settlement marked by the absence of motorised vehicles and high rises making it a unique place to visit in Hong Kong.
Read More: Things To Do On Peng Chau With Kids
---
25. Wander The Sunflower Fields In San Tin
During the summer the vibrant sunflowers are in full bloom making a great photo op for you and the kids.
---
26. Tsim Sha Tsui
Tsim Sha Tsui is arguably the most popular tourist and shopping destination in Hong Kong. There's no need to wait for the next round of visitors to head over to experience the restaurants, shopping malls and sweeping Victoria Harbour views.
Read More: Things To Do In Tsim Sha Tsui With Kids
---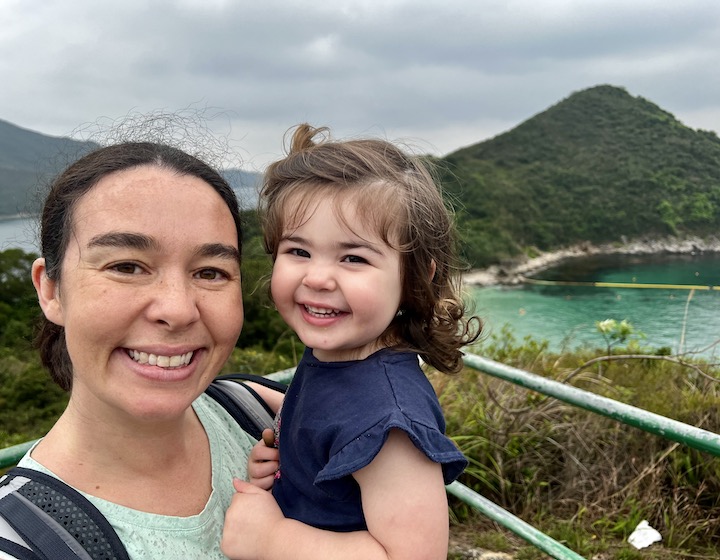 27. Hong Kong UNESCO Global Geopark
Sai Kung is your jumping-off point to explore Hong Kong's northeastern islands and coastline that make up the UNESCO Global Geopark. You can start off with a visit to the Volcano Discovery Centre before hopping on a sampan to cruise around High Island, Sharp Island and the Ninepin Island Group.
Read More: Visit The UNESCO Geopark In Hong Kong With Kids
---
28. Fung Yuen Butterfly Reserve
There's something quite magical about seeing butterflies flit and flutter around you as you and the kids stroll on by. Fung Yuen Butterfly Reserve is home to more than 200 species of butterflies making it a great activity to do in Hong Kong for nature lovers.
Read more: Wild Animals In Hong Kong: Where To See Wildlife In And Around The City
---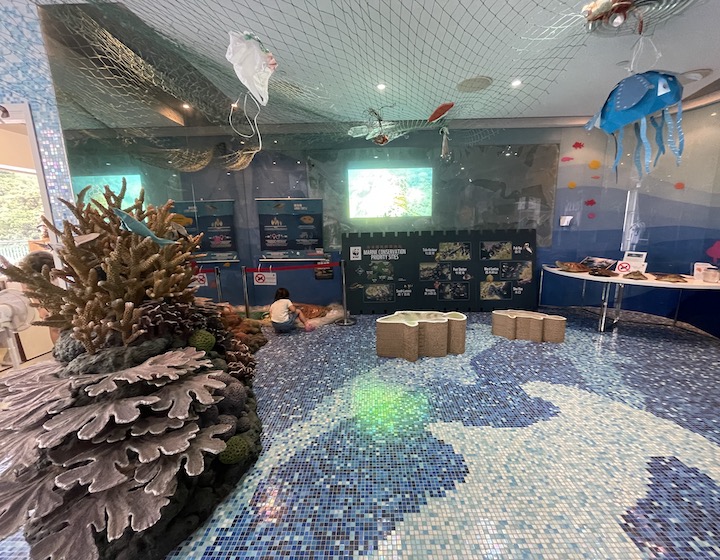 29. Hoi Ha Wan Marine Park, Sai Kung
If you haven't ventured out to this remote corner of Sai Kung Country Park put it on the list! Hoi Ha Wan is a quiet sheltered cove, perfect for kayaking and is also home to most of Hong Kong's coral species. It might not be as colourful as the Great Barrier Reef, but it is doable on a day trip! Be sure to stop by the newly opened visitor centre to let the kids try out the VR goggles and book ahead for a workshop at the WWF Marine Park Centre which includes a glass-bottom boat ride and guided mangrove walk.
Read More: Hoi Ha Wan Marine Park With Kids: Snorkel, Kayak, Hikes And More
---
30. Ride Your Bike At Po Kong Village Park
Get the daredevils their free-wheeling fix because there are lots of cycling options on offer at Po Kong Village Park. Top of the list is the 1 km-long raised cycling track! There is also a beginner's cycling area and a purpose-built BMX course.
---
31. Tai Lam Reservoir/ Thousand Island Lake
Want that picture-perfect snap for Instagram? Well, the shot of you and the kids at Thousand Island Lake will have your followers questioning whether you're still in Hong Kong! It will take you about an hour to hike up Maclehose Section 10, but at the top, you'll be rewarded with some of the best views in Hong Kong.
---
32. A Discovery Bay Day Trip
You'll enjoy the backdrop of the sea, beach, and mountains offering picture-perfect views, no matter where you choose to lay your hat in Discovery Bay. From sailing and kayaking to handmade markets and beachside adventures, there is something for every member of the family.
Read More: Things To Do In Discovery Bay With Kids
---
33. Hong Kong Disneyland
Taking the kids to the happiest place in Hong Kong — Hong Kong Disneyland is the perfect escape from hectic city life. Ride the teacups, see the Lion King or Moana shows and meet your favourite characters up close!
Read More: Hong Kong Disneyland — Tickets, Rides, Food, Opening Hours And Tips You Need To Know
---
34. Hong Kong Science Museum
The Hong Kong Science Museum is one of the best museums in Hong Kong for kids and families. It's all about spreading information on science, technology and astronomy with its stimulating exhibitions. The 3/F Exhibition Hall houses the Children's Gallery which includes the Big Kids' Worksite, Time Tower and Hidden Animals exhibits.
---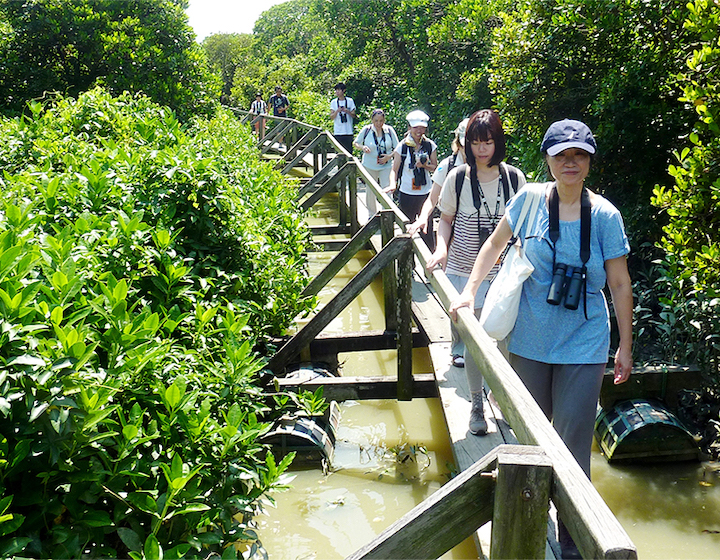 35. Mai Po Nature Reserve
A paradise for birds, irreplaceable wetland habitat and beautiful boardwalks make Mai Po Nature Reserve a must-visit stop in Yuen Long.
---
36. Po Toi Island
Catch the ferry from Stanley to make your way over to Hong Kong's southernmost island, Po Toi. Spend your day eating some of the freshest seafood you'll find anywhere in the city and don't forget to try the local delicacy, seaweed! There are hiking trails and prehistoric rock carvings and you can even camp out for the night to make it a real family adventure.
---
37. Inspiration Lake
Pack a picnic and head on over to the picturesque Inspiration Lake, right by Disneyland. There's an easy-level cycling path around the lake, paddle boats for hire and a great kids' playground to top it off!
Read More: Hong Kong Disneyland – Tickets, Rides, Food, Opening Hours And Tips You Need To Know
---
38. South Lantau — Cheung Sha Beach
Get ready for a full day of adventure on Hong Kong's longest beach. The water sports, bouldering and camping out under the stars make this a great place to visit in Hong Kong. Take to the waves any way you please, with a refreshing swim or by hiring a kayak, SUP, windsurfer or surfboard, or book in for some kitesurfing lessons. 
---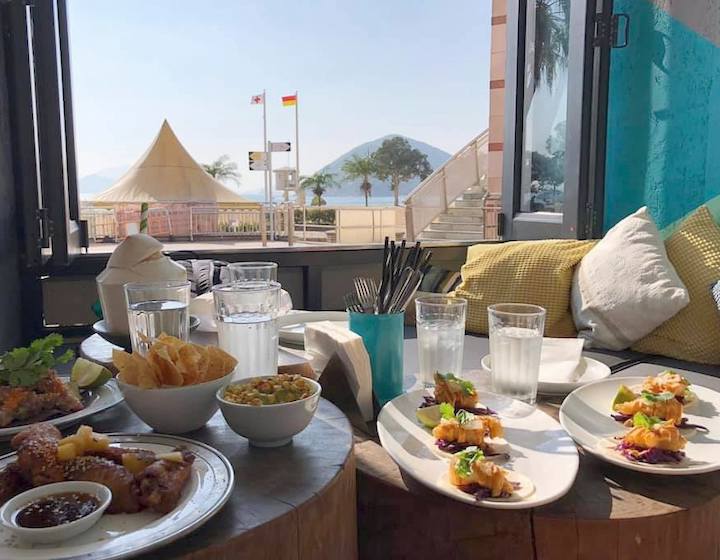 39. Repulse Bay
With plenty of things to do in Hong Kong, Repulse Bay still often comes to the top of our list. Visit the Tin Hau temple, play on the sand, splash in the waves and eat in some great seaside restaurants at The Pulse.
---
40. Tseung Kwan O
It's all about the laidback lifestyle in this neighbourhood. If Central is a microcosm of New York, Tseung Kwan O (TKO to the locals) would probably be your casual Californian suburb. From public sports facilities to jogging lanes and waterfront cycling tracks, Tseung Kwan O is a family-friendly hood that promotes a healthy lifestyle.
Read More: Things To Do In Tseung Kwan O With Kids
---
Indoor Activities — Things to do in Hong Kong when it's too rainy or hot outside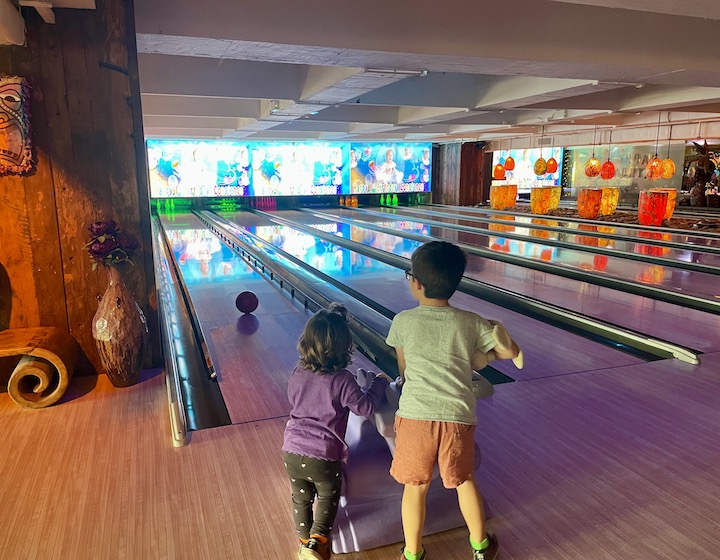 41. Introduce Your Kids To 10 Pin Bowling
A couple of rounds of ten-pin bowling is a fail-safe rainy-day kids' activity. Head to Tikitiki Bowling Bar in Sai Kung, Thunderbowl in Whampoa or the South China Athletics Association Bowling Centre in Causeway Bay.
---
42. Ryze Trampoline Park
Jump and bounce to your heart's content at Ryze trampoline park. One of the many cool indoor playrooms in Hong Kong.
Read More: Best Indoor Activities For Kids
---
43. Treat The Family To Brunch
There's a reason brunch is one of the most popular things to do in Hong Kong! While the days of boozy free-flow brunches may not be as frequent as they were pre-kids (and COVID), it doesn't mean we don't know how to indulge.
Read More:  Hong Kong Brunch — Where To Take The Kids For A Free-Flow Buffet
---
44. Hong Kong Space Museum
This recognisable domed structure houses the Museum of Astronomy, the "Hall of the Cosmos" and the "Hall of Space Exhibition" where kids can learn about the evolution of the universe, space exploration and the solar system. All the exhibitions are highly interactive and make for a great place to visit in Hong Kong.
---
45. Chill Out At The Ice Rink
Test your skills on the skates as you take the kids to the best ice rinks in Hong Kong!
Read More: Ice Skating In Hong Kong: Ice Hockey And Skating Rinks
---
46. Watch A Movie At Cinema
It might seem like an obvious choice, but catching the latest film on the big screen is one of the easiest things to do in Hong Kong when you'd prefer to stay indoors.
Read More: Disney+ Hong Kong – Family-Friendly Movies And TV Shows
---
47. The Mills, Tsuen Wan — Home to The Big Things playroom
Apart from being home to a great indoor playroom (The Big Things) and an escape room, The Mills, this landmark urban revitalisation project is home to boutique shops and is a hub of creativity and innovation.
---
48. Chinese Opera At Xiqu Centre
Xiqu Centre is the home of the Chinese Opera in Hong Kong. While you're there, experience the magic of the art of Xiqu for yourself and take in performances during the Chinese Opera Festival.
---
49. Go Karting In Hong Kong
Hit the track! The go-kart track that is! Best suited to older kids or teens, the 18 Challenge Go Karting track in Ho Man Tin makes for an adrenaline-filled day out with the kids.
Read More: Where Your Teenagers Can Hang Out In Hong Kong
---
50. Children's Discovery Museum
As the name suggests, the Children's Discovery Museum is entirely devoted to inspiring inquisitive young minds. Your little ones are encouraged to be hands-on (no "do not touch" signs here!) and will be having so much fun they'll hardly realise they're learning about maths, STEM, language and literacy.
---
51. Take The Kids To Afternoon Tea
Nibble finger sandwiches for high tea at the Peninsula Hotel or the Mandarin Oriental. Pinkies up!
Read More: Afternoon Tea In Hong Kong: Your Ultimate Guide
---
52. Hong Kong Museum Of Art
Hong Kong Museum of Art occupies a prime position on the Tsim Sha Tsui waterfront. There are galleries galore including the "Ordinary to Extraordinary" and a fantastic collection of Chinese paintings and calligraphy.
---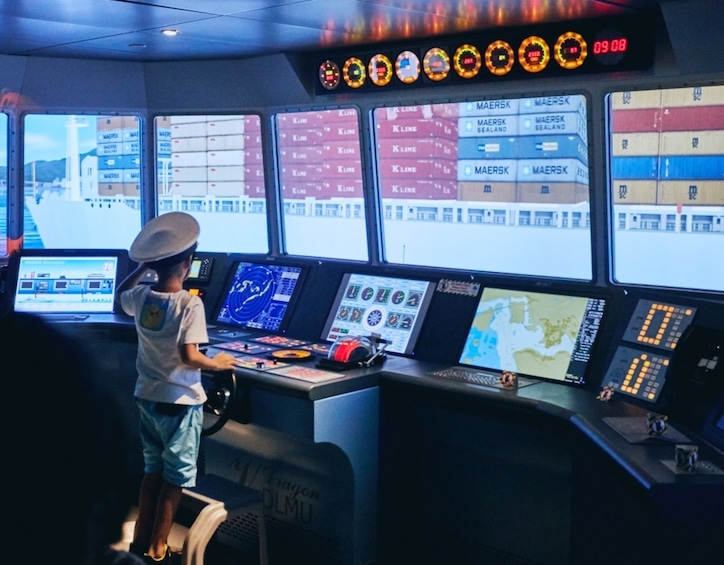 53. Hong Kong Maritime Museum
The Maritime Museum is sure to be a big hit among boat-lovin' kids! You'll have the chance to learn about sea bandits and water sports, as well as be able to dabble in the history of Hong Kong with the creation of Victoria Harbour. Be sure to stop for a coffee or lunch at Cafe 8 on the rooftop.
---
54. sky100 Observation Deck
Take in a mega view at sky100 at the ICC in Kowloon, the highest indoor observation deck in Hong Kong.
---
55. Indoor Playrooms In Hong Kong
The easiest thing to do in Hong Kong with kids when it's too hot, too cold or raining outside? Easy! Try out a new indoor playroom. There are play centres all over Hong Kong; we especially love DOCODOCO in Lohas Park, The Big Things in Tsuen Wan and the brand-new Kiztopia, not to mention the free government playrooms.
Read More: The Best Indoor Playgrounds and Playrooms In Hong Kong
---
56. Hong Kong Heritage Museum
You'll likely spend most of your time at the Heritage Museum in the Children's Discovery Gallery where there's a reconstruction of the Mai Po Marshes wetland area or the Archaeology section where kids can restore broken pots; draw on transparencies and place them on a projector to decorate their own ceramic pot and The New Territories Village zone with its reconstructed dwelling.
Read more: The Best Museums In Hong Kong To Visit With Kids
---
57. Central Market
Once the city's fresh food market, the revitalised Central Market has finally reopened after years of reconstruction. Take your kids to wander the market stalls, pick up some tasty treats or check out the latest installations.
---
58. Tai Kwun
With its European-style central courtyard, restaurants and cafés, art exhibitions and seasonal performances, there's always something new to check out when you take the kids to Tai Kwun.
---
59. Eat All The Dim Sum You Can
Gorge on char sui bao, har gao and spring rolls at a yummy dim sum lunch.
Read More: Hong Kong Dim Sum Restaurants: Our Favourite Yum Cha Spots To Take The Kids
---
60. M+ Museum In West Kowloon
The M+ Museum is massive and the hub for getting your kids a culture fix! As one of the newest things to do in Hong Kong, we love wandering around the 33 galleries exhibiting over 1,000 artworks from Hong Kong, China, Asia and beyond.
---
Things To Do Outdoors With Kids In Hong Kong
61. Kadoorie Farm
Kadoorie Farm and Botanic Garden is one of the best places to visit to spot animals in Hong Kong. Head over to the New Territories to take in the views and learn a little about the wild side of the city.
Read More: Your Guide To The Kadoorie Farm And Botanic Garden
---
62. Learn To Surf
Hong Kong might not seem like a surfing hotspot, but with hundreds of beaches to choose from you can definitely find some beginner breaks for your budding grommets. Head to Hong Kong's only surf beach, Big Wave Bay (as the name suggests) or sign up for lessons at South Lantau.
---
63. Take The Kids Hiking In Hong Kong
With dozens of country parks and hundreds of scenic hiking trails, you're never too far away from your next walk in nature. There are short hikes and easy hikes, hiking on Hong Kong Island as well as trails in Sai Kung, Lamma Island and more.
Read More: Hiking Hong Kong With Kids: The Best Hikes For Families
---
64. See Autumn Foilage At Tai Tong Sweet Gum Woods Or Lau Shui Heung Reservoir
As the weather cools, something magical happens and the sweet gums at Tai Tong transform from vibrant summer green to distinct autumn hues. Over at Lau Shui Heung Reservoir, the trees surrounding the water include white melaleuca, paperbark and bald cypress trees which turn fabulous shades of red, orange and yellow in the fall.
---

65. Look For Pink Dolphins
High on the bucket list of things to do in Hong Kong is cruise off the coast of Lantau Island in search of pink dolphins. Set sail with Hong Kong Dolphin Watch for your best chance of seeing these endangered dolphins close up!
Read More: That Mama: Janet Walker, Spokesperson For Hong Kong Dolphin Watch
---
66. Chill Out At Seaside Sai Kung
Seaside Sai Kung is calling! Escape the hectic life and take the family to explore Hong Kong's backyard. Whether you want to get adventurous in the country park, relax on the beach or feast at the fabulous seafood restaurants, one thing is certain — there is so much to do with kids in Sai Kung that you'll just want to keep coming back.
Read More: Things To Do In Sai Kung With Kids
---
67. Splash About At A Swimming Pool
As seasoned Hongkongers know, hazy heat-filled days don't really start cooling down until we hit November, putting swimming high on the list of things to do in Hong Kong. Luckily, we've got everything from affordable public swimming pools to luxurious hotel pools with day passes, indoor pools, outdoor pools and natural pools, there are plenty of options to splash about for the whole family. Don't forget to pack your bathers (for mama and the kids)!
Read More: Kid-Friendly Swimming Pools In Hong Kong
---
68.  Visit Lamma Island
With family-friendly hikes, beautiful beaches, international and local cuisine, great shopping and more, could Lamma Island possibly be the most popular of all of Hong Kong's outlying islands? Take a trip to this relaxed paradise and discover why people love to visit Lamma Island with kids.
Read More: Things To Do On Lamma Island With Kids: Where To Eat, Shop And Things To Do
---
69. Cruise On Board The Aqualuna
Hop aboard the iconic, red-sailed Aqua Luna for a boat trip around Victoria Harbour. We especially love the kids' activities that are usually scheduled around the school holidays.
---
70. Avenue Of Stars, Tsim Sha Tsui
A stroll along the stunning Victoria Harbour is one of our favourite things to do in Hong Kong. And with the newly revamped Avenue Of Stars, there's another reason to visit.
---
71. Learn About Hong Kong's Unique Critters At Lion's Nature Education Park
From visiting the butterfly house and taking nature walks, having a picnic or exploring the wetlands, visiting Lion's Park Nature Education Centre is always a great activity to do in Hong Kong with kids.
Sassy Mama Tip: Stop by the Deaf Cafeteria which sells simple snacks and meals and supports employment opportunities for those with hearing impairments.
---
72. Ocean Park Hong Kong
With cable car adventures, roller coasters, theme park rides and many other amusement park attractions, not to mention an amazing aquarium and your chance to see pandas in Hong Kong, Ocean Park always makes our list of things to do in Hong Kong.
Read More: Visiting Ocean Park With Kids: Animals, Rides And More
---
73. Ngong Ping 360 and the Big Buddha
Ride the cable car to Ngong Ping, hike up 268 steps to see the Big Buddha, and then eat at the fabulous vegetarian restaurant at Po Lin Monastery.
---
74. Go Paddle Boating
Wong Nai Chung Reservoir, Inspiration Lake and Butterfly Valley Farm are some of our favourite spots to take the kids for a gentle paddle. For something a bit closer, check out the paddle boats near the Wan Chai promenade! Just make sure you put their little legs to work or you might find you're a bit achy the next day.
---
75. Tai O Fishing Village
The island of Tai O with its stilt houses along the riverbank is the perfect panacea for anyone who wants a respite from life in the big city. It has all the prerequisites for a family day trip: rich cultural heritage, local delicacies, a sprawling market and hiking trails.
Read More: Things To Do In Tai O Fishing Village: Family Restaurants, Hikes And More
---
76. Feast On Fresh Fruit At Go Green Organic Farm
Calling all the pineapple lovers! A trip to Go Green Organic Farm makes for a fun thing to do in Hong Kong with kids. See how these deliciously sweet fruits are grown and try some pineapple delicacies (naturally!). Plus, there are open spaces, playgrounds and kids' activities aplenty.
Read More: Go Green Organic Pineapple Farm: Pineapples, Playgrounds And Alpacas
---
77. Go Strawberry Picking At A Hong Kong Farm
We can't think of anything more wholesome than taking the family for a day of strawberry picking at a farm in the New Territories. The season typically starts as the weather cools down in November and is one of our favourite things to do in Hong Kong with our kids.
Read More: Hong Kong Farms: Strawberry Picking, Sunflowers And Organic Farms
---
78. Explore The Walled Hakka Village At Lai Chi Wo
Located inside Plover Cove Country Park in the northeastern New Territories, the history of Lai Chi Wo dates back hundreds of years. You'll have to hike in, but you'll be rewarded with a little slice of Hong Kong's local history.
---
79. Cycle From Tai Po Waterfront Park To Tai Mei Tuk
Spend the afternoon at Tai Po Waterfront Park exploring the gardens, kite-flying areas, model boat pools, children's playgrounds and the iconic Spiral Lookout before hiring a bike and setting off along the coastline. Pass by Hong Kong's newest white-sand beach, Long Mei Beach before snapping that iconic shot for Instagram of the kids riding across Plover Cove Reservoir.
---
80. Kowloon Walled City Park
Speaking of walled cities, Kowloon Walled City Park is home to one of the most well-known spots in Hong Kong. Once a Chinese military outpost which morphed into one of the world's most notorious slums, what remains today is one of our favourite parks in Hong Kong. The park offers some very kid-friendly interactive exhibits and you can see some of the original South Gate foundations.
---
81. Kayak The Coastal Waters
With countless sheltered bays and beaches, there are ample opportunities to explore the coastline by kayak. Some of our favourite spots to rent a kayak are in Stanley, Sai Kung and South Lantau.
---
Even More Things To Do In Hong Kong With Kids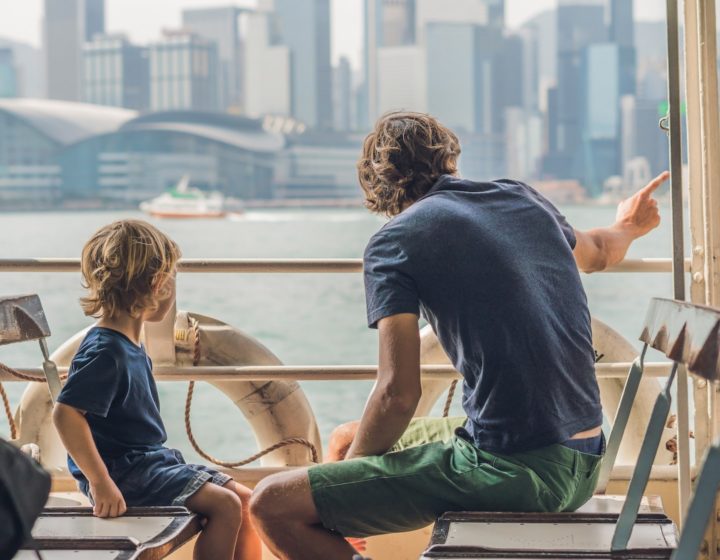 82. Ride The Star Ferry Across Victoria Harbour
It might be so obvious, but we still get a kick every time we step foot on the iconic Hong Kong Star Ferry! And with fares from $3.20 for an adult, it's a nice cheap kids' activity, too.
---
83. Book A Junk Boat Trip
Nothing says summer in Hong Kong quite like a day on the water onboard a junk boat! Don't worry, Sassy Mama can help you find the best boats to set sail with the kids.
Read More: Hong Kong Junk Boat Trips: Family-Friendly Boat Rentals
---
84. Treat Yourself To A Hong Kong Staycation
You can choose anything from a room at the ultra-luxe Rosewood or Four Seasons, or opt for a stay packed with things to do with kids at the Gold Coast Hotel or Saiyuen Green Gateway. Not to mention great Airbnb options to have your staycation like a local.
Read More: Staycations In Hong Kong: Hotels And Packages To Book With Your Family
---
85. Ride The Peak Tram
Another iconic Hong Kong tourist attraction (that is often overlooked by locals who've been here a while!). While you're at The Peak, take in the view from the Sky Terrace, stroll the Lugard Road loop walk (very easy with kids!), or take the kids to the playground in the Peak Galleria or Mount Austin Road playground.
Read more: The Best Outdoor Playgrounds And Parks In Hong Kong
---
86. Ride The Hong Kong Observation Wheel At Central Harbourfront
Taking a ride on the Hong Kong Observation Wheel and hanging out at AIA Vitality Park are one of our favourite things to do in Hong Kong with kids. And with tickets costing just $20 for adults and $10 for kids, it's an absolute bargain!
---
87. Visit Stanley On Hong Kong's Southside
With hiking trails, great beaches, market stalls an awesome pirate-themed playground and a chance to get your history and culture fix, there's a reason that Stanley is one of the most popular places to visit in Hong Kong for families.
Read More: Where To Take Your Kids In Stanley Hong Kong
---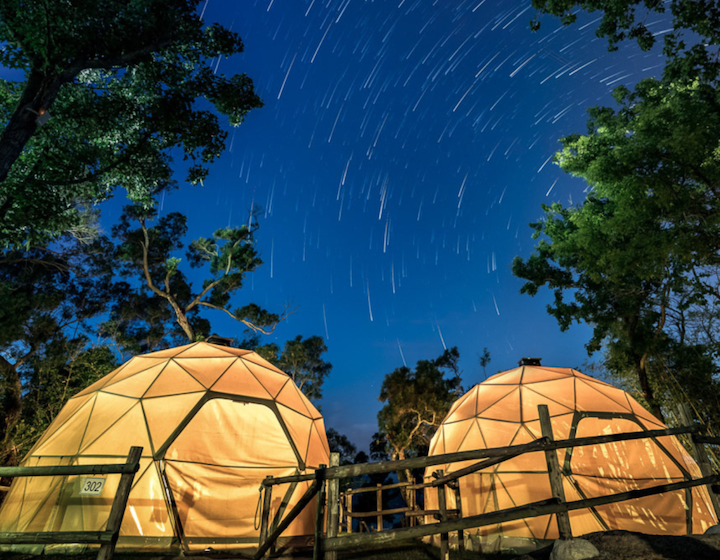 88. Take The Kids Camping In The Great Outdoors
Whether you're looking for something rough and ready in one of Hong Kong's country parks, or prefer the easier glamping tents (and with bubble tents, yurts and teepees on offer who could blame you!), taking the kids camping is quickly becoming our preferred form of staycation.
Read More: Our Favourite Camping Spots For The Whole Family In Hong Kong
---
89. Take A Ding Ding Ride
Journey on the ding ding the length of Hong Kong island — At $3 for an adult, it may as well be free! Our tip: head upstairs and grab your kids a seat at the very front so they can see the hustle and bustle of the city.
Read More: Hong Kong Brands: Best Hong Kong Souvenirs And Gift Ideas
---
90. Learn To Play Mahjong
It's not easy to learn, but so, SO addictive once you've mastered the basics. Pull out the tiles you picked up from a market stall and put them to good use! And, if you need lessons, Sassy Mama can recommend checking out the lessons offered by Humid With A Chance Of Fishballs.
Read More: Board Games And Icebreakers For A Party Or Game Night
---
91. Hong Kong Railway Museum
It's hard to find a kid (big or small) who doesn't get a little excited about trains! At the Hong Kong Railway Museum, little tykes can explore the old Tai Po Market Railway Station which was built in 1913. With the MTR being an essential part of our daily life, it's well worth the trip to Tai Po to learn a little more about Hong Kong's trains.
---
92. Water World Ocean Park
Everyone from toddlers to teens is sure to enjoy a day out at Water World Ocean Park. As Hong Kong's newest water park, you can expect BIG things — indoor and outdoor wave pools, lazy rivers, and ALL the slides imaginable. There's even the Whisker's Splash zone which your youngest ones are sure to love.
Read More: Sassy Mama's Guide To Water World Ocean Park
---
93. Experience The Bun Festival On Cheung Chau
You'll have to time it right! Head to the little island of Cheung Chau for the Bun Festival in April and see the huge tower of buns erected outside the Pak Tai Temple along with the Bun Scrambling Competition – and don't forget to check out the incredible Piu Sik (Floating Colours) parade.
Read More: Cheung Chau Island: Your Family-Friendly Neighbourhood Guide
---
94. Taste Your Way Around Town On A Hong Kong Street Food Tour
Egg tarts, fish balls, wonton noodles, egg waffles, milk tea, the street food snacks really are endless in Hong Kong! Do yourself a favour and ask an expert local guide to share their hidden gems and off-the-beaten track recommendations.
Read More: Local Hong Kong Tours: Explore The City With Your Kids
---
95. Rock Climbing In Hong Kong
Scale great heights rock-climbing at Verm City, Hong Kong Climbing Park or Just Climb.
---
96. Butterfly Valley Farm
Butterfly Valley ticks all the boxes making it one of our favourite places to visit in Hong Kong with kids. There's a playground, flower gardens and even paddle boats to take out on the lake, plus a variety of crops in its farm plots as well as animals like goats, rabbits and alpacas that children can interact with. There are also kids' activities you can book the kids into.
---
97. Try Your Luck At Squid Fishing
This has got to be one of the more unique things to do in Hong Kong with kids! From April to September you can catch your own calamari off the coast of Hong Kong. Ask if this kids' activity is offered on your next junk boat trip!
---
98. Celebrate Chinese New Year
Chinese New Year is the most significant holiday for people in Hong Kong. If you've never experienced a celebration with your family, it's important to make the most of this fantastic season. Previous years have seen streets decorated with lanterns, dragon and lion dances, plus large and delicious meals to be shared with family and friends.
Read More: Chinese New Year In Hong Kong
---
Editor's Note – "The Ultimate List Of Things To Do In Hong Kong With Kids" was most recently updated by Jess Mizzi in June 2023. 
Main image courtesy of Getty, Image 1, 3, 4, 10, 12, 13, 14, 15, 18, 19, 20, 23, 28, 29, 30, 35, 36, 39, 43, 48 courtesy of Jess Mizzi, image 2 & 31 courtesy of Alex Purcell Garcia, image 5 courtesy of Belinda Austin, image 6 courtesy of Agricultural, Fisheries & Conservation Department, image 7 courtesy of Sassy Media Group, image 8 courtesy of Henry Lai via Unsplash, image 9 courtesy of Getty, image 11 courtesy of West Kowloon, image 16 courtesy of Hong Kong Disneyland, image 17 courtesy of WWF Hong Kong, image 21 courtesy of Getty, image 22 courtesy of DB Ice Rink, mage 24 courtesy of 18 Challenge Go Karting via Facebook, image 25 courtesy of The Peninsula Hong Kong,  image 26 courtesy of Hong Kong Maritime Museum, image 27 courtesy of Kidstation via Facebook, image 33 courtesy of Hong Kong Dolphin Watch via Facebook, image 34 courtesy of Doubloon Trading Company, image 37 courtesy of Ngong Ping 360, image 38 courtesy of Getty, image 39 courtesy of Getty Images, image 40 courtesy of Maura Thompson, image 41 courtesy of Getty, image 42 courtesy of Kerry Hotel, image 44 courtesy of Saiyuen Camping & Adventure Park, image 45 courtesy of Humid With A Chance Of Fishballs via Facebook, image 46 courtesy of Water World Ocean Park, image 47 courtesy of Hello Hong Kong via Facebook