back
The Team
Meet the Sassy Mama Team
The Sassy Mama team scours, sweats and drags strollers through the city and braves the queues on MTR, just to bring you the latest news on what's hot (literally!) in the world of parenting in Hong Kong…
Click on a team member to get to know them
Co-Founder
Maura Thompson
Maura is co-founder of Sassy Media Group and has called Hong Kong home since 2008. She moved here with her husband 2 days after their wedding (in the US) with the intent of staying 2-3 years. After falling in love with Hong Kong as a newly married couple they decided to stay and move on to the parenting phase of their life. They are parents to their creative daughter (born in 2013) and their sporty son (born in 2016). Maura has been trying to achieve the perfect Pilates Teaser since 2017 and is so very happy to live in a place that has beach, hiking and city life so accessible to her family.
CEO
Emilie de Cannart
Emilie is the CEO of Sassy Media Group. She is originally from Belgium but has spent the last twenty years in Asia. After finishing her MA in Chinese Studies in London, she left for Beijing to pursue her studies of Mandarin, got her first job in Hong Kong, lived in Tokyo for a year before heading back to Hong Kong and in 2011 moved to Singapore with her family. She is the proud mother of two (Josephine and Adrian). In between work, meetings and school pickups she dreams of exotic holidays and grasses matinees…
Managing Director
Elle Noble
Elle is originally from the UK and landed in Hong Kong at the end of a year-long trip around the world. With a background in fashion styling and a love for fashion, travel and music, you'll often find her dragging friends around vintage boutiques (adding to her never ending wardrobe), or getting crafty in Sham Shui Po, customising outfits for festivals and themed junk boat parties (she's a pro with a glue gun!).
Managing Editor
Jess Mizzi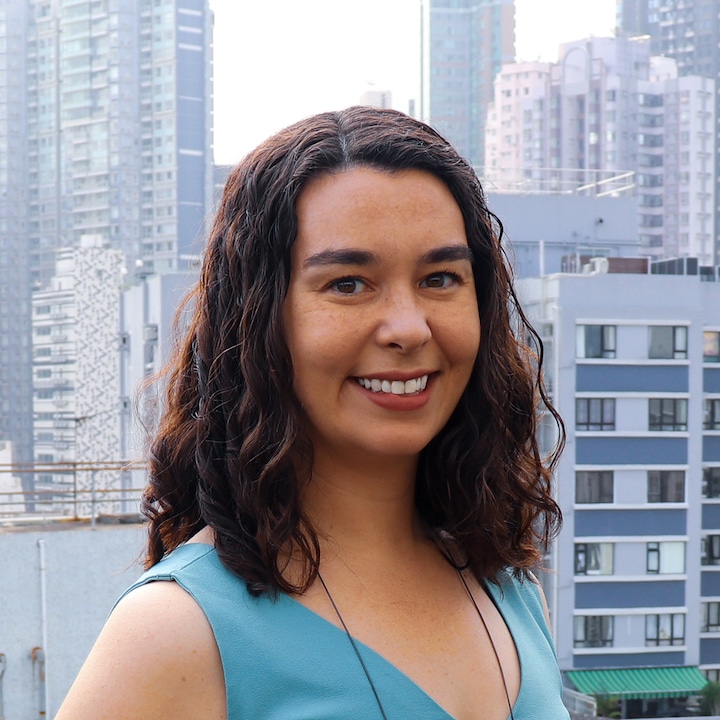 A globetrotting Aussie Mum of two, Jess likes to think she knows a little bit about a lot of things! She's travelled to over 50 countries across six continents and is taking her family along for the ride. Jess worked in tourism in Far North Queensland until she landed in Hong Kong in 2015 and found her feet leading walking tours around the city. In true pandemic style, she traded in city living for village life in Sai Kung and now spends her free time island-hopping, hiking and perfecting her latté art.
Editor
Najuka Redkar
Born around beaches and palm trees in Goa, India, Najuka spent some time in Shanghai before calling Hong Kong her home. An economics degree and a few years of public relations industry work later she's finally pursuing her true passion in writing. When she's not eating, binge-watching shows or exploring the city, you'll find her admiring Taylor Swift's lyricism.
Editor
Fashila Kanakka
Raised in the 852, Fashila's always down to explore a new neighbourhood and uncover the road less travelled (with a camera in hand). When she's not writing, you can find her leaving the Flower Market with handfuls of plants, obsessing over true-crime or café-hopping to find the perfect mocha.
Head of Partnerships, Sassy Mama
Mansha Channa
Born and raised in Hong Kong, Mansha worked in Banking and Finance before finding her way to Sassy Mama. Having lived all over the world, she definitely caught the travel bug and is constantly attempting to cross cities off her bucket list. A true foodie at heart, you will always find her at the newest spots in town, she loves a good workout and spending quality time with her husband and two young sons.
Partnerships Manager
Emily Chu
Born and raised in the UK, Emily moved to Hong Kong in 2011 in a quest to learn more about her roots and heritage. She loves to cook and can often be found in her local wet markets seeking out fresh produce for her culinary creations. When not obsessing about her next meal, she enjoys hiking, board games and finding new ways to burn calories. Emily focuses on partnerships with Sassy Mama's What's On and Health & Wellness clients.
Partnerships Manager
Charlotte Skapoullou
Charlotte hails from the UK but is a Hong Kong girl at heart! After graduating from university, she worked in a variety of marketing and merchandising roles. She started her Hong Kong adventure in 2014, grasping the opportunity to expand her CV by taking on key business development and brand partnerships positions in the events and luxury lifestyle space. Combining this breadth of professional experience with her penchant for fine dining, fashion and style; Charlotte is Sassy's Partnerships Manager, covering "Eat & Drink", Travel, Style and Beauty. When she's not working – or giving her friends the latest tips on what's hot in Hong Kong – Charlotte is a true Sassy Mama, busy spending time with her husband and their two boys, Aurelio and Theodore.
Partnerships Support Executive
Kiran Naz
Born and raised in the city, Kiran is the third generation HongKonger (who can read, write, and speak the language). From exploring new cafes to new gym studios, Kiran is always on the lookout for trying new things! When she is not punching bags in the gym, you will mostly find her binge-watching crime docuseries (with a candlelit up, vibes)! Kiran focuses on partnerships across all categories on Sassy.
Designer
Joy Lee
Born in Hong Kong and cultured in the US, Joy is a multidisciplinary creative who adores all things vintage—music, fashion, and design. When she's not learning the history of a Cantonese dish, you might find her hand-sewing her next garment, baking bread from every continent, or combing through mid-century modern inspiration. Joy focuses on bringing Sassy's visual elements to life, from design to photography.
Digital Marketing Manager
April Yau
Born and raised in Hong Kong. April is usually out and about (when she feels like it), you can catch her at new restaurant openings or speakeasies after hours. Striking that balance between going out and staying in, April enjoys a good book or just taking photos of her puppy for the gram.
Office Manager
Elly Liu
Elly was born and raised in China, and she's a huge fan of pandas. She can spend an entire day watching videos of pandas eating bamboo. She moved to Hong Kong in 2013 and enjoys eating dim sum and taking in the gorgeous harbour views.
Current Job openings