Quality bedding is a home essential! From eco-friendly bed linen to duvet covers, children's bed sheets, silk pillowcases, fitted sheets, bedding sets, cushions and more, here's where to buy bed linen and bedding in Hong Kong.
The kids are finally in bed and you've made it to the end of another day – well done Mama! After finally sitting down with a cuppa (or a glass of wine), what better way is there to round off the day than slipping into your PJs and climbing into some cosy bedding to snuggle up. Whether you fancy splurging on a bedding set with a luxury thread count, are simply looking for some eco-friendly bed linen options, or giving your bedroom a whole new look with a stylish duvet cover, we've rounded up our favourite bedding shops in Hong Kong. Sleep tight!
Read More: Where To Buy A Bed And Mattress In Hong Kong
---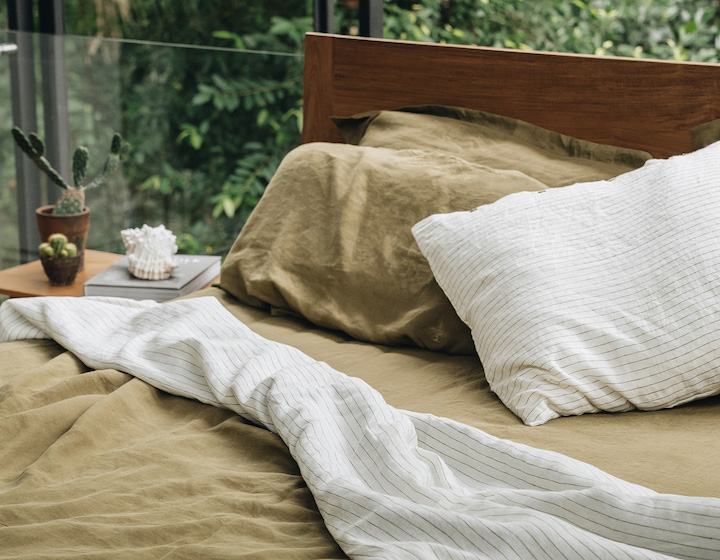 Heveya® — 100% Pure European flax bed linen
We've long been fans of Heveya® (previously known as Okooko by European Bedding) to sort out all our bedding needs. Whether you're after a new natural organic latex mattress or eco-friendly wooden bed base, or just want to update your sheets, pillows and accessories, this is your one-stop premium bedding store. With a 180 GSM, the linen sheets are not only of premium quality but also incredibly durable. Made from 100% pure European flax, a renewable and sustainable plant source — they're naturally organic and biodegradable. No nasty insecticides, pesticides or chemicals used here! The sheets are naturally hypoallergenic and keep you cool and fresh all night long.

Use discount code SASSYMAMASHEETS at online checkout for an additional 10% off Heveya®'s already discounted Bamboo or Linen Sheets Bundle (including a duvet cover, one fitted sheet and four pillowcases).
Heveya®, 28/F Horizon Plaza, Ap Lei Chau (Located in TREE's Flagship Store), 2870 1582, WhatsApp: 6286 1132, www.heveya.hk
Read More: Hong Kong House Cleaning Services — House Cleaning, Air Con Cleaning And More
---
Hush Home – Award-winning bedding brand created by sleep specialists
Hush Home is a one-stop shop for all your bedding needs. The mission here is to truly transform your well-being with healthy, restful sleep through its high-quality bedding, at affordable prices. Choose from the finest hand-picked Egyptian Cotton Hotel Sheets™ that are far softer and smoother than regular cotton, breathable duvets that are engineered for perfect temperature regulation and ultra-comfortable pillows, fitted and flat sheets, pillowcases and more. The brand also carries an Everything Proof Protector Set that is perfect for families — it protects all your bedding from dust mites, germs and spills!

Enter code SASSYSILK to receive a free silk eye mask upon purchasing a pair of silk pillowcases. Valid until Wednesday, 19 April 2024.
Hush Home (Sheung Wan), 2/F, Unit 07, Wayson Commercial Building, 28 Connaught Road West, Sheung Wan, Hong Kong, 3500 9475
Read More: Furniture Stores In Hong Kong — Homeware, Decor And More
---
NakedLab – Eco-friendly bedding suitable for the whole family
From bedding sets to kids' pillowslips and baby cot sheets, NakedLab prides itself on providing sleepers with the utmost comfort. Its bedding is made from 100% organic bamboo silk, keeping it lightweight, naturally breathable and completely skin-friendly – bamboo is known to be naturally repelling dust mites, mould and mildew, making it the safest option for parents and their kids. Plus, NakedLab's sheets are all temperature regulating, making them a favourite amongst all seasons (there are some timeless colours for you to choose from too!). 

Use code SASSYMAMA10 to get 10% off first orders.
NakedLab, shop at various stockists, Facebook: NakedLab, Instagram: @nakedlab_official, www.nakedlab.com
---
Momomi — Anti-allergy and anti-dust mite bedding
Sassy Mama is already a big fan of the stylish and soft tatami mats from Momomi, so we were very excited to see the Japanese brand launch its range of anti-allergy bedding sets and duvets. The sets come with a fitted sheet, duvet cover and pillowcases and are made with fresh and breathable, super-soft premium sateen cotton that has been specifically designed for sensitive skin. Available in four colours, the bed sheets are hypoallergenic, anti-bacterial and anti-odour, with patented Swiss Sanitised technology that inhibits the growth of dust mites.

Use discount code sassymama2023 for 10% off Momomi bedding.
Momomi, ask@momomijapan.com, www.momomijapan.com
Read More: Toddler Sleep Challenges — How To Get A Good Night's Rest
---
Casablanca – Bedding sets including cartoon bedding for kids
With outlets spread across Hong Kong, homegrown brand Casablanca will have you sorted with every type of bedding you could ask for. Head here for variety – this pick stocks everything from luxurious mulberry silk and jacquard to affordable printed cotton sets and cartoon bed sets for the kids.
Casablanca, various locations across Hong Kong, www.shop.casablanca.com.hk
Read more: Indoor House Plants In Hong Kong — Stores And Nurseries That Deliver
---
Domus Home – Imported bedding for families
Thinking of splurging on some fancy Egyptian combed cotton and Portuguese duvets? Domus Home is all about seeking out the crème de la crème of home textiles from around the world. Here you'll find luxury bedding for you as well as stylish bed linen for children and teens.
Domus Home, www.domus-home.com
Read More: Where To Buy Outdoor Furniture In Hong Kong – Spruce Up Your Outdoor Living
---
Bed & Bath – Tailored sizing and monogram luxury European bedding
Bed & Bath carries one of the largest selections of luxury bedding in the city, and is the only place in Hong Kong to find leading global brands like Yves Delorme, Peter Reed, Alexandre Turpault and more. It also offers tailored sizing and monogram services, as well as a dedicated concierge shopping experience.
Bed & Bath, Shop 206-209 & 238, 2/F, Landmark Prince's, 10 Chater Road, Central, Hong Kong, 2522 5151, www.bednbathhome.com
Read More: Best Zero-Waste Stores In Hong Kong — Sustainable Choices For Families 
---
Beyond Sleep – Beds, bed linens and bedding sets
Stop by the Beyond Sleep store for an immersive bedroom shopping experience (including a little rest in the "Sleep Pod"!) or check out its website to shop for bed linens and bedding sets from brands like Dauny, Hefel and Panda London.
Beyond Sleep, Basement, LHT Tower, 31 Queen's Road Central, Central, Hong Kong, 2808 4727
Beyond Sleep, Shop 2, G/F, Horizon Plaza, 2 Lee Wing Street, Ap Lei Chau, Hong Kong, 2836 6600, www.beyondsleep.com.hk
Read More: Kids Study Desks In Hong Kong — Standing Desks, Ergonomic Chairs And More 
---
Sheridan – Quality Australian bed linen
Sheridan has been in the business of making bed linen for over 50 years, so it's fair to say they know a thing or two about good bed sheets (and towels, duvet covers and general home furnishings!). Each product is expertly crafted in its Sydney Design Studio by its in-house team of artists, master weavers and designers, so quality is guaranteed.
Sheridan (SOGO), Shop 29, 9/F, SOGO Department Store, 555 Hennessy Road, Causeway Bay, Hong Kong, www.sogo.com.hk
Read More: Hong Kong Handyman And Home Services — Plumbers, Painters And More
---
Lane Crawford – Duvet covers, blankets and throws and bed linen sets in Hong Kong
Level up your bedding game with Lane Crawford's carefully curated designer collection. Sourced from across the globe, must-shop brands include Fornasetti, Frette and homegrown André Fu Living. The bedding section has duvet covers, blankets and throws, pillows cases, cushions and even linen pyjama sets to relax in with your crisp new bed linen.
Lane Crawford, various locations across Hong Kong, www.lanecrawford.com
Read More: Hong Kong Serviced Apartments And Long Stay Hotels For Families
---
More Places To Buy Bed Linen, Bed Sheets And Duvet Covers In Hong Kong
Read More: Buying A New Or Second-Hand Car In Hong Kong
---

Specialty Children's Bed Linen In Hong Kong
Read More: Baby And Toddler Stores In Hong Kong: In-Store And Online
Editor's Note: "Where To Buy Bedding In Hong Kong" was most recently updated in April 2023 by Jess Mizzi.