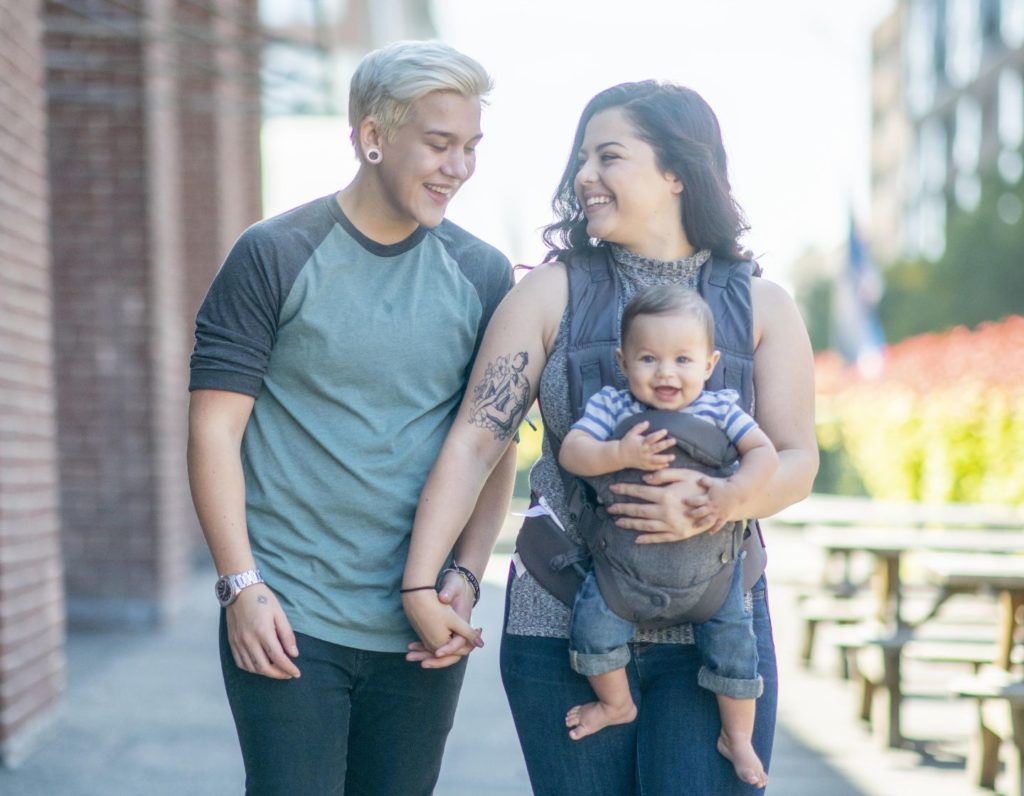 Baby carriers are one of the most used pieces of baby gear for many parents, especially in Hong Kong. From newborn baby slings to toddler hip seats, hiking carriers to breathable baby carriers that will take you from newborn to toddlerhood, you'll find the right baby carrier in Hong Kong.
We may live in a big city, but that doesn't mean we have to hunker down once we have kids. Hongkongers like to grab that baby and go, go, go! Travelling out of the 852 has been tricky (and almost none existent in recent years), so it's important to access our city – now more than ever. Because we are so mobile, you'll need a baby carrier that makes your life even easier. We all know how stroller-friendly Hong Kong is, right (ahem)?. The question is, which baby carrier is right for your lifestyle? Whether you like heading out for hikes, nipping around the city, or perhaps need a handy carrier for breastfeeding on the go, scroll down for some of the best baby carriers in Hong Kong (or with delivery to the city) for newborns right though toddlers.
Jump to:
Baby Carriers In Hong Kong For Nursing
Baby Carriers In Hong King For The City
Baby Carriers For The Beach (Hot And Humid Weather)
Hiking Carriers For Babies And Tots
Travel Baby Carriers: Lightweight And Compact
Best Baby Carriers For Toddlers
Read more: The Best Baby Strollers And Pushchairs For Hong Kong And Where To Buy Them
---
The Benefits Of Having A Baby Carrier
With all the baby gear that you're stockpiling for your bump or growing babe, it's understandable to second guess if you should bother getting some things at all. That said, there are several key items that will quickly become your go-to must-haves, and we're 99.9% sure that your baby carrier will become your new best friend.
There are many benefits of having a baby carrier, including:
Baby carriers can soothe baby and can help to stop tears
A baby carrier promotes good health (especially for premature babies and newborns)
Baby carriers can help cognitive learning
They're great for emotional development and parent-baby bonding
Wearing a baby carrier can help to reduce postpartum depression (even if not strictly skin-to-skin contact)
Baby carriers make it a lot easier for you and bubs to move around
People will touch your baby less when out and about (though done with affection, keeping a distance is definitely a good thing right now) 
While baby carriers are a personal choice, many parents have multiple options to take them through a baby's different stages. Some many prefer not to use carriers in the early months, while others swear by slings and wraps that are easy to nurse in. In the initial months, a baby should be carried in front, facing inwards while they can face outwards once they are able to sit comfortably. Side and back carrying is possible with toddlers.
Just keep in mind baby carrier safety guidelines when choosing a carrier to fit you and your little one. When it comes to newborns and very young babies, it's always best to think T.I.C.K.S.:
Tight: The sling should be tight with your baby positioned high and upright with head support. Loose fabric may cause your baby to slump down, restricting breathing. Just resist over-tightening the carrier across their back.
In view at all times: You should always be able to see your baby's face, with their nose and mouth unobstructed by the sling and/or your body.
Close enough to kiss: Make sure that by tipping your head forward that you can easily kiss the tip of your bub's head.
Keep chin off chest: Baby's chin must be up and away from its body. Never let the baby curl with the chin down as this can restrict breathing. There should be a gap of about two fingers wide under their chin.
Supported back: It should be tight enough that there's no gap between your baby and your body, but loose enough to slide your hand into the carrier.
See also the Hong Kong Family Health Service's advice on baby carriers, pushchairs, high chairs and car seats.
Read more: Hong Kong Car Seat Safety: Plus What And Where To Shop
---
Baby Carriers In Hong Kong For Nursing
Leelaloom – Handwoven wrap and ring-sling baby carriers
If you like to shop ethically, these handwoven baby slings and ring-sling baby carriers are a great addition to your baby gear. Founded by Dee and Esther, two Hong Kong Mamas and passionate certified babywearing educators, these slings and wraps are made with natural textiles (100% cotton) and are kind on babies' skin. Made in Thailand and supporting the local community, these are made in small batches using a special weave perfect babywearing. You'll also get a free class to learn how to use your new sling.
Weight range: newborn to 15 kg
Available from: Leelaloom
---

Moby Wrap – Baby carrier for breastfeeding on demand
We're all for breastfeeding on demand, whenever, wherever, and uncovered – though some might opt for a manageable and discreet baby carrier to do so. With no buckles, straps and fasteners, the Moby Wrap allows you to nurse easily while you bond with your baby. It adapts as baby grows as well, and the soft, stretchy and durable fabric promises total comfort. Check out the Bump & Beyond T-Shirt Wrap as well.
Weight range: 8 to 15 kg
Available from: Amazon
---
Maya Wrap Lightly Padded Ring Sling – Baby carrier for breastfeeding
Ring slings have the closeness of a wrap carrier, but with the ease of ring to loop your fabric through (so no getting tied in knots if wraps are tricky for you!). Great for running errands in or out of the house, your little one will sit close to your chest for extra comfort. With no clips or snaps, the Maya Wrap sling baby carrier is easy to use and made up of one simple piece of long fabric and two rings. The lightly padded shoulder strap helps to distribute the weight across your back and it adapts quickly to allow for nursing on demand.
Weight range: 8 to 15 kg
Available from: Amazon
---

Baby K'Tan — Hybrid baby carrier and wrap

The Baby K'Tan is the best of both worlds at a great price! The K'Tan can be worn five different ways and comes in several different types of fabric including mesh that's great for hot Hong Kong summers. All fabrics are made of 100% cotton and come in a variety of colours (we're loving the Leopard Love option). It's extremely portable and can fold up into its own attached pouch, making travel with the carrier very compact and lightweight.
Weight range: 8 to 15 kg
How much: From $393.94
Available from: Happebabies (see Facebook as well), Amazon
---
Other baby slings and wrap baby carriers available in Hong Kong
Ergobaby wrap – Available at Baby Central
Read more: The Best Baby And Toddler Stores In Hong Kong: Where To Get What You Need
---
Baby Carriers In Hong Kong For The City

Four Position Ergobaby Omni 360 – Tried-and-tested mama favourite baby carrier
For comfort with a chic look, this four-way 360 carrier is a favourite for a reason! Its soft structure allows you to carry your child's weight in four different positions – inward, forward, back and on the hip. Though its price tag is a bit higher, you're paying for an ergonomically super baby-friendly carrier. We're fans of the latest Ergobaby Omni Breeze 360 Baby Carrier All-In-One Soft Flex mesh. The latest version is newborn ready (no insert required) and the mesh material is perfect for Hong Kong's hot months.
Weight range: 3.2 to 20kg
Available from: Baby Central, Petit Tippi, Mothercare
---
BabyBjorn One Air – Four position baby carrier from birth to toddler years
Baby Carrier One and the new One Air from BabyBjorn is a best seller as it's easy to use and adapts to your growing child's needs. The adjustable seating allows babies to sit comfortably (they can move their legs freely), while the sturdy waist belt and padded straps are in place to help relieve pressure for mums or dads. Look out for the latest offering as well, the Harmony baby carrier, made with a super-comfy soft-structured mesh.
Weight range: 3.5 kg to 15 kg
Available from: Baby Bjorn, Mothercare, Baby Central, Eugenebaby and other Baby Bjorn locations across Hong Kong
---

Baby Tula – Erganomic baby carrier
With a huge range of front facing, back facing, back or hip carry options (perfect for exploring the city with growing bubbas and toddlers), you're sure to find a comfortable baby carrier choice at Baby Tula. Created by international couple Ula (from Poland) and Mike (who was born in Vietnam), this ergonomic brand of carriers came about due to the need for a comfortable and versatile carrier for their kids. They couldn't find the perfect one, so decided to make their own instead!
Weight range: 7 to 20 kg
Available from: Baby Central, Petit Tippi
Read more: Where To Buy Kids Clothes In Hong Kong
---
Beach Baby Carriers: Hot And Humid Weather

LÍLLÉbaby – Light and soft baby carrier with airflow
When it's hot and humid (which is pretty often here in Hong Kong), you want to make sure that both you and your baby stay cool. Made from a breathable 3D moisture-locking mesh material, this light and soft carrier allows for maximum air circulation. It can be worn in multiple ways, which means it will grow with you as your infant becomes a toddler. The extendable torso provides extra comfort for your neck and back while keeping taller babies secure.
Age/weight range: Newborn to 20 kg
Available from: Babies R Us
---
Je Porte Mon Bebe (JPMBB) Basic Wrap – Super simple baby sling, perfect for newborns on the beach
Designed with newbies in mind, the JPMBB Basic Wrap is totally suitable for first-time mums who are just getting used to carrying around a baby. The material used is lighter and slightly shorter, making it much easier to manage while relaxing! Not made for heavyweights, these wraps are ideal for newborns (elevating the snuggle factor). Its simple design makes it easy to brush off any sand that might have found its way through, too.
Weight range: Newborn up
Available from: Retykle (while stock last)
---
Baby carriers also great for the beach
The Solar Integra baby carrier (from the UK) is made with sun-protective fabric that blocks 95 to 99% of the sun's harmful UVA and UVB rays. It's also super light-weight, so can easily be folded and stashed away, has a breathable, non-irritating, fabric for sensitive skin that wicks moisture away, keeping baby cool – perfect for the beach or pool. Order internationally with a £20 shipping fee to Hong Kong.
---
Hiking Baby Carriers In Hong Kong
Cybex Yema
Are you looking for a carrier that is minimal yet gets the job done whilst travelling? Look no further, because the Cybex Yema carrier does more than just that – it has an adjustable seat panel and headrest and offers total lower back support. Now you can travel in comfort and style!
Weight range: 3.5kg to 15kg
Available from: Baby Online
---
Other compact carriers perfect for travelling
Boba Air Compact and self-storing carrier – Available on Amazon
Read more: Hong Kong Family Staycations: Easy Getaways In The City This CNY
---
Baby Carriers In Hong Kong For Toddlers
Editor's Note: This post was originally published on 27, March 2018 by Mashal and most recently in June 2022 by Alex Purcell Garcia. 
Main image courtesy of Getty Images, image 1 courtesy of Leelaloom, image 2 courtesy of Moby Wrap, image 3 courtesy of Baby K'Tan, image 4 courtesy of Ergobaby, image 5 courtesy of Baby Tula via Instagram, image 6 courtesy of LÍLLÉbaby, image 7 courtesy of Deuter, image 8 courtesy of Close Parent, image 9 courtesy of Cybex Yema, image 10 courtesy of hippychick, image 11 courtesy of Gooseket.