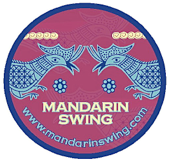 We love discovering new brands and boutiques – but where's the fun in keeping all the good intel to ourselves??
Today we're introducing a super chic source not only for gorgeous clothes for your little girl, but also for inspired homewares that are truly original – including this insanely adorable mini Louis XVI chair that we've been obsessing over for weeks now.
A few weeks back a friend introduced us to Mandarin Swing and their unique line of cheerful children's clothes. Co-founded by two expat moms in Zhongshan, China, Mandarin Swing also offers up vibrant homewares and furnishings – all with a touch of Asian inspiration.
We've been eyeing their line of exquisite yet playful dresses, tunics, kimonos, sarongs, and kaftans for little girls ages 2-10 – the brilliant colours, textures and patterns combine a sense of Asian tradition with pure fantasy-driven fashion. When we received two of the most divine dresses for little J we were officially hooked. The styles are fun and playful and the quality is tops: the mommy duo behind the label personally oversees every aspect of the creation of their individually tailor-made designs.
And now back to that gorgeous chair. Who says that nurseries and playrooms can only have plastic chairs in Crayola colours, right? The Louis XVI-inspired Puteri and Putera chairs are all made to order – and can even be constructed using your own fabrics…all you have to do is ask! (They also come in 'big kid' versions for you as well).