Finding a go-to family restaurant is a must in this city. Whether you're after a local breakfast spot for babycino, or want to treat the kids to some fun playful dishes, these Hong Kong restaurants are parent-approved and kid-tested…
We all know family meals mean quality bonding time, but having little ones around the table can often make eating out a bit more (ahem…) challenging. After all, no parent wants to pay an arm and a leg when chicken nuggets would suffice. Whether you're looking for Hong Kong restaurants that offer a special kids' menu and play area or options with pram accessibility and changing tables, we've got you covered! To make sure you make the most of your next family meal, we've rounded up our favourite family restaurants in Hong Kong. No matter what option you go for, you're sure to leave feeling stuffed and satisfied – a stellar combination for parents and kids.
Jump to: 
Best Kid's Menus At Hong Kong Family Restaurants
Best Brunches In Hong Kong
Restaurants With Playrooms And Baby-Friendly Facilities
Neighbourhoods With Plenty Of Family Dining Options
Read more: The Best Stroller-Friendly Cafés And Restaurants In Hong Kong
Editor's Note: The situation in Hong Kong regarding closures and restrictions on opening hours due to the coronavirus is constantly evolving. Many businesses are taking extra precautions, but please make sure you follow the latest government advice and stay home if you have recently travelled overseas, have interacted with anyone who has been away, or display any symptoms.
---

Hong Kong Family Restaurants With Great Kids' Menus
Yum Cha – Creative dim sum and Chinese restaurant for kids in Hong Kong
While it's not a special kid's menu as such, the cute little buns and dumplings at Yum Cha are always a hit with little ones! Home to the famous "vomiting" custard buns and an adorable cast of bao characters, young ones will have a blast playing with their food (because, finally, they're allowed to!). The soft minty green and white interiors, and super photogenic dishes make this resto a haven for Instagrammers. Offering incredibly attractive options for lunch and dinner alongside its famous buns, its char siu bao, sweet and sour pork and pineapple Singapore vermicelli dishes are sure to whet your kids' appetites. Mamas will appreciate the no-MSG promise too.     
Yum Cha, various locations across Hong Kong, www.yumchahk.com
Read more: The Best Dim Sum In Hong Kong: Where To Go For Every Occasion 
---
Crystal Lotus – Disney-themed dim sum restaurant
If we are talking about fun and what kids love, you can't leave Disney off the list, right? Indulge your kids' (and secretly your own) Disney obsession with its signature character dim sum, including the Mickey's Double-Layer Turnip and Taro pudding that's available year-round. For special occasions and anniversaries, there are innovative dim sum dishes added. It serves up food from the four major culinary regions of China with a contemporary flair, no tickets are needed.
Crystal Lotus, Hong Kong Disneyland Hotel, Lantau Island, Hong Kong, 3510 6000, www.hongkongdisneyland.com
Read more: Sassy Mama's Family Guide To Disneyland
---
Oolaa – Western Hong Kong family restaurant
So often we see restaurants offering a kid's menu more as a token gesture. Not the case at Oolaa! You'll find everything from tasty breakfast options (from basic eggs on toast to a healthy chopped fruit bowl or yummy brekky pizza!) to hearty lunch and dinner offerings. You can keep it simple and healthy with grilled salmon or chicken breast or treat them to burgers, pizzas and more. With four locations around Hong Kong (Soho, Wan Chai, Tung Chung and Tseung Kwan O) this popular venue is always buzzing with families, and for good reason!
Oolaa, various locations around Hong Kong, www.oolaagroup.com
Read more: Our Favourite Family-Friendly Breakfast Spots In Hong Kong
---
FRITES – European family restaurant
The cosy wooden decor and relaxed vibe of the restaurant is ideal for parents who want to enjoy classic European food, safe in the comfort that the little ones are having a blast. Parents can feast on Belgian favourites like mussel pots (our pick!), a hearty pork knuckle or a traditional Weiner schnitzel while the kids are sure to enjoy mini burgers, spag bol, schnitzel strips and more. Be sure to keep this one in mind for your child's next birthday party too!
Sassy Mama tip: The Tseung Kwan O location is great for a pit stop while your little ones traverse the waterfront cycling path.
Frites, various locations across Hong Kong, www.frites.hk
Read more: Top Party Venues For Kids' Birthday Parties In Hong Kong
---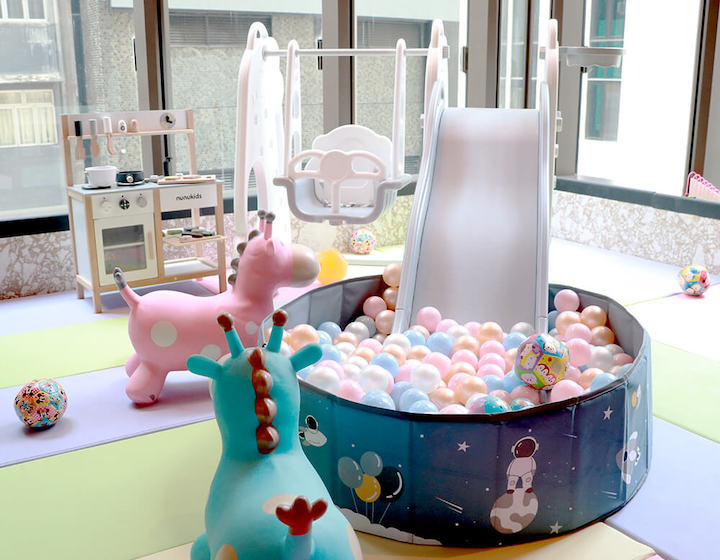 Family-Friendly Weekend Brunch And Buffet Restaurants
Ministry Of Mussels – Casual family restaurant with kids' play area
Ministry of Mussels has become a firm favourite on the Hong Kong family dining scene. We love the kids' play area (pictured above) and the simple, crowd-pleasing kids' menu featuring the Yawn – mini spaghetti bolognese; I Want Cheese – kids' Mac and cheese; Whatever – beef slider with fries; and the What? – fish fingers and chips.
Ministry Of Mussels, 3/F, California Tower, Lan Kwai Fong, Central, Hong Kong, 2838 4588, info@ministryofmussels.com, www.ministryofmussels.com
---
Hutong – Chinese restaurant with children's entertainment on weekends
The Feng Wei brunch at Hutong is always a hit with the whole family. Not only is there a variety of dim sum and Northern Chinese dishes (add on the Peking duck!), free-flowing drinks, but the kids are kept entertained by different entertainment. Think face-changing Beijing opera performers, puppet shows and noodle chefs making an appearance throughout the meal (just check in with the restaurant to see what the latest entertainment schedule is). This is a great option when you've got visitors in town and want to show them some great food and views while also keeping the kids happy.
Hutong, 18/F, H Zentre, Tsim Sha Tsui, Kowloon, Hong Kong, 3428 8342, www.hutong.com.hk
---
Zuma – High-end Hong Kong brunch
Who doesn't love the weekend brunches at Zuma? These 2.5-hour champagne packages tick all the right boxes with parents and kids love their perfect-sized portions of the main course. Kids under 4 years eat for free.
Zuma, Landmark Level 5 & 6, 15 Queen's Road, Central, Hong Kong, 3657 6388, www.zumarestaurant.com
---
Kinship
For the best tastes of Britain and the US, head to Kinship for an indulgent weekend family brunch. The recently revamped brunch menu features hearty staples like Southern Biscuits and Gravy or the Beef Sunday Roast alongside new additions – BBQ Pork Benny, Smashed Avocado Toast and the Corned Beef Hash.
Kinship, 3/F, LL Tower, 2 Shelley Street, Central, Hong Kong, 2520 0899, hello@kinshiphk.com, www.kinshiphk.com
---
Bathers Beachfront
Family-friendly AND pet-friendly, Bather's is quickly becoming a favourite as Hong Kong families looking to escape the city for a weekend brunch. If you don't opt for the breakfast or brunch dishes, there is a good kid's menu and all-day dining that's full of tasty sharing plates and all-around crowd-pleasing dishes!
Bathers, 32 Lower Cheung Sha Village, South Lantau, Lantau Island, Hong Kong, 2504 4788, hello@bathers.com.hk, www.bathers.com.hk
While it doesn't offer a brunch menu, Din Tai Fung is always a family favourite for extended lunches. Chaiwala is perfect for those who love Indian cuisine and La Rambla for those who want a relaxing Spanish Sunday feast.
Read more: Sassy Mama Family-Friendly Hong Kong Brunches
---

Hong Kong Restaurants With Kids' Play Areas And Baby-Friendly Facilities
Baumhaus — Dedicated playroom and family cafe
Most parents are familiar with this playroom/café combo. It boasts a beautiful custom-made wooden treehouse that is sure to capture the imagination of your little one (best for kids 3 and under). Enjoy a cuppa, grab a snack (there's a good kids' menu as you'd expect) and let the little ones burn off some steam. Baumhaus also offers great Kindermusik classes as well.
Baumhaus Wan Chai, 1/F, Kar Yau Building, 36-44 Queens Road East, Wan Chai, Hong Kong, 2321 5898, www.baumhaus.com.hk
Read more: Extracurricular Activities: After-School Activities For Kids In Hong Kong
---
Origami C
afé — Playroom and family restaurant
Origami Cafe is an innovative space located at the Kai Tak Cruise Terminal, the former site of Hong Kong's International Airport. Go back to the basics by immersing your child (and yourself) in educational play. The dining area whips up a Hong Kong take on Chinese fusion with café tables having a full view of the play area. It's an ideal spot to unwind, whilst the kids run wild. A great option if you are looking for a child-focused meal out.
Origami Kids Cafe, Rooftop, North End, Zone B, Kai Tak Cruise Terminal, 33 Shing Fung Road, Kai Tak, Kowloon, Hong Kong, 6063 7470, info@origami.com.hk, www.origami.com.hk
Read more: The Best Indoor Play Centres And Playgrounds In Hong Kong
---
More Hong Kong Family-Friendly Restaurants
This list is by no means exhaustive! Other favourites amongst the Sassy Mama team for satisfying child-friendly food are GRAIN in Kennedy Town, any of the Castello Concepts restaurants (Jaspas, Ollies, High Street Grill, Tai Hang Bar & Grill, Mr Wolf etc), the fabulous pizza at The Pizza Project and Shiro for its Junior Menu complete with little bento boxes and mini sushi.
Family Restaurants In Stanley
This seaside village on the Southside of Hong Kong is no secret. Take the kids (along with their scooters and bikes) to Stanley Plaza where they can safely ride around and play in the pirate's playground while you watch on from one of the restaurants that overlook the area. Top picks for families are Beef & Liberty, Classified and Cali-Mex.
Read more: The Stanley Neighborhood Guide For Families In Hong Kong
Family Restaurants In Repulse Bay
Just a short drive from Stanley (and with many similar offerings), The Pulse at Repulse Bay is packed full of families every day of the week. Limewood, Sip Song and Amalfitana are ever-popular options as well as Hong Kong staples Classified and Coffee Academics for a caffeine fix (and babyccino!) before you hit the sand.
Discovery Bay Restaurants To Take The Kids
There's definitely something about a scenic ferry ride to make you feel like you're a world away from the city. In a neighbourhood as family-friendly as Discovery Bay you can definitely expect to find dining options that will win the kids over. Head to the plaza and take your pick! We love Zaks for its huge range of options – great for when you've got one who wants burgers and another who's craving pizza and McSorley's also has a good kid's menu.
Read more:  Discovery Bay Family-Friendly Neighbourhood Guide
The Peak, Hong Kong Family Restaurants
The easy Lugard Road walk at Victoria Peak is practically made for families (including your fur-babies!). Fuel up at newly opened Fiamma, Mina House or Rajastan Riffles (all in the Galleria) or relax amongst the greenery on the terrace at The Peak Lookout.
Family Restaurants In Sai Kung
There's definitely a theme of family-friendly and being by the seaside. If you've made your way for a day out in Sai Kung, a safe bet is Hoi Pong Square where you'll find The Conservatory, CENA, Piccolos, Jaspas as well as Cali Mex and Ali-Oil Bakery. There's a playground in the square too, so if little legs start to get restless you can send them off to burn off some energy while still being close by. For the best breakfast in town, make a beeline for Little Cove Espresso and kick start your day before boarding a junk boat or exploring the nearby beaches.
Read more: Sai Kung Neighbourhood Guide For Families In Hong Kong
Editor's Note: Many children's play areas have been temporarily suspended with the current social distancing restrictions. Please check with the restaurant directly before visiting. 
Editor's Note: This post was originally published in February 2018 by Tania Shroff and updated in October 2020 and again in November 2021 by Jess Mizzi.