How to tackle temples, tempura and tatami mats with kids in tow.
Kyoto is famed for delivering that old world Japanese charm that may spring to mind when conjuring up images of this wonderful country. Think geishas clip-clopping over pebbled streets, red shrines, manicured Zen gardens, exclusive ryokans, ornate temples, and tea ceremonies. While you will see snapshots of these scenes, it is also very much a big city with bustling malls and lots of tourists. So, how do you navigate the best of Kyoto with kids in tow? Will temple touring bore children to pieces? Do ryokans accept kids? How much time do you need to do it justice? We were planning a trip to Kyoto with two kids (4 and 6 years old) and had so many questions and not enough answers. This travel guide aims to help provide you with all the practical information you are looking for in terms of affordability, as well as how to see the best of Kyoto as a family.
Jump links:
How to get there
Where to stay
Getting around
What to do
Where to eat
Read more: Family Travel Itinerary: Where To Stay, Eat, Shop & Play With Toddlers In Japan
How to get there
Kyoto doesn't have its own airport. The nearest airport is Kansai International Airport (KIX) which is about a 4-hour flight from Hong Kong. Fly direct if you can, as it's much easier and quicker with kids. Getting from the airport to Kyoto is very simple with taxis (the most expensive option), buses and a direct train (very comfortable and convenient, taking just 75-minutes with trains every half hour). We bought our Japan Rail Pass in advance, which we picked up on arrival at Kansai Airport, and would highly recommend this for ease. Klook, the travel activities and services booking platform, actually came in handy several times, as once we had sorted our accommodation and flights we used the app to book transport, wifi and activities in advance.
A Japan Rail Green Pass will give you access to the first-class carriage on almost any Japan Rail (JR) train, boat or bus (excluding the fastest bullet train, or Shinkansen) for 7, 14, or 21 days. The pass is only available to foreign passport holders, and is useful if you're travelling to other cities as well as Kyoto. There's no charge for kids under 6 and, as long as it's not rush hour, you can almost always find a spare seat for them on the Shinkansen. Purchase a green pass online in advance, or many travel agents in Hong Kong also provide this service. Usually, passes are redeemed at the airport where you'll be given a laminated card ticket.
Where to stay
If you are travelling to Kyoto as a family you can stay in a Western-style hotel with all the mod cons, or search out a kid-friendly ryokan to give your family a traditional taste of the Japanese way of life (sleeping on tatami floor mats). Ryokans are notoriously expensive and may prove too challenging with small kids due to the quiet and tranquil atmosphere, lack of cots, strict breakfast and dinner timings with set menus etc. It's not impossible though, and if you have older kids, staying at a ryokan can be the highlight of a trip to Japan (families rave about experiencing a set dinner of kaiseki sat on the floor wearing kimonos!). But for younger kids with fussier eating habits and loud voices, it may be more stress than you need.
Having stayed in a ryokan pre-kids, we chose to go down the Airbnb route this time. The pros of this were that we could still find a Japanese experience, choosing a flat with tatami mats where one sleeps on the floor. We could (in theory) make our own snacks/breakfast, but in reality, the abundance of 7/11s and Lawsons (that often stock essential items like nappies) with an array of ready-to-eat kid-friendly snacks made this unnecessary. The main convenience of an Airbnb over a hotel was not having to worry too much about being a little bit rambunctious. Be warned though, many Japanese flats are tiny and most have delicate bamboo paper screens begging to be poked at by little fingers!
Getting around
Kyoto has a convenient mass transit network (MRT) and its buses are great value. We travelled on public transport most of the time with no issue, and pre-bought IOCACA cards on Klook for the adults (pre-elementary kids don't need to pay, and kids IOCACA cards can be bought at an MRT station). You can download a free English-language PDF of the Kyoto train and subway system from the official JR Pass website. Taxis are more expensive and there's the language issue, but if you get your destination written out in Japanese or print a map it may be helpful, especially if you are in Kyoto for a limited time.
Wifi
Definitely look into buying a pre-paid SIM with unlimited data in advance. This was a life saver as we could research the best routes, look up walking maps and restaurants on the go, and it saved us a fortune in roaming costs.
Timing
We were in Kyoto for five full days and this gave us time to comfortably see a lot of the city, plus outskirts Arashiyama and Nara. You could definitely see central Kyoto in three days or so but, with smaller kids, we didn't want to be rushing and this gave us time to balance activities that the kids enjoyed, with must-see spots on our adult list.
What to do
In Kyoto
Mix up visiting temples and shrines (of which there are 1,600 so you'll need to research which ones appeal!) with other activities to keep kids sane. Note that some of the temples are "participatory" temples like Kiyomizu-dera Temple, so kids may find these more interesting. Little ones can have a go ringing bells, washing their hands with holy water and navigating the famous "love stones". There's also the underground passage known as the Tainai Meguri to look for. Just be mindful that temples are a place of worship so the kids can't go too wild.
Njio Castle makes a fun visit where kids can run around the castle grounds before walking around the UNESCO World Heritage site palace. The palace buildings are connected by corridors with nightingale floors that squeak when stepped on (you can hear them if you get down low from outside the building) apparently designed to alert against intruders. Remember to wear nice socks as you have to take your shoes off prior to entering.
Cycle rides along the river make a great activity. Cycling is big in Kyoto (just search out a convenient cycle shop on Google maps, but note that most hire by the day only, roughly 9:30am to 6pm, not by the hour). You can rent children's bikes and adult bikes with kids' seats, plus helmets. We rented ours from Rent A Cycle Nagaharaya-Mohati and they even had a bike to suit my 6ft 5inch husband, so not a bad selection.
Famously named Kyoto's kitchen, Nishiki Market is a covered food market with plenty of food stalls squashed together, where you can sample strange and delicious eats, from baby octopus on sticks to yakitori, a rainbow of pickles and tofu doughnuts.
Geisha spotting takes patience. You'll see plenty of lovely looking ladies in kimonos (kimonos can be rented out by the hour), but the real geishas will have the telltale white painted face and bare neck. Your best bet is hanging around Pontocho Alley around 5pm onwards. You can find restaurants and bars in this area or if you are with kids – see our playground tip below!
Once the kids were tired of temples, walks and posing for photos we'd ask google where the nearest playground was; our kids loved the random scruffy tiny playground right near Pontocho Alley. It only had some swings, a mound to climb up and a slide but they had a ball (go figure!). Kyoto Imperial Palace Park has a modest playground in the northeast corner of the park, with slightly worn equipment but a sandpit and swings. The kids just loved having some downtime running around with sticks and making their own fun.
The Kamo-gawa Riverside is lovely to stroll along with kids. We cycled the whole length from Gion for 5km with a 6-year-old and it was a highlight. The area near Demachiyanagi (where Imadegawa-dori Street crosses the river) is a great place for kids to play or sit and have a picnic. We saw some kids wading in the shallow water (and spotted a muskrat up close), and during the summer months the restaurants along the river open their roof terraces up to sit and have a drink.
If museums are your thing, try the Kyoto Railway Museum, known as the country's best train museum. It covers all aspects of trains, from steam engines to the ultra-modern Shinkansen bullet trains. There are lots of interactive exhibits to explore and there's a platform where you can board a train pulled by the "SL Steam" locomotive (for an extra fee). The Kyoto International Manga Museum is meant to be good for older kids or adults who have a thing for Japanese comics. Or if your kids are ninja fans you can seek out ninja lessons (for adults and kids alike) and get a speed lesson on becoming a ninja.
Outside Kyoto
Nara is just a train ride away. Here you can feed the deer with special deer biscuits (careful as they can be a bit aggressive if you don't feed them fast enough). Also, take your time exploring the Tōdai-ji Buddhist temple complex – one of the powerful Seven Great Temples in the region.
Go early to Arashiyama, the famous Bamboo forest, as it gets very crowded! Or do as we did and take a rickshaw ride (touristy, yes, but the kids loved it!), which we booked again through Klook. Small kids can fit on your lap or else two people fit per rickshaw. Our guides were very interesting to talk to and took some excellent shots of us in the bamboo forest. They also took us outside the crowded areas for a lovely morning jaunt, ending up at the Monkey Park.
The kids didn't mind the 20-minute uphill walk (make sure you wear comfortable shoes and have lots of water to drink) to get to Monkey Park in Arashiyama and loved watching the monkeys in the wild. You get an excellent view of Kyoto from here, too. Children can go inside a special cage and feed the monkeys and there's a sweet playground complete with swings and a very long slide, that the kids enjoyed.
Where to eat
Food for me is a big deal. As I researched the best sushi, tempura, and udon spots, I hit a dilemma. Not only do you need a Japanese person to make the reservation for you, but you also need to book well in advance. Then you'll pay a small ransom for the top picks and need to check whether they allow kids! I was told I'd need to reserve the private room (instead of the coveted counter seats) at my chosen tempura restaurant if coming with an under 5-year-old.
In the end, we decided to go with the flow and follow our noses. This proved difficult in Kyoto, but we survived (thank you, Google!). We actually found some excellent spots that were easy with kids and not too crazy on the wallet.
Make sure you try the huge variety of different types of foods on offer. Kyoto-style Kaiseki Ryori is a traditional multi-course meal served in a special order according to the seasons. This is great fun to try, especially if you aren't staying at a ryokan already. If you have small kids they may struggle with the unusual dishes (and protracted length of a meal). Then there's shojin ryori (veggie Buddhist cuisine), traditional and Kyoto sushi (kids will love the conveyor belt sushi restaurants), tempura, okonomiyaki (a kind of omelette-noodle-pancake that kids will love cooking themselves at the table), ramen, yuba (tofu skin), udon and all the matcha-inspired desserts, just to name a few!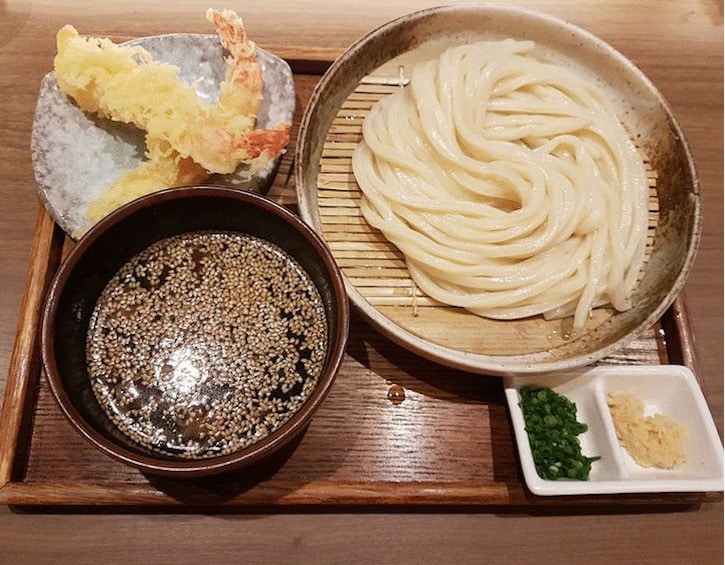 Books have been written on the best restaurants in Kyoto. Here's a quick summary of some family-friendly and affordable options:
Kyoto Station: You may find yourself at the absolutely huge Kyoto Station after your flight or before a trip to Nara. There are plenty of affordable spots to look for. Eat Paradise and The Cube Food Court are on the 11th floor of Kyoto Station with a wide selection of different foods on offer. Kyoto Ramen Koji is an entire floor (on the 10th level) dedicated to different ramen shops.
Ippudo Ramen for ramen and gyoza.
For sushi, our favourite spot was Sushisei next to Daimaru department store (and our kids were fine to sit at the counter, which gave us a great experience interacting with the chef). Sushisei was very well priced and we were happy with the quality of sushi (we had the set lunch).
Den Shichi and Ganko Sushi are always reliable for sushi, or the Musashi Sushi is a hit with kids with its conveyor belt sushi train (there's one in Kyoto Station too).
Takashimaya and Daimaru department stores: The food departments here in the basement are a treat for the senses. You can sample delicacies and then buy take away bento boxes of sushi or bakery items that kids will identify with. Great choice of food for picnics, or for kids snacks if you are on your feet all day.
Conclusion: Is it worth visiting with kids?
So, Kyoto – should you go with your children? A resounding yes! We would highly recommend a trip here. The kids still talk about going back and my youngest's new favourite food is…you've guessed it, sushi!
Editor's Note: This post was originally published on Sassy Mama Singapore by Beate Baldry on 11 December, 2018.