If you're looking for day trip inspo, we think Chi Lin Nunnery and Kowloon Walled City Park are perfect for families
We think the district of Kowloon has some of Hong Kong's richest cultural and historical gems, and a day trip to the Chi Lin Nunnery and to Kowloon's Walled City Park is the perfect spot to entertain the young ones while also having some time away from your normal routine. We've sorted out all the details for a fun-filled day with your family to check out one of the most incredibly beautiful places to go in the 852.
Note: When you bring your family to the Chi Lin Nunnery, there are a few considerations to be aware of. For one, the temple is still actively used for its religious purposes, so kids will need to be respectful and mindful of this. Loud noises and photography within the temple halls is prohibited, and there are security guards around to remind visitors. With that in mind, visiting the Chi Lin Nunnery is a wonderful way to show your kids a piece of Chinese culture and religion.

The Chi Lin Nunnery is an active Buddhist temple that was built in 1934 as a retreat for Buddhist nuns. It was refurbished in the 1990s in traditional Tang dynasty architecture bringing it to its current state. Within the temple halls there are a variety statues and in which people still pray to, like the Sakyamuni Buddha, the Goddess of Mercy, as well as the other Bodhisttvas. These statues are made from impressive materials such as gold, clay, wood and stone and are a marvel to look at. Outside the temple halls is a lavish and breath-taking lotus garden that make for some stellar pictures. In the back drop of the nunnery you will find your typical Hong Kong high-rise buildings making for interesting clash of old, new, calm and hustle.
Admission: Free
Hours: Lotus gardens: 7:00am to 7:00pm daily, Temple: 9:30am to 4:30pm daily.

Nan Lian Garden
The Nan Lian Garden is a traditional Chinese, Tang dynasty-style, garden that opened in 2006. Inside you'll find a gorgeous walking path and 35,000 square metres of beauty. The gardens are currently managed and maintained by the Chi Lin Nunnery and the Hong Kong Government, and are conveniently attached to the nunnery making it easy to visit both areas. Noise barriers surround the entire garden to help block out the bustling streets of Kowloon and help maintain the tranquillity of the gardens. You may also notice that extensive vegetation has also been planted near the borders to help filter out the city's exhaust and dust.
Within the gardens you will find a rockery, different types of Chinese style vegetation, a water mill, a large pond with some exceptionally large and beautiful koi fish, as well as the Pavilion of Absolute Perfection that is attached to the Zi Wu Bridge. These last two attractions are not accessible to visitors, unfortunately, but you can still admire their beauty and get a couple of great family photos in front of them.
The gardens are also home to a Chinese timber architecture gallery in which you can view a variety of miniature buildings built in different styles of Chinese architecture in exquisite detail. The gardens also usually have a visiting art gallery that might cost a little bit for admission but the building is also air conditioned so it is worth it on a hot day.
Definitely check out the souvenir shop here if you are looking for a unique or beautiful gift (#treatyoself). You'll find everything from tea sets to bookmarks, journals, bags, fans, dried goods, veggie sauces and more.
Admission: Free
Hours: Garden: 7:00am to 9:00pm daily, Exhibits: 10:00am to 5:00pm daily.
Getting there:
To get to the Chi Lin Nunnery/Nan Lian Garden, take exit C2 from the Diamond Hill MTR station and walk through the Hollywood Plaza mall. Then turn east on to Fung Tak Rd. The nunnery is a 5-minute walk away. If you take this route, chances are you will find yourself in the Nan Lian Gardens first.
Chi Lin Nunnery, 5 Chi Lin Drive, Diamond Hill, Kowloon, Hong Kong, 2354 1888, info@chilin.org, www.chilin.org
Nan Lian Garden, 60 Fung Tak Road, Diamond Hill, Kowloon, Hong Kong, 3658 9366, info@nlgarden.org, www.nanliangarden.org
Between the Chi Lin Nunnery and the Nan Lian Gardens you can easily spend half a day there with your family, which is sure to work up an appetite. Thankfully there are some delicious eats within the garden and nearby.
Where to Eat
Within the Nan Lian Garden, you have three options to choose from:
Chi Lin Vegetarian Dim Sum
Did you know that vegetarian cuisine goes back as early as the 6th century in China? Serving up contemporary and healthy vegetarian food, the Chi Lin Vegetarian offers lunch and dinner with set meals with a choice of Chinese and Western selections, as well as al a carte choices, dim sum, rice and noodles. On the weekends, you can sit for afternoon tea and enjoy some cake, snacks, dim sum and drinks. With no service charge, the Chi Lin Vegetarian is easy on the wallet too! The restaurant can get busy at the weekend but you can call ahead to book and reserve a table. For omnivores, the Chi Lin Vegetarian asks that you do not bring any non-vegetarian outside food into the restaurant including baby food (baby formula is okay).
Hours:  Monday to Friday: Lunch: 12pm to 3pm; Dinner: 6pm to 9pm; Saturday, Sunday and public holidays: Lunch: 12pm to 3:30pm; Afternoon tea: 3:30pm to 5:30pm; Dinner: 6pm to 9pm
Last orders are taken 30 mins before the end of each session.
Price range: $90 – $350
Chi Lin Vegetarian Dim Sum, 3658 9388, www.nanliangarden.org/facilities
Song Cha Xie
If you can, send the kids off with your spouse so you can enjoy the tranquil atmosphere of this beautiful tea house alone! Song Cha Xie is a traditional Chinese tea house that serves high ends teas, such as green, oolong, white and an extensive range of aged pu'reh as well as some dim sum snacks. Upon entering, you will need to remove your shoes and wear some slippers that are provided, adding to the authentic and relaxing atmosphere. The staff are highly knowledgeable and can advise you on what types of tea to try and exactly how to make it. Whilst inside, you are asked not to take photos and to keep your voice down in order to reap the full benefits of your tea. While the price tag on the teas are a little steep, it is well worth it for the experience. Tea sets and books are also available to purchase.
Hours: 12pm to 7pm daily
Price range: $150 to $800+ for tea, $35 for each basket of dim sum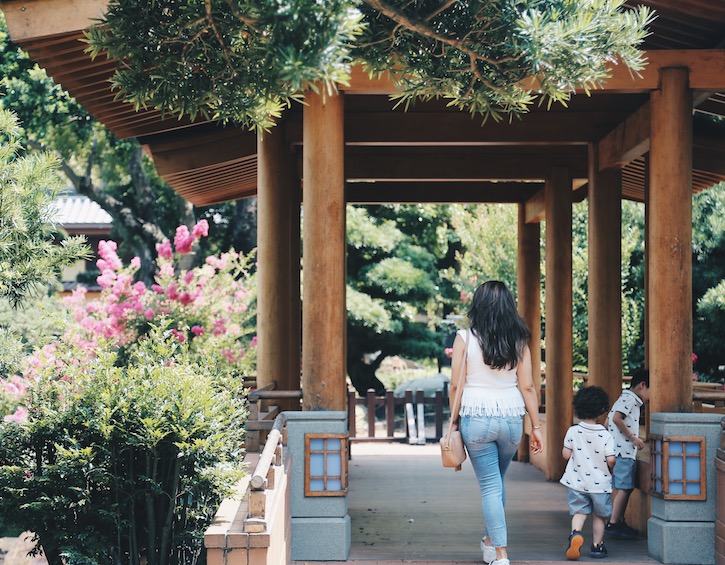 Snack Shop
If you're in the Nan Lian Gardens and your kids can't wait until the other two venues open because they need to eat right this minute, the Snack Shop will help to avert any tantrums. Selling tea, toasties, vegan ice cream, juice, and even handmade chocolate, the Snack Shop is a quick, cheap and easy way to fuel up.
Hours: 9:30am to 5:30pm
Price range: $20 to $50 per item
Plaza Hollywood
If no one feels like eating Chinese or toasties, you can always walk back to the Plaza Hollywood mall where a variety of Western eats are available such as, McDonalds, Hoko Farm, Pacific Coffee and Pizza Hut.
Plaza Hollywood, 3 Lung Poon Street, Diamond Hill, Kowloon, Hong Kong, 2118 8811, www.plazahollywood.com
Little Thailand
Continue the historical theme for lunch and head down to Little Thailand. Just outside the Kowloon Walled City Park, Little Thailand is where you can find the vibrant community of Thai immigrants and workers. The neighbourhood has been home to Thai immigrants since the early 1970s and even looks and feels a little bit like Thailand. From great eats to grocery items, you can find just about anything you would ever need from Thailand right here in Hong Kong. Little Thailand has hundreds of restaurants to choose from, so we can help you narrow down your selections. These are the Sassy Mama tried-and-true ones we recommend: Islam Food, Thai Vegetarian Food, and Cambio Thai.  (Cheers to Pops and our sister site, Sassy Hong Kong, for these details in its guide to the Kowloon City Neighbourhood Guide for these great recommendations.)
Getting There:
From Chi Lin Nunnery:  Approximately a 40-minute walk or take bus 116, 10, 3B, 5 or 111. It is also quick and cheap cab ride (10 minutes).
From Central: Take the 101 or 111 bus from State Square to Regal Oriental Hotel and walk about four minutes to the area. You can also take the MTR to Mong Kok and then get on the 46 minibus.
From the Walled City Park: Less than a 10-minute walk or a very quick cab ride.
Little Thailand, South Wall Road, Kowloon City, Hong Kong, www.little-thailand
After lunch, without having to go too far, you can expand your family's history knowledge and intrigue with a visit to the fascinating remains of the Kowloon Walled City Park.
Before its demolition in 1993, the Walled City, or as it was referred to in Cantonese, the City of Darkness, was one of the world's most decently populated slums. The history of this now memorialised park goes back much further as it dates back to the Sung dynasty 960-1297, when it was a fort for Imperial soldiers. In the latter half of the 19th century it became a garrison town when the Chinese were facing the British, and then during the British occupation it became the only part of Hong Kong that China was unwilling to cede to the British. Thus began the largely ungoverned beginnings of the Walled City. The buildings and utilities were all illegal constructs but they became the home to an estimated 35,000 people who all squished into a few small apartment blocks. The Walled City was known for its gang and drug activity, rat infestations, self-taught dentists and some the best fish balls in Hong Kong.
After the Walled City's demolition, the Hong Kong government began work to turn the location into a park to keep the not-so-reputable but fascinating part of Hong Kong's history alive. The park and its exhibits became open to the public in 1995.
The park offers some very kid-friendly interactive exhibits that will appeal to both kids and adults alike. Some of the original South Gate foundations of the fort are still visible, and the Yamen, which was built in 1847, is one of the only original remaining buildings in the park. There is also a Chinese zodiac garden, the Mountain View Pavilion, and a chess garden. There is a small snack shack and some vending machines available within the park as well for some quick refuelling.
This is one part of Hong Kong and its history that you do not want to miss.
Hours: Park: 6:30am to 11pm; Exhibits: 10am to 6pm
Admission: Free
Getting there:
From the Chi Lin Nunnery and Nan Lian Gardens: Head back over to the Diamond Hill MTR Station. The park is only two stops away at the Lok Fu MTR station. Take Exit B and it will be about a 15-minute walk to the park.
From Central: Take the 101 bus from State Square to Regal Oriental Hotel and walk for about seven minutes to reach the park. You can also take the MTR to Mong Kok and switch platforms to the Kwun Tong Line and get off at the Lok Fu station.
Kowloon Walled City Park, Tung Tsing Road, Kowloon City, Hong Kong, 2716 9962, www.lcsd.gov.hk/en/parks
With the Chi Lin Nunnery, the Nan Lian Garden, Little Thailand and the Walled City Park you can easily spend an adventurous, fun and educational day within this section of Kowloon!
Feature image and all Chi Lin Nunnery photos by Beatrice Hug, property of Sassy Media Group. Video in collaboration with
Tom Arden;
 Instagram:
@tomarden
; Little Thailand photos courtesy of 
JMSC
; Kowloon Walled City Park courtesy of 
LCSD