We may have these wine stores and liquor shops on speed dial for some quality wine time at home. Whether you're feeling red, white, sparkly, or non-alcoholic, these wine deliveries will have you sorted!
Wine is a go-to choice for parties and movie nights in (paired with some good cheese!), and while our local supermarket is a reliable source, it doesn't always have what we want (and lugging around heavy bottles isn't the most ideal!). Whether you're looking to shop organic picks, non-alcoholic wines or simply want to bulk order with a good deal, these wine stores and liquor shops stock it all and delivery throughout Hong Kong (on the same day too!).
Read More: Grocery Stores – Supermarkets With Grocery Delivery In Hong Kong
---
The Bottle Shop – Liquor store with an extensive collection of wines
A trip to Sai Kung isn't quite complete without a pit stop at The Bottle Shop, a one-stop-shop to stock up all the drinks at home! For the wine aficionados, you can shop a range of fortified wines, sake, Chardonnay, Shiraz and more all under one roof. You can also expect a wide range of prices starting from as low as $54 a bottle!
Delivery: Free for orders over $680, otherwise delivery fee of $80 will be charged. The Bottle Shop does not deliver to outlying islands, and for buildings without lifts, orders will have t be picked up at the ground floor.
The Bottle Shop, G/F, 114 Man Nin Street, Sai Kung, New Territories, Hong Kong, 2791 1600, www.thebottleshop.hk
---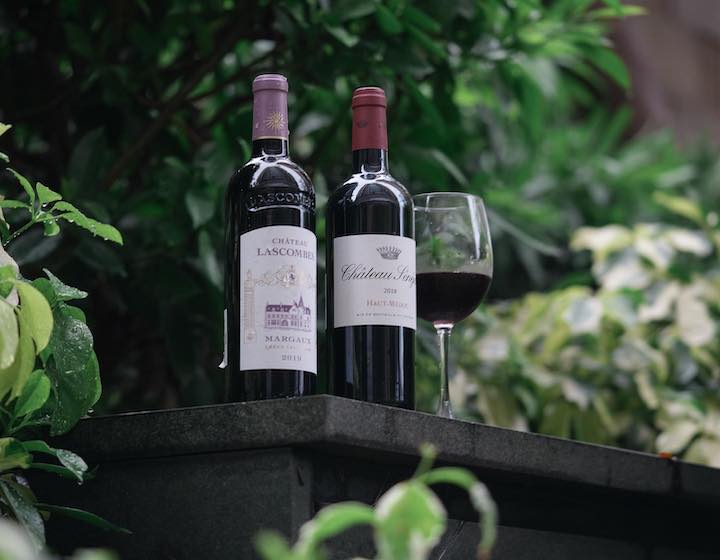 Watson's Wine – Liquor store offering over 2,000 different wines
Watson's Wine offers a large selection of fine wine, spirits and accessories. It has vintage bottles sourced from over 20 countries and proudly lists over 2,000 different wines. You could visit its numerous stores dotted all over the city and participate in events and tastings or shop online for your tried and tested favourites.
Delivery: Free delivery for orders above $1,200 (otherwise delivery fees of $100), next business day delivery for orders placed before 5pm.
Watson's Wine, various locations across Hong Kong, 2606 8828, www.watsonswine.com
Read More: Hong Kong Private Kitchens And Event Spaces
---
Kerry Wines – Curated wines with affordable options
Think of Kerry Wines as a friendly guide who will listen and make recommendations based on your needs and preferences. Packing a team of experienced wine veterans and sommeliers, you can trust that the wines here are of quality. Plus, it can help you organise a wine tasting for special occasions! 
Delivery: Free for orders of $1,800 or more, otherwise a charge of $120. Currently, there is no delivery service to outlying islands.
Kerry Wines, 2169 7700, www.kerrywines.com
---
The Fine Wine Experience – Vintage wines sourced from a wide range of regions
As the name suggests, The Fine Wine Experience is the place to go for that very, very special bottle of wine or for when you are searching for a particular vintage (there are several bottles listed that are over 100 years old!). While it does stock many quality wines under $500 a bottle, you'll find many more at the higher price points ($1,000 plus).
Delivery: Free delivery for orders over $5,000 (otherwise $180 for up to four cases and $40 for each additional case), pick up from store also available. Delivery or pick-up requires 1 to 2 days.
The Fine Wine Experience: Flagship Store, Shop A, 165-166 Connaught Road West (entrance on Chiu Kwong Street), Sai Ying Pun, Hong Kong, 2803 0753, www.finewineexperience.com
---
WinestHK – Free wine delivery all over Hong Kong with no minimum order
Offering free delivery anywhere in Hong Kong within one to two hours for no minimum purchase (delivery times are from 3pm until midnight, but extends on Fridays, Saturdays and public holidays), WinestHK means no more wine emergencies. When we say anywhere, we mean just that – including a park, beach, office or campsite! What's more, your wine will be served chilled, so you don't need to wait while it cools.
Delivery: Free for all orders, free for orders over $500 if you want immediate delivery.
WinestHK, 3460 2025, WhatsApp: 9347 0257, www.winest.hk
---
Corney & Barrow – Independent wine shop sourcing quality wines
When it comes to fine wine, you naturally feel you can trust a business that's been around for over 240 years! This privately-owned company prides itself on its relationships and has many exclusive deals with producers from all over the world. Its range includes the most premium wines along with everyday ones.
Delivery: Free for orders over $1,000 (otherwise delivery fees of $200) and an extra $250 charge for outlying islands.
Corney & Barrow Hong Kong Limited, Unit D, 6/F, 9 Queen's Road Central, Hong Kong, 3694 3333,, www.corneyandbarrow.com.hk
Read More: Catering Services In Hong Kong – Party Food, Finger Food And More
---
HK Liquor Store – Wide range of quality wines and spirits
Stocking everything from quality reds, whites, rosés and Champagne to alcohol-free sparkling wines, there's something for everyone. If you're the type who prefers look through your labels in person, there are 14 locations spread throughout Hong Kong including Tseung Kwan O, Kowloon City, Sai Ying Pun to name but a few.
HK Liquor Store, various locations across Hong Kong, 3543 0038, www.hkliquorstore.com
---
Vivino – Wine shop stocking reds, whites, rosé and sparkling wines
Priding itself as the world's largest online wine marketplace, ordering your wines via the Vivino app will be a breeze. It categorises wines by regions, grapes and most useful of all (in our opinion!) is the pairing filter. You can pick and choose your wines depending on what food you plan to enjoy it with and each wine comes with its honest user ratings so you can have a think before buying.
Delivery: Free for orders over $1,500, otherwise a shipping charge of $100 applies.
Vivino, www.vivino.com
Read More: Family Restaurants – Eat With The Kids At These Hong Kong Restaurants
---
Wine Moments – Liquor store stocking wines categorised by occasion
There is always an occasion for wine, whether it's an anniversary, a work celebration or a weekend family picnic. Choosing a wine can be overwhelming and so Wine Moments categorises its wines by life's moments — birthday parties, game nights, brunches and date nights!
Delivery: Free delivery across Hong Kong with no minimum purchase, allow one to three days for delivery (same-day delivery fees of $50 to $100).
Wine Moments, 2111 9291, www.winemoments.com
---
More Wine Shops And Liquor Stores With Delivery In Hong Kong
Read More: Romantic Restaurants In Hong Kong – Ideas For Your Next Date Night
---
Editor's note: "Wine Shops & Liquor Stores In Hong Kong: Where To Get Wine Delivery" was originally published in March 2020 and most recently updated in November 2023 by Fashila Kanakka.