From BoConcept to IKEA, furniture stores in Hong Kong stock it all, from luxurious sofas and sofa beds to outdoor furniture and second-hand furniture that is good as new.
Whether you've just moved apartments or your teens have grown out of their kids' furniture, or you just need a change of scene at home, furniture shopping can actually be a surprising way to bond with your family (can't deny that IKEA trips and furniture assembling has got us closer!). Be it revamping your whole living space, adding to your home office or sprucing up with home decor (and plants!), these furniture stores and homeware shops in Hong Kong have everything to sort you out. Happy shopping!
Read More: Where To Buy Kids' Furniture In Hong Kong – From Nursery Gear To Decor
---
Anthropologie – Customisable furniture in Hong Kong
Vintage meets modern – Anthropologie has a curated selection of eclectic, beautiful pieces. It offers some of the most breathtaking wallpapers that are perfect to personalise any child's room for different stages of their lives as well as customisable furniture with 100,000 possible configurations. Online shopping has never felt so good!
Anthropologie, www.anthropologie.com (free shipping for orders over $400)
---
BoConcept – Scandinavian furniture store
Sleek, stylish and comfortable, the range of home furniture and luxury sofas will have you smitten.  Not sure where to begin? Use BoConcept's in-home or in-store interior design service for home restyling tips. You can also shop for outdoor furniture for larger spaces.
BoConcept, various locations across Hong Kong, www.boconcept.com
Read More: Where To Buy Outdoor Furniture In Hong Kong – Spruce Up Your Outdoor Living
---
Taobao – Anything and everything!
Quite an honorary mention given its popularity! You can find literally anything and everything at Taobao for a great bargain. While we wouldn't recommend going for their big furniture pieces for the safety of our kids, there's no harm in going for their home accessories, tableware and decorative pieces. One feature we absolutely love is, you can simply upload a picture of what you're looking for and similar products will just show up! 
Taobao, world.taobao.com
---
Carousell – Secondhand and affordable new furniture from independent furniture stores
An easy-to-use platform for both buying and selling used furniture, Carousell is one of our go-to for finding second-hand pieces from brands like IKEA, BoConcept and more. The only concern is, you'll have to arrange your own mode of transport in most cases.
Carousell, www.carousell.com.hk
Read More: Where To Donate In Hong Kong – Clothes, Books, Toys, Furniture Donation And More

---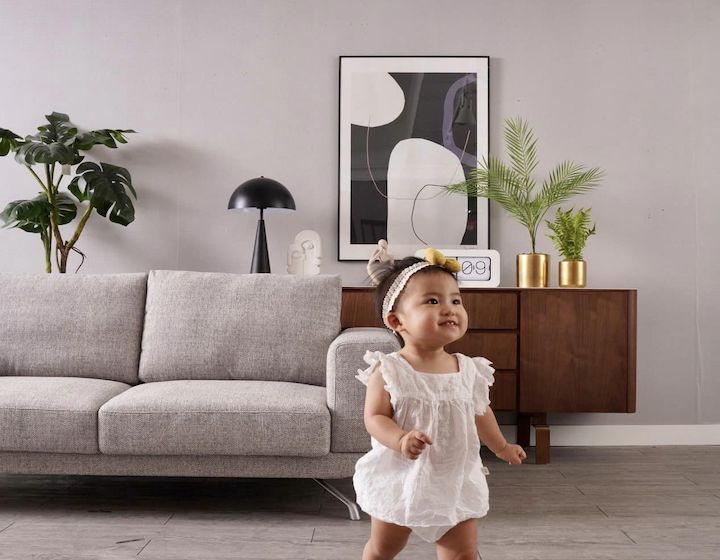 EMOH – Affordable solid wood furniture
There's something so calming about bringing the outdoors in with hues of brown in EMOH's range of houseware made from natural materials like oakwood, teak wood, marble and more. If you're looking for home decor inspo, we highly recommend dropping by their stunning showroom.
EMOH, RM1001, Century Centre, 44-46 Hung To Road, Kwun Tong, Kowloon, Hong Kong, 3621 0751, www.emohdesign.com
---
ALOT – Japanese and Thai furniture store
Cosy up your space with ALOT's wooden home furniture from bookshelves to wardrobes, sofa beds and more. The wide range of Japanese and Thai furniture makes your house look polished and also we love that they're long-lasting wood that stands the test of time (and kids scratching the surface with toys!).
ALOT, various locations across Hong Kong, www.alot.com.hk
Read More: Movers And Moving Companies For Local And International Moves
---
iDecorate – Trendy and plenty of small furniture for kids
iDecorate has everything from small furniture to loads of accessories – and all of it is beautiful and very trendy. Also, don't even get us started with the available kid-friendly options! There's an adorable collection of tableware, bedding, cushions, wraps, wall decals, storage items and cuddly toys.
iDecorate, 3421 1279, www.idecorateshop.com (free delivery for orders over $500)
---
Indigo Living – Classy and modern furniture and home decor
For big classical or modern pieces, Indigo Living has what you need. It also has a discount outlet at Horizon Plaza where you'll find amazing pieces at a fraction of the cost. Indigo Kids has a great selection of furniture, decor items and linen to make your kiddo's room a dream. Indigo Living also offers furniture rental and interior design services.
Indigo Living, various locations across Hong Kong, 2805 5955, www.indigo-living.com
Read More: Top Hong Kong Property Agents – Things To Know Before Buying A House

---
TREE – Eco-friendly wooden furniture
Looking for eco-friendly furniture that you can grow into? At TREE, you will find sofas, cabinets, and other furniture made of sustainable and eco-friendly teak, oak, and walnut wood. The designs are minimal and can be fitted to suit whichever colour palette that strikes your fancy.
TREE, 28/F, Horizon Plaza, Ap Lei Chau, Hong Kong, 2870 1582
TREE, Shop 101-102, HomeSquare, Sha Tin, New Territories, Hong Kong, 2841 8844, tree.com.hk
---
Tequila Kola – A one-stop Hong Kong furniture store
This homegrown lifestyle and furniture store houses a unique selection of statement luxury pieces from Europe and Asia and also carries a number of well-known brands. Make sure to visit Tequila Kola's massive Horizon Plaza showroom, where you'll be inspired by gorgeous displays.
Tequila Kola, 1/F, Horizon Plaza, 2 Lee Wing Street, Ap Lei Chau, Hong Kong, 2877 3295, WhatsApp: 6933 8835, www.tequilakola.com
Read More: Where To Buy Bedding In Hong Kong – Bed Sheets, Bed Linen, Duvet Covers & More
---
More Furniture Stores And Homeware In Hong Kong
Read More: Best Zero-Waste Stores In Hong Kong – Sustainable Choices For Families 
---
Editor's Note: "Furniture Stores In Hong Kong: Homeware, Decor And More" was most recently updated in June 2022 by Fashila Kanakka.