Have you heard the term matrescence? Maybe you've gone through it and not even realised! We check in with Janice Lam from She & Co. Therapy to talk us through the ups and downs of motherhood.
There's something truly incredible that happens on the day that you birth your first baby. Something that you can only begin to comprehend once you've experienced it for yourself. Obviously, there's a new tiny human in your arms to love and cherish, but it wasn't just that baby who was born that day. Through your journey from thinking about kids to conception, pregnancy and finally birth, you began to experience matrescence.
---
What Is Matrescence?
Put simply it's the transition to motherhood, but there is a little more to it. Think of the hormonal, physical and emotional changes that happen during adolescence and again during menopause. A similar process occurs during matrescence. That beautiful baby brings with it changes to everything from your hormones, sleep patterns, body image, friendship circles, finances and identity. It's no wonder that while you may have been expecting newborn bliss, the reality also encompasses feelings of uncertainty and emotional overwhelm.
---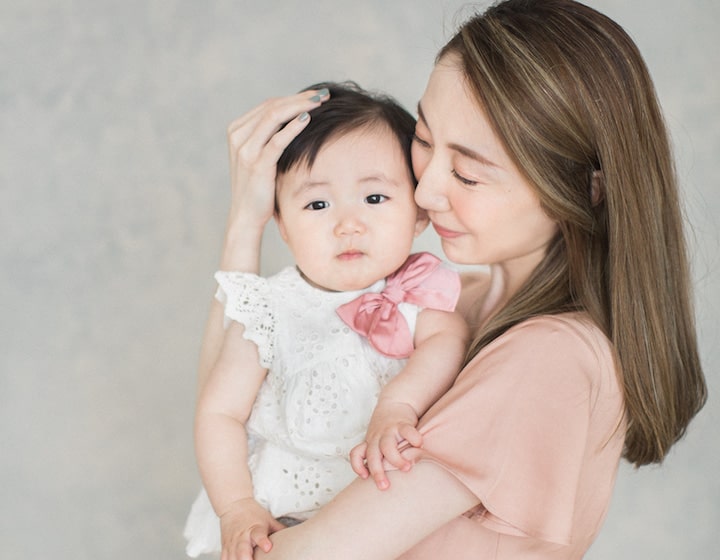 Millennials And Matrescence
Right now millennials are hitting motherhood. A generation who are having families later, are more likely to be educated than previous generations and who were brought up believing they can have it all. They are often career women, seeking to smash through that glass ceiling, but having their babies only to encounter a rather solid maternal wall. The internal conflict between achieving in the workplace (especially if this was a big part of your pre-baby identity) while also being there for all aspects of your kids' lives is truly real!
---
Some Common Experiences During Matrescence
Burnout
When there just doesn't seem to be enough hours in the day. Between keeping office hours, school runs, client meetings and bedtime stories, there's literally not much time left in the day to put yourself first. You might be missing those simple pleasures like getting your nails done or hitting the gym.
Overwhelm
No matter whether you are taking short or long maternity leave, going through a career change or becoming a stay-at-home mum the life adjustment can leave you feeling a little lost.
Mum Guilt
Hot tip, no Mum has it all together, no matter how perfect their Instagram feed looks! It doesn't make the mum guilt any less real. It might be a little pang that hits when you see a picture of your baby on a playdate without you. Or that slight stab that hits when you see another mum on holidays, at the playground or enjoying lattes and babyccinos.
Anxiety
Have you packed enough snacks? What about if bubs gets cold? How many nappies do you really need? Is my baby eating enough food/ getting enough sleep/ meeting all the milestones? It is entirely possible to easily work yourself into a cycle of anxiety.
Loneliness
There are days when you can't get out of the house. Catch-ups with friends never seem to happen (when will those nap times ever sync up!). Your relationship may have changed with your partner.
---
How To Navigate Matrescence And Get To Know Your New Identity
There's a lot to unpack, but the reality is you don't need to be a superwoman to get through it. You just need a little support. Founded by Janice Lam, Hong Kong Psychotherapist and Motherhood Coach, She & Co. therapy specialises in helping professional women through the changes and challenges experienced during pregnancy, motherhood and beyond. By helping mothers let go of unrealistic expectations, they can get some control back in their lives and feel like themselves again.
Some career coaches focus solely on helping with your workplace goals but ignore the unique position created with motherhood. On the flip side, many parenting courses assist with the practical side of things like caring and feeding while neglecting the emotional load on mothers.
At She & Co., Janice provides a mother-centred approach. She's worked for top-tier investment banks so understands the complexities, long hours and high demands of the competitive corporate world. Her education in psychology and sociology and qualifications as a psychotherapist with professional certifications in matrescence uniquely place her to provide a safe space to discuss your mental health, gain clarity most importantly, use evidence-based tools and coping mechanisms. Plus, she's experienced the upheaval that comes not only with matrescence, but also a career change and building a business during a pandemic!
Janice offers a variety of therapies and packages ranging from one on one therapy sessions to help mums get a sense of direction to customised coaching programmes to identify aspirations and goals. If you're not sure where to start, the best thing to do is book your free discovery call.
Use discount code SASSYMAMA for 20% off your first two bookings. Offer valid until 31, December 2022.
She & Co. Therapy, sheandcotherapy@gmail.com, www.sheandcotherapy.com