Discover Insta-famous Hong Kong graffiti and street art – colourful lanes lined with artistic talent and hidden murals for the kids to marvel in our tour of Hong Kong's street art scene.
The world is your oyster, and a canvas for your art if you please! We're lucky to have lanes, buildings, shopfronts and empty walls get transformed into beautiful murals that captivate the eye of passersby across all ages. But the least we'd want for you is to walk around with your stroller in Hong Kong's humidity in search of hidden gems, so we've done the legwork for you and listed neighbourhoods with beautiful street art scenes in Hong Kong.
Read More: Art Classes For Kids – Art Jamming, Chinese Calligraphy & More

---

Sai Ying Pun – Colourful murals at Art Lane
An easily missable spot just behind Sai Ying Pun MTR Exit B3, these lanes are a hidden treasure trove of Hong Kong's many talented street artists. From paintings of Bruce Lee to a girl watering her plants and colourful staircases, we find every piece of art photogenic (trust us when we say the colours pop even more on camera!). We also recommend stopping by cosy shops and cafes along the lanes (wako2ffee for a caffeine fix and Pawtners to pet the cutest doggos and cats!).
---
Sai Kung – Street art and graffiti in a seaside town
There are a total of about 18 works of art dotted around Sai Kung Town (not the outlying islands). Though some have eroded over the years and haven't been repainted, keep your eyes peeled for when you have a family day trip to Sai Kung planned. You can spot everything from abstract paintings to floral murals and colourful animals – make your way to Man Yee Playground for abstract Chinese characters in green and red and just next to it, you'll see more murals by more local artists.

Read More: Sai Kung Neighbourhood Guide For Families In Hong Kong

---
Central to Sheung Wan – Most famous and iconic street art scene in Hong Kong
It's hard to count the number of art works you'll spot around here, especially if you walk from Hollywood Road, Central to Tai Ping Shan area and then further into Sheung Wan. In fact, majority of HKwall's latest murals are centred around Central and Sheung Wan – our personal favourites include the 90s-inspired cartoon art outside Craftissimo and of the girl floating in space with flying goldfish (just imagine the kids' imagination running wild!). 
The one pictured above is in Rich View Terrace, Sheung Wan (in the Tai Ping Shan area), where you'll spot both old and new murals. As for the more long-standing iconic murals (that are sadly eroding), you can spot most on Hollywood Road, Central. Do note that not all areas may be stroller-friendly due to narrower paths and slopes and stairs.
---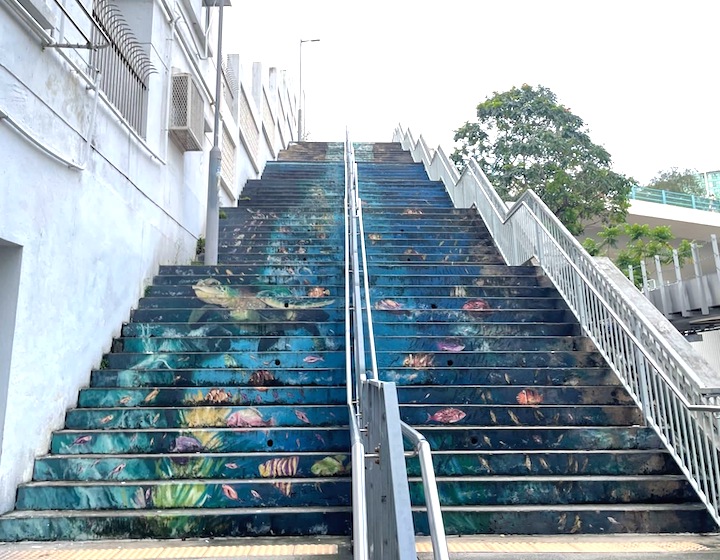 Whampoa – Nature-themed street art all over the neighbourhood
Whampoa Garden, a residential complex taken inspiration from nature, started rolling out more and more street art across the neighbourhood, most of which are inspired by animal, be it a peacock, sea turtles, elephants, pandas, you name it. Since the work here is more recent, you can still clearly see the brush strokes and vibrant colours. Stairways and footbridges are predominantly where you'll spot the art. Plus, this buzzing neighbourhood is home to plenty of kids-friendly activities including a massive arcade, a bowling alley, a cinema and more – consider your day sorted.
Read More: Best Bowling Alleys in Hong Kong

---
Tsuen Wan – Wall art and graffiti around The Mills
Given that this is a mall, not only does it make it easier to spot and take photos with kids in front of the murals, there's also AC for when you really need it in Hong Kong summers! And not to mention numerous pet-friendly cafes and shops. But the street art here is definitely much more limited, and the journey can be extra long for those residing on Hong Kong Island or Sai Kung. That aside, The Mills has beautiful vintage and nature-inspired murals for the art appreciators.
Read More: Dog-Friendly Restaurants In Hong Kong – Where To Eat With Your Pets

---
Sham Shui Po – Murals and graffiti in unexpected places, including an entirely painted building!
Becoming more and more of a hip zone with the younger generation, Sham Shui Po is an artist's haven. We love strolling around the streets here and finding graffiti in unexpected places, perhaps one that catches you off-guard is Man Fung Building, repainted entirely and a standing mural on its own. You will also find plenty of cool street art on store fronts next to secondhand stores, electronic stores and chic cafes.
---
Wong Chuk Hang – Lesser known street art scene in Hong Kong
From the outside, it's a vastly industrial space (or the stop after Ocean Park), but looking in, Wong Chuk Hang is lined with street art and graffiti. Most of it is concentrated in one space so your mini treasure hunt for murals is made easy. Alight at MTR Exit A1 or A2 to spot cool portraits, abstract art and again, more cartoon-inspired street art that kids will love!
---

Tai O – Nostalgic murals
It's the little touches of murals outside schools and shops that make this sleepy fishing village even more nostalgic. There are a total of about seven murals and one that needs to be checked out, is the perspective art that is of Tai O itself (pictured above) – you and the kids can act like you're standing on a fishing boat, looking for the catch of the day, super fun!
Read More: Tai O Fishing Village: Family Restaurants, Hikes And More