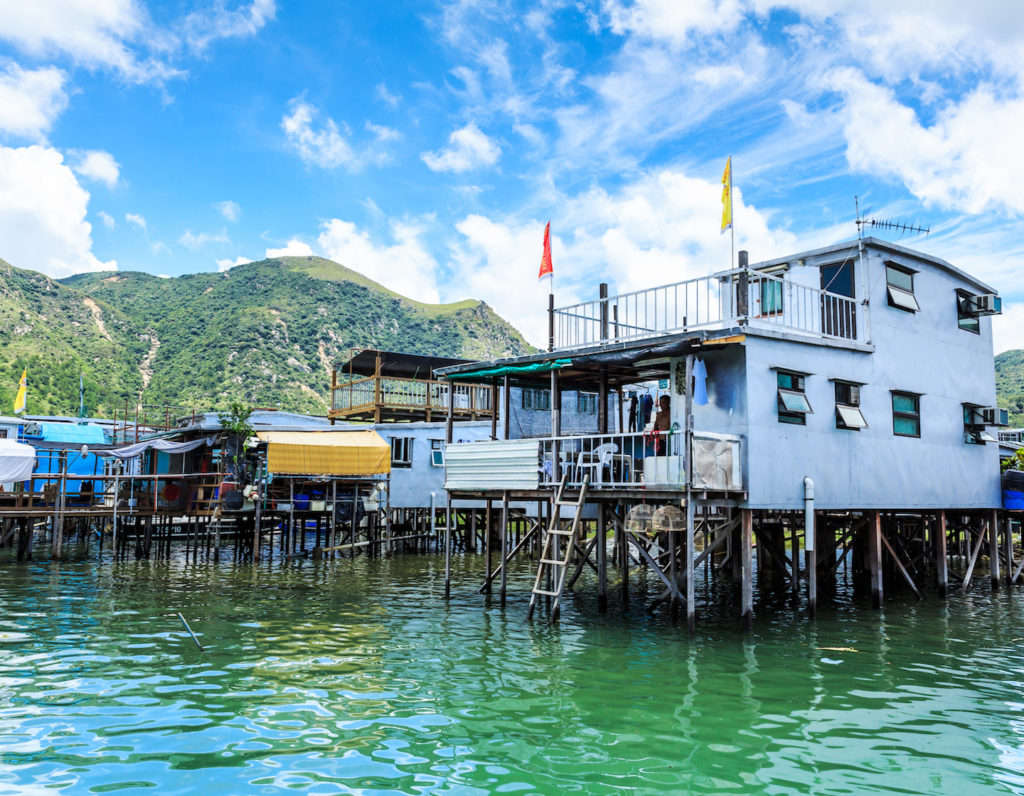 Escape the trappings of modern life and head to Tai O fishing village on the coast of Lantau, filled with restaurants, dried seafood, hikes and more!
When one thinks of tourist spots in Hong Kong, an ancient fishing town with stilt house-lined riverbanks probably isn't the first thing that comes to mind. But the island of Tai O is the perfect panacea for anyone who wants a respite from life in the big city. It has all the prerequisites for a family day trip: rich cultural heritage, local delicacies, a sprawling market and hiking trails. So head out with the kids and make some memories at this scenic spot that ranks high when it comes to local flavour and natural wonders.
Jump to:
Restaurants and Food in Tai O
Heritage and Nature in Tai O
Things To Do With Kids in Tao O
Transportations to Tai O 

Read more: Your Family-Friendly Neighbourhood Guide To Cheung Chau
---
Tai O Restaurants and Food
Since it's a fishing village, Tai O is best known for its seafood. The streets of the market are lined with stores selling dried and salted seafood, which are worth buying and photographing. Kids will get a kick out of the sunglasses-adorned dehydrated pufferfish that you'll see hanging from many shopfronts and stalls. There are several local eateries that are well-known in Hong Kong foodie circles, judging by the tell-tale queues in front of them. And if you need a place to stretch your legs after a hectic day of hiking with the kids, there are a couple of cafés that should be just the thing. Listed below are some of our recommendations.
---
Tai O Egg Waffle Uncle
Egg waffles are a Hong Kong snack staple and each neighbourhood in the city has its own go-to place for them. In Tai O, the man to meet is Tai O Egg Waffle Uncle. Residents and regular visitors are familiar with this gentleman who is kitted out in his trademark singlet and sunglasses while he dishes out egg waffles using an ancient charcoal stove. The result: A smoky bubble waffle that's crispy on the outside and pillow-soft on the inside served up in style.
Tai O Egg Waffle Uncle, 59 Kat Hing Street, Tai O, Lantau Island, Hong Kong
Read More: Our Favourite Family-Friendly Breakfast Spots In Hong Kong
---
Tai O Bakery
Need to pick up something to snack on while you walk through Tai O or go on a nearby hike? Schedule a pitstop at Tai O Bakery and pick up their signature sugar doughnuts. Be prepared for a bit of a wait as this establishment is popular among locals and tourists, but the freshly fried sugar-coated dough balls of goodness are well worth it. Check out their other baked goods such as coconut tarts, egg tarts and Chinese walnut cookies.
Tai O Bakery, 66 Kat Hing Street, Tai O, Lantau Island, Hong Kong, 2985 8621, www.facebook.com/taiobakery
---
Tai O Snack
If you've got a hankering for something savoury, hop over to Tai O Snack for jianbing (Chinese crepes). This traditional Chinese street food isn't something you'll find in many places in Hong Kong, so you should definitely check out the Tai O version. You can watch as the batter for your crepe is poured over a hot plate and then topped with a beaten egg, sauce, pickle, coriander, sesame seeds, spring onion and a deep-fried dough cracker. Yum!
Tai O Snack, 70 Kat Hing Street, Tai O, Lantau Island, Hong Kong
Read more: Family Restaurants: Eat With The Kids At These Hong Kong Restaurants
---
Crossing Boat Restaurant
Got Cantonese cuisine on your foodie checklist? The menu at Crossing Boat Restaurant is defined by the restaurant's use of local produce and seafood, and features many Cantonese stir-fry dishes. The specialties include charcoal-roasted goose, fried cuttlefish patties and Tai O steamed rice wrapped in lotus leaves. And if you want the complete Crossing Boat experience, we suggest getting a table by the water so you can take in the view of Tai O's stilt houses and while you eat.
Crossing Boat Restaurant, 33 Kat Hing Street, Tai O, Hong Kong, 2985 8343
Read more: Hong Kong Dim Sum Restaurants: Our Favourite Yum Cha Spots To Take The Kids
---
CAFÉ Solo
Looking for a place to do a spot of people-watching over a cuppa and treat the kids to dessert in a refurbished stilt house? CAFÉ Solo specialises in artisanal coffees, Cantonese dishes and homemade desserts that you can savour from the comfort of its terrace seating area. And if you're not in the mood for coffee, you can sample the Chinese tea and specialty drinks that are super-refreshing in the summer.
CAFÉ Solo, G/F, 86-88 Kat Hong Street, Tai O, Lantau Island, Hong Kong, 9153 7453, taiosolo@gmail.com, www.facebook.com/CAFE-Solo
Read more: Sai Kung Neighbourhood Guide For Families In Hong Kong
---
Tai O Banyan Tree
Hong Kong Island and Kowloon are known for their world-renowned Michelin-star restaurants, but Tai O has its very own low-key famous café. Tai O Banyan Tree was featured on Netflix's Restaurants on the Edge, and was also a shoot location for the 2021 hit show Ossan's Love that starred MIRROR members Edan Lui and Anson Lo. This café-cum-lifestyle store is open only on weekends and is known for its desserts and seasonal seafood dishes, as well as its souvenirs sourced from around the world.
Tai O Banyan Tree, G/F, 68 Kat Hing Street, Tai O, Lantau Island, Hong Kong, 6999 8213, taio.banyan.tree@gmail.com, www.facebook.com/TaiOBanyanTree
---
Cheung Choi Kee
This little store is famous for its 'husband roll', which is the subject of many pictures on travel blogs about Tai O. No, husbands are NOT on the menu – just a bit of Cantonese wordplay on 'shrimp, pork and roll' instead. The dish in question is a pork roll doused in shrimp paste wrapped in a roti. If you want to add a local touch to your cooking, you can step inside and pick up dried shrimp, deep fried fish maw and dried fish powder.
Cheung Choi Kee, 41 Kat Hing Street, Tai O, Lantau Island, Hong Kong, 2985 7428
Read more: Best Beaches To Visit In Hong Kong With Your Family
---
Cha Kwo Choi
If you're on the lookout for a truly local snack, you should add this little spot to your Tai O bucket list. There is no actual tea used in these dumplings, they're made out of glutinous rice with either sweet or savoury fillings and are usually had with tea. The Hakka delicacy is usually only made on special days like Lunar New Year, the Lantern Festival or Tomb Sweeping Day, but is on the menu here in Tai O all year round.
Cha Kwo Choi, 106 Shek Tsai Po Street, Tai O, Lantau Island, Hong Kong
---
Tai O Fei Mao Li
This community centre also houses a cat café that pays homage to Tai O's feline population. If your kids love cats, then this is the place to stop at, have a quick meal and indulge in some play time. The centre also organises special events and workshops that promote Tai O culture and local artists. All under the strict supervision of the resident cats, of course!
Tai O Fei Mao Li, 67 Kat Hing Street, Tai O, Lantau Island, Hong Kong, 9497 4206, taio.fmlord@gmail.com, www.facebook.com/TAIOFEIMAOLI
Read more: The Best Stroller-Friendly Cafés And Restaurants In Hong Kong
---
Fuk Hing Hong
No visit to a fishing village is complete without a pitstop at a fishball stall! And this Tai O favourite is a super-sized version that has locals and visitors lining up for it in all sorts of weather. This grab-and-go snack is fun to eat and great to munch on during a hike. We also recommend the marinated cuttlefish.
Fuk Hing Hong, Shop 4D, Wing On Street, Tai O, Lantau Island, Hong Kong, 2874 1010, issac101zz@gmail.com, www.facebook.com/fukhinghong/
---
Tai O Store
If your kids love seafood, then they'll love the Tai O Store offerings, which are mostly charcoal grilled and on skewers. Take your pick from the regular fresh shrimp, squid and cuttlefish, as well as the oysters and scallops. If you're not in the mood for seafood, try the honey wings and chicken cartilage.
Tai O Store, G/F, 68 Wing On Street, Tai O, Lantau Island, Hong Kong
Read more: Lamma Island With Kids: Where To Eat, Shop And Things To Do
---
Station Tofu Pudding
This traditional dessert hits the spot, especially on a hot summer day. Rose Cheuk, who has been dishing out this sweet treat since she was a teenager, ensures that it's the way it's supposed to be – silky smooth and topped with brown sugar or syrup. You can also sample some of her other offerings, such as cashew nut sweet soup and black sesame soup.
Station Tofu Pudding, 57 Wing On Street, Tai O, Hong Kong, 2985 5318
---
Tai O Heritage Hotel
This Grade 2 historic building started out as a marine police station in 1902 and was restored as a nine-room hotel in 2009. Since then, the Tai O Heritage Hotel has become popular among tourists as a place to have a relaxed lunch during a day trip (we recommend the Mountain Begonia and Tai O Fried Rice). If you truly want to immerse yourself in the local culture, we suggest setting aside 20 minutes for a free guided tour of the property that includes a short video detailing the stories of the Old Tai O Police Station, followed by a visit to the former Inspectors' Quarters, Guard Tower, the restaurant and the Heritage Interpretation Centre. But if you want to take a couple of days to explore all that Tai O has to offer, we recommend booking a staycation at the hotel.
Tai O Heritage Hotel, Shek Tsai Po Street, Tai O, Lantau Island, Hong Kong, 2985 8383, info@taioheritagehotel.com, www.taioheritagehotel.com
Read More: Staycations In Hong Kong: Hotels And Packages To Book With The Family
---
Tai O Hikes, Heritage and Nature
Tai O Hiking
Many of Tai O's commercial and residential buildings are situated near the river. This means that the relatively uninhabited picturesque northern part of the island and the southern area of Tai O on Lantau lend themselves quite nicely to hikes and treks of varying degrees of difficulty.
Read More: Hiking Hong Kong With Kids: The Best Hikes For Families
---
Tai O Hike To Fu Shan Viewing Point
Pack some snacks or lunch and hike up to the Fu Shan Viewing Point. The summit is only a 10-minute trek up the stair trail behind the Shaolin Wushu Culture Centre. Walk along the path of the Tai O Country Trail in the direction of Shek Tsai Po, past the White Dolphin statue. This is more suited to strollers and should take around 20 minutes. Or if you're already at the Shaolin Wushu Culture Centre, trek up the stair trail for 10 minutes. Easy for the little ones, but definitely not stroller-friendly!
---
Tung O Ancient Trail Hike — Hiking from Tung Chung to Tai O
This is quite an ambitious trail to hike with kids. It's not particularly difficult, but it's long and takes an average of four hours to complete. However, most of the trail has good signage and is paved except for the very last stretch.
You can start walking from the Tung Chung MTR station or you could take a bus to Mun Tung Estate Mun Wo House and start the trail from Hau Wong Temple. The trail takes you along the northern and western coasts of Lantau, where you will be treated to panoramic views of Hong Kong landmarks such as the airport at Chek Lap Kok, the Ngong Ping cable cars and the Hong Kong-Zhuhai-Macau Bridge. We suggest taking a few things to nibble on during the journey, but there are many villages along the way where you can pick up refreshments and snacks. You can take detours to San Tau Pier and Sha Lo Wan, where you can check out piers and beaches.
Read more: Where To Buy Plants In Hong Kong: Stores And Nurseries That Deliver
---
Tai O Infinity Pool Hike
The Man Cheung Po Infinity Pool, popularly known as the Tai O Infinity Pool, is a manmade catchment area for Tai O's water supply. It used to be a popular spot for swimmers and selfie fanatics, but is now closed to the public so that the water doesn't get contaminated. It's still worth the relatively easy and short hike (two hours both ways) as you can see waterfalls below the pool once you get there.
Start your journey from the Tai O Pier and continue to the Tai O Promenade, which will take you to the other side of the village. Follow this path until you see a sign for Man Cheung Po. Keep walking down this path, which will take you past Yi O Bay. After this, the path will descend and you'll see a sign for Man Cheung Po Infinity Pool on the left. Do not follow this sign. Instead, walk past it and take the stairs on the left after you cross a campsite and a beach. Keep walking up the stairs and you will soon hear the waterfalls. This hike is best undertaken with older children. If you're doing it with an infant in a carrier, be careful as there are sections of the path towards the end that are narrow.
Sassy Mama tip: There are stunning views of the sunset from Yi O Bay. If you want to experience them, set out for your hike to the Tai O Infinity Pool and make it back to the bay before sundown.
Read more: Your Family-Friendly Neighbourhood Guide To Peng Chau
---

Kids' Workshops In Tai O
The Hong Kong YWCA Tai O Community Work Office and the Tai O Cultural and Ecological Comprehensive Resource Centre organise several activities for children, all of which revolve around Tai O's heritage. During the two-hour-long parent-child activities, participants are taken through the village to get some first-hand experience of daily Tai O activities such as making salted egg yolks. As part of the Shack Model Making workshop, participants get a guided tour of Tai O's famous stilt houses, and then make model versions of these structures.
Y Eco Tour Tai O Cultural and Ecological Comprehensive Resource Centre, G/F, 61-63 Wing On Street, Tai O, Lantau Island Hong Kong, 2985 6310, cerc@ywca.org.hk, cerc.ywca.org.hk
Read More: Art Classes In Hong Kong – Creative Courses And Workshops For Kids
---
More Things To Do In Tai O With Kids
There is plenty to do and see in and around Tai O, so you just have to choose what to do based on the pace you'd like to take. If you've hiked to the village, you may want to just wander around the market and browse through the stores. And if you're in the mood for a more packed schedule in the town itself, we suggest a dolphin or boat tour before checking out the sights Tai O has to offer.
---
Visit Tai O Temples
As with most localities in Hong Kong, Tai O has its share of temples with significant local and historical significance. The Kwan Tai Temple on Kat Hing Street is the oldest temple on Lantau Island and one of several in Hong Kong dedicated to a military general of the Three Kingdoms era named Kwan Tai. Further north, you will find the Yeung Hau Temple, which is the oldest Hau Wong temple in Hong Kong. If you're heading to the Fu Shan Viewing Point via the Shaolin Wushu Culture Centre, make a pit stop at the Hung Shing Temple. This peaceful 18th-century temple is the last of four temples visited during the Tai O Dragon Boat Water Parade.
---
Tai O Boat Trips
Book a boat tour if you want to get a taste of life on the water in Tai O. These 20-minutes rides will take you through the waterways of the fishing village for an up close-and-personal look at the stilt houses and then to the open sea, where you can get a look at General's Rock and the Tai O Heritage Hotel. You may spot Chinese White Dolphins if you're lucky. Head to any one of the booths at Tai Chung Bridge to book a trip to the eastern side of the island or further south to Yi O.
Read More: Where To See Wildlife In And Around The City
---
See The Pink Dolphins At Tai O
Spotting dolphins is a hit-or-miss affair if you're out on a boat excursion. If you're keen on spotting these mammals, book a trip with Hong Kong Dolphinwatch. The organisation's trips aim to raise awareness about Chinese White Dolphins and their habitat and to generate revenue for research and campaigns. They organise two types of trips: Dolphin-watching trips for smaller groups on Sundays and public holidays that fall on Wednesdays and Fridays, and charter trips for a minimum of 40 people. The pick-up and return point for the scheduled trips is the Tung Chung Development Pier, but groups who book chartered trips can get picked up at Tai O. The at-sea leg of a trip takes a minimum of three hours, depending on dolphin sightings, sea conditions and traffic.
Hong Kong Dolphinwatch, 1528A Star House, Tsim Sha Tsui, Kowloon, Hong Kong, 2984 1414, info@hkdolphinwatch.com
Read more: That Mama: Janet Walker, Spokesperson Of Hong Kong Dolphin Watch
---
Tai O Lantern Festival
This 20-day annual event held during the Mid-Autumn Festival is organised by Tai O Fei Mao Li and HK.WeCARE. The main attractions of the festivals are the lanterns made by the locals and volunteers that are hung up across the village and lit. If you'd like to paint a lantern for the festival, sign up for one of the workshops conducted by Tai O Fei Mao Li. And if you want some truly IG-worthy pictures of the event, head to the Tai Chung Bridge and Sun Ki Bridge for some great shots with the kids.
Sassy Mama tip: Do not attend the festival during the Mid-Autumn Festival public holidays as the lanterns may not be lit. This is sometimes done to deter tourists from going to Tai O if the village gets too crowded. Instead, go to Tai O at the beginning of the lantern festival to beat the crowds.
Read more: Sassy Mama's Guide To Festivities Around The Globe
---
Tai O Dragon Boat Water Parade
This event, which is held during Hong Kong's annual Dragon Boat Festival, is included in the third national list of Intangible Cultural Heritage. The highlight of the festival is the century-old tradition by which three Tai O fishermen's associations take statues of Yeung Hou, Tin Hau, Kwan Tai and Hung Shing from their respective temples in the area and place them on sacred sampans. They are then rowed through the waterways of the village, after which they are returned to their temples. The best spot to catch the action is at Tai Chung Bridge, which is a great vantage point to view the sampans and is sometimes drawn to let them through during the ritual.
Read More:  Dragon Boat Festival: What Is It And Where To Watch The Races
---
Bridges In Tai O
There are two points at which the Lantau and island sides of Tai O are connected. The first is Tai Chung Bridge, popularly known as the rope-drawn bridge. It's a great photo spot and if you're lucky, you may be able to catch the bridge being drawn to let a boat or two pass under it. You can watch the pomp-and-ceremony version of this practice during the Tai O Dragon Boat Water Parade. Sun Ki Bridge is the best place to get your money shot of Tai O – with the stilt houses against the backdrop of verdant mountains.
---
Shrimp Paste Factories In Tai O
Sure, you can get shrimp paste from many of the stores at the Tai O Market, but if you want a jar that comes with a bit of history it's worth visiting some of the factories that make this specialty condiment. The most notable are the Sing Lee Shrimp Sauce and Paste Manufactory that has been around for more than 80 years and Cheng Cheung Hing Shrimp Paste Factory that was founded in 1920 – both located on Shek Tsai Po Street.
---
Yi O Farm
Looking for a day activity with the kids that's off the beaten track? Try the farming activities conducted by Yi O Farm, during which you can also learn about local agricultural development and the history of the area. The highlight is the rice-growing workshop at which participants get ankle-deep (or shin-deep for children) in clay mud and learn what it takes to grow and harvest rice. If you want to learn more about what they do in terms of environmental sustainability, sign up for their ecological tours and planting workshops. You can either walk to the farm or take the weekends-only free boat ride from the Tai O Pier to Yi O Pier.
Yi O Farm, 60 Kat Hing Street, Tai O, Lantau Island, Hong Kong, 2985 8308, info@yio.com.hk, www.yio.com.hk
Read More: Hong Kong Farms – Strawberry Picking, Sunflowers And Organic Farms
---
Kayaking In Tai O
Active families get ready because Tai O offers something fab for the whole family: sea kayaking. While paddling through the old fishing village of Tai O, you will be greeted by sights of Tai O's historical stilt houses and beautiful scenery. You may even have a close encounter with the famed Chinese White Dolphins. Don't own a kayak? Fret not, A-Team Edventures will provide all the necessary equipment and guidance so that even beginners who have never been kayaking will be able to enjoy stunning views of the island.
A-Team Edventures, Tai O Bus Terminal, Tai O, Lantau Island, Hong Kong, 2560 8838, info@ateamedventures.com, www.ateamedventures.com
---
Eco-friendly Shopping In Tai O
Global Tribal, formerly known as EARTH.er, is an eco-friendly fashion brand. The store is run out of founder Benny Yuen's grandmother's Tai O home and specialises in creating designs for products made out of environmentally friendly material such as hemp, bamboo and used rubber tires. All their products – which include bags, hats, shoes, shirts and earrings – are made in Nepal and Thailand. They particularly focus on destigmatising hemp, which is historically associated with marijuana.
Global Tribal, G/F, 83 Kat Hing Front Street, Tai O, Lantau Island, Hong Kong, info.earther@gmail.com, www.earthertaio.com
Read More: Where To Get Sustainable Clothes For Kids In Hong Kong
---
Tai O Rural Committee Historic And Cultural Room
This free-to-enter mini museum mainly features items from the village's past. Unsurprisingly, most of the displays are connected to the sea and fishing, but there are other relics of cultural significance such as lanterns, cookware and traditional clothing. Most of the signs and information are in Chinese, but there are some labels in English. This is a great pitstop, especially in the summer.
Tai O Rural Committee Historic and Cultural Room, 5 Tai O Wing On Street, Tai O, Lantau Island, Hong Kong, 2985 7229
Read more: The Best Museums In Hong Kong To Visit With Kids
---
How To Get To Tai O
There are quite a few ways to get to Tai O, and they all involve taking a combination of the MTR, bus and a ferry.
Getting From Central To Tai O
You can either choose to take the MTR from Hong Kong station to Tung Chung, or take the ferry to Mui Wo. Then follow the instructions below.
Getting From Tung Chung To Tai O
From Tung Chung MTR, walk for five minutes following signs to Bus No. 11. Tai O is the last stop and the journey will take around 45 minutes.
Getting From Mui Wo to Tai O
From Central Pier 6, take the ferry (35-40 minutes by fast ferry, 50-55 minutes on the ordinary ferry) to Mui Wo on Lantau Island. From Mui Wo, take Bus No. 1 to Tai O (45 minutes).
Both buses will take you to the bus terminus, which is a parking lot that puts you at the far west end of Wing On Street.
Sassy Mama tip: If you want to take the most scenic route to Tai O, you can hop on the cable car to Ngong Ping and then catch the No. 21 bus from there. If you live on Lantau, you could also take the ferry to Tai O from the Tung Chung Development Pier.
This article was originally written by Olivia Hudnut and published on 16 September, 2015, and has been updated most recently by Anjali Muthanna in 2022.
Read more: 50 Things To Do In Hong Kong With Kids