While we're rejoicing at the Hong Kong flight bans being lifted and compulsory quarantine being reduced, we still can't help but feel a bit apprehensive about the prospect of a week locked in a small hotel room with our youngsters! Here are our tips for getting you through Hong Kong quarantine with kids.
Empty airports and extra seats on planes are definitely perks of travel at the moment, but the impending Hong Kong quarantine with kids on landing may be a less than joyous thought. While most might be staying put this year, some will brave the journey to see family and friends – and no doubt the thought of keeping the kids entertained while cooped up indoors during the quarantine time might seem a little daunting! But have no fear. A mama who went through (home) quarantine with her little one tells of her experience with a few tips and tricks to keep the kids (and you!) sane.
Editor's Note: For more information about returning to Hong Kong from overseas, check out The Government of Hong Kong Special Administrative Region's Quarantine for Inbound Travellers – Frequently Asked Questions.
Read more: Hong Kong COVID Tests: PCR Tests, RATs And Community Testing Centres
---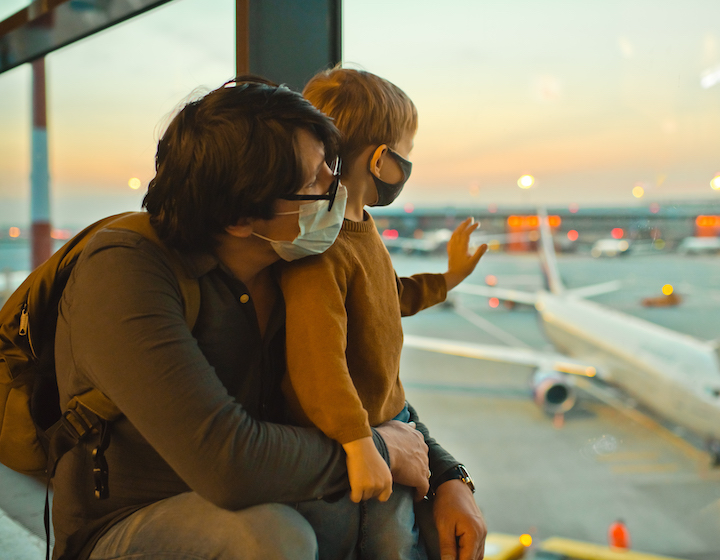 Quarantine With Kids: Arriving At Hong Kong Airport
Hooray! You have secured your ticket to Hong Kong (the first achievement!) and fulfilled all the rigorous testing requirements, not to mention survived your flight with kids. The next hurdle is getting through the testing at Hong Kong airport (here are the full Quarantine Procedures for entry via Airport).
When you come off the plane you'll be ushered to the mid-field concourse for your COVID test. The test is a nasal and throat swab PCR. Have all your paperwork ready, especially your completed Health Declaration Form (completed up no more than 48 hours before arrival). This form will generate a QR code which will be scanned.
Once you've done your test you'll have to wait for the results. This normally takes around two to three hours. From there you will be directed to collect your baggage and then to your hotel transport. Expect to do a lot of walking between each step, plus a lot of queuing and waiting. In general, we're hearing that it takes around seven to eight hours from landing to walking into your quarantine hotel room.
Read more: 10 Tips For Flying With Young Kids: What To Pack In Your Carry-On And More
---
Tips For Keeping Kids Entertained During Hotel Quarantine
Family Quarantine Games And Activities
To pass the time and stave off boredom you'll have to get very imaginative. There are some great Instagram accounts that have easy to make games and activities for kids, personal favourites are @fiveminutemum and @Thedadlab.
Daisy Upton at the Five Minute Mum offers a huge amount of ideas to keep kids around the ages of 1 to 5 years old entertained when at home all day (older children will find these ideas fun as well). It's a well-known fact that kids tend to prefer playing with a cardboard box – sometimes more than the original contents! So if you're looking to encourage creativity, try her 10 things to do with a cardboard box tips. A schedule to keep your day in check and youngsters focused is also a great plan of action. There are also ideas that can be adapted to older kids as well, like the spider's web number game.
Suitable for older kids, the papa behind The Dad Lab (Sergei Urban) also has a great range of science-based activities via his Instagram page.
Read more: Fun Games To Entertain The Kids On A Road Trip Or Flight Layover
---

Kids Hotel Quarantine Arts And Crafts
Make sure you've got a good selection of paint and other arts and crafts supplies (remember to have this in your list of essentials for the hotel), so that we could make whatever popped into my son's imagination that day (mostly space rockets and dinosaurs!).
Ikea is perfect for a cost-effective haul of paints, massive roles of paper and pens, etc. You can order Play-Doh and other craft supplies to be delivered from Toys R Us and Amazon. If you don't already have an activity box subscription, Sassy Mama can highly recommend Kiwi Crate.
Alongside drawing and painting, you can try an easy paper mache volcano science experiment. The wonders of vinegar and baking soda eruptions, truly are amazing to keep kids entertained! If you're looking for instructions, take a look at this article Red Ted Art.
Read more: Activity Boxes In Hong Kong: Fun And Learning Delivered To Your Door
---
Treasure Hunts And Hide & Seek
Another easy idea is to hold a treasure hunt. Simply use a favourite toy (a "stolen" dinosaur egg was a winner!), or try finding all the numbers you can in the room. If your kids are at school, take a look at the syllabus (numbers, colours, new words, etc). Have fun creating your own clues dotted around the house, or take some inspiration from others, like this indoor treasure hunt for children from The Spruce.
Similarly, you can get creative when playing hide and seek by using a toy that can get into all sorts of nooks and crannies! Similar to the Elf On The Shelf!
Get family at home and across the world involved by holding a daily picture challenge. Have someone position a toy or object around their house (works especially well if one parent or aunty is staying in your home and can use the kids' bedrooms) and ask your kids to recreate it in the hotel. Check out the images below for some inspiration — in our case Nanna in hotel quarantine set up Minnie Mouse for our son to recreate at home with Mickey!
Read more: The Best Masks For Kids And Adults When Out And About
---
Get Moving And Keeping Fit
Incorporate some sort of exercise and movement every day, definitely a challenge in a small hotel room. You can check out our round-up of online workouts for the whole family and also Joe Wicks on YouTube, but it can even be as simple as hosting dance parties, playing musical statues or having five minutes of crazy jumping on the bed. I also discovered that if I was doing exercise he wanted to join in, so he's now mastered a squat and lunge. Even post-quarantine, we still really enjoy a family exercise session together!
Read more: Online Fitness Classes, Influencers And Home Workouts For The Whole Family
---

Create A Routine
Don't underestimate how much isolation will affect your kids. While their resilience often surprises us, it does still take a toll and so you'll want to do all you can to create a sense of normalcy. The best way to do that is to put a structure and routine into the day. You will have heard the saying, "kids crave routine". Nothing underscores this like hotel quarantine. Create a daily schedule, which, yes, might include higher than average screen time, as a structure can give a sense of security and helps when planning.
Read more: Easy Home Learning Activities To Schedule For Preschoolers
---
More Sassy Mama Kids' Activity Resources
Here's hoping that the days of hotel quarantine in Hong Kong are numbered. In the meantime, browse through the articles below for more ideas on making your time in quarantine fly by. You've got this, Mama!
Read more: Expert Advice: How Will Social Distancing Affect My Child?