These Phuket hotels and family resorts are known for warm hospitality and epic kids' clubs. With short flight times and no jet lag, Thailand resorts always have us bringing the family back for more!
Wondering which Phuket hotel or resort you should book for your Thailand holiday? We have rounded up our top 12 family resorts and hotels in Phuket.
There's something for everyone at these family-friendly Phuket hotels. From free kids' clubs to exhilarating action-adventure ziplines, from pools bestowed with waterslides and fountains to sunny beachside yoga, and with prices ranging from opulent five-star luxury to family affordable, you are sure to find the perfect Phuket holiday destination.
Read More: 15 Bali Resorts And Hotels With Amazing Kids' Clubs
---
Rosewood Phuket – A secluded Phuket hotel with unique experiences for all the family
The Rosewood Explorers programme is notable not only because it's free for children from the age of 3 (instead of the usual 4), but also for its thoughtful themed experiences, including Culinary Bonding (craft chocolate workshops and plant-based cooking sessions – yum!), Mind, Body, Soul (think laughing yoga, junior muay Thai and eco discovery walks) and Culture (experience Thai weaving, dancing and music). The kids' club features climbing walls, a performance stage, reading nooks and a tropical-landscaped playground. For the older kids, there are half-day programs like "A Day in the Life of a Hotelier", where a member of the Executive Team will guide them for a behind-the-scenes tour of the resort or the DJ Workshop where they can learn skills that will no doubt impress their friends!
Rosewood Phuket, www.rosewoodhotels.com
---
Laguna Holiday Club Phuket – Ideal Phuket hotel for the golf enthusiast families
Conveniently located overlooking the picturesque Laguna Golf Club scenic fairways and lagoon, Laguna Holiday Club is an ideal family-friendly Phuket resort for those with a penchant for golf. The family rooms include separate living and dining areas along with a well-equipped kitchenette, perfect for a quick breakfast before hitting the free kids' club. There are three pools, one with a waterslide along with a private beach to explore as well as a children's playground. Conveniently, guests here can access the next-door Angsana Laguna Phuket facilities and restaurants (including the largest kids' club in Phuket!), making this Phuket resort a wonderfully affordable option.
Laguna Holiday Club Phuket, www.lagunaholidayclubresort.com
Read More: 10 Tips For Flying With Young Kids — What To Pack In Your Carry On
---
The Slate – Quirkily-inspired and ultra-unique Phuket hotel
Designed by the inimitable Bill Bensley, The Slate Phuket presents a whimsical world of art and history meeting nature. The resort is located only 10 minutes from Phuket International Airport and features a family-friendly lagoon pool and infants' pool, centrally located to the family suites. Drawing on Phuket's tin mining heritage, the kids' club is imaginatively called The Tin Box and young guests are referred to as 'Little Miners'. Here the kids can explore various activities from origami to mask-making, sand art to yoga, and mosaics to pizza making. For teenagers, there is paddle boarding, kayaking, archery and kite surfing while parents are well taken care of at the adults-only Pulley Pool and Bar or can indulge at the luxurious Coqoon Spa.
The Slate, www.theslatephuket.com
---
Holiday Inn Resort Phuket – Kid-preferred, parent-approved Phuket hotel
Looking for a quick getaway to the heart of Patong without the eye-watering price? Holiday Inn Resort Phuket is just the ticket. With kids aged 12 and under staying and eating free, an excellent breakfast spread and special kids' menus, even the fussiest of eaters are well-catered for. Opt for a family room featuring aqua-themed bunk beds or a family suite with turtle or junk boat beds. The newly renovated, underwater-themed kids club encompasses four zones including an Arts & Crafts area for creative explorations and a shaded kids pool with a waterslide and whale and turtle fountains. The family swimming pool provides a toddler paddling area, a water cave and water spouts for more aqua fun!
Holiday Inn Resort Phuket, www.ihg.com
Read More: The Best Ski Resorts To Visit With Family This Winter
---
Amanpuri Phuket – Nature-based adventures at this luxury Phuket villa resort
For young kids, the experiences at Amanpuri Phuket revolve around the Eco-Beach Discovery Centre. This sport and educational hub offers a daily programme of nature and science-based activities for children aged 5-12 years including a beach critter hunt, snail mini-terrarium workshop and a vegetable and herb patch farming experience. The Hot Spot caters for sporty over 12s with a skateboard halfpipe, custom bouldering wall, slackline and watersport toys. The Digital Room is supported by expert instructors to teach design and editing of videos captured on the in-house GoPros and the creation of an accompanying soundtrack – perfect for the creative teens! Additionally, the Holistic Wellness Centre provides a junior program of yoga, Pilates, Thai boxing, swimming and tennis. Something to suit all speeds!
Amanpuri Phuket, www.aman.com
---
Sunwing Bangtao Beach – A Phuket hotel for wholesome family fun
Parents love the range of pool options at this Phuket resort. The baby pool is well shaded while the children's pool features a small waterslide. Older kids can laze by the large fun pool offering inlets, a waterslide and an island. Lollo & Bernie (resident Giraffe and Bear characters) make guest appearances throughout the resort to the delight of the littlest guests. Family-friendly night-time entertainment includes Magic and Acrobat shows, a mini-disco and teen-idol performances. The Lollo & Bernie Kids Club is free of charge and the Teen Lounge with Pizza & Movie nights, sports activities and tournaments (and the opportunity to hang out with new friends!) will ensure the older kids are well taken care of. Sassy Mama can vouch that it is perfectly located next to The Lazy Coconut, one of the best family-friendly beach clubs in Phuket.
Sunwing Bangtao Beach, www.sunwingphuket.com
Read More: Travel Tips — How To Help Babies And Toddlers Overcome Jetlag
---
Trisara – Exquisite Phuket hotel with private beach and kids' club
As the name suggests, this Phuket resort really is 'the garden in the third heaven'. Chances are you know someone in your circle who raves about it and it really does live up to its reputation. One Sassy Mama returns over and over to Trisara to indulge in the stunning, private pool villas, divine spa treatments and one Michelin-starred and Michelin Green Star restaurant, Pru. And what's more the kids are warmly welcomed too (one Sassy Baby enjoyed a long naptime cuddle so parents could enjoy their brunch in peace)!
From the minute you arrive, the kids can be whisked away by the delightful staff to Trisara Kids Club where a collection of games, arts and crafts, reading and video libraries await. Plus there are outdoor activities on the private beach and watersports that keep the kids active and engaged. If you stay on a Sunday, the Jazz Brunch is a must!
Trisara, www.trisara.com
Read More: How To Travel With A Newborn Baby
---
JW Marriott Phuket Resort & Spa – Beachfront five-star luxury Phuket hotel
The five-star JW Marriott is a tempting choice for families who want a more peaceful holiday with a touch of luxury. Set along the quiet Mai Khao Beach on Phuket's northwest coast and handily located near Phuket Airport, the resort offers families a large and lush retreat. The resort has three swimming pools, including one with slides and fountains as well as daily activities like batik painting at its kids' club. Almost every service at JW Marriott has been adapted to appeal to children, including a cooking course and even spa treatments designed for kids. Be sure to pay a visit to the onsite turtle rehabilitation centre!
Sassy Mama Tip: It is easy to confuse the JW Marriott Phuket Resort & Spa with the Marriott Phuket Beach Club which offers family apartments nearby (there is a shuttle bus connecting the resorts). Note that if you book the Beach Club, you can use the JW facilities for an extra fee.
JW Marriott Phuket Resort & Spa, www.marriott.com
---
Pullman Phuket Panwa Beach Resort – Family-friendly Phuket hotel for the budding marine biologist
The Pullman's Marine Walk activity is a must-do experience for the whole family and makes it one of the top Phuket hotels for families in our books. Explore the private beach and shoreline for starfish, crabs, small coral, mud skippers and many more sea life creatures. If the Marine Walk activity has sparked your child's interest in marine life, then the Phuket Aquarium, home to reef sharks, moray eels, otters, penguins and jellyfish, is a short walk from the resort. The Sapparot Club is open every day providing plenty of kid's activities such as paper mâché, clay art, kite making and umbrella painting.
Pullman Phuket Panwa Beach Resort, www.pullmanphuketpanwa.com
Read More: The Most Kid-Friendly Swimming Pools In Hong Kong — Outdoor And Indoor Pools
---
Splash Beach Resort – Beachfront Phuket hotel next-door to a waterpark
Located within Phuket's largest waterpark, Splash Jungle Water Park, this resort provides hours of wet and wild fun for the kids! The waterpark features a lazy river, spray park, wave pool and kid's aqua play area. Meanwhile, the resort itself has a children's swimming pool and an on-site playground with the kids' club offering a variety of activities throughout the day. Do not miss the kid-friendly Monday Movie Nights and the visually spectacular (and slightly nerve-wracking!) beachside Saturday Fire Show!
Splash Beach Resort, www.splashbeachresort.com
---
Anantara Layan Phuket Resort – Luxury Phuket resort delivering thrills for the teenagers
Set in a stunning natural forest, this idyllic resort recently opened a 400-metre-long zipline as part of the thrill-seeking Layan Active Zone. Suspended 15 metres above the ground with spectacular views of Layan Beach, little (and big!) adventurers are sure to be impressed. Other adrenaline rush activities on offer include a 10.5-metre-high outdoor climbing wall and a Muay Thai boxing ring. For the little ones, there is the family-friendly Lakeside Pool, Chang Kids Club, children's craft corner as well as a skate park catering for children, teenagers and adults alike. Parents will enjoy the luxe surroundings and Sassy Mama can vouch for its welcoming friendly staff at the kids' club.
Anantara Layan Phuket Resort, www.anantara.com
Read More: Hong Kong Staycations For Families
---
Thavorn Palm Beach Resort – Upscale Phuket hotel with an onsite petting zoo and giant waterslides
With direct access to Karon Beach, Thavorn Palm Beach Resort delivers a truly unique experience at the beachfront Animal Village. Featuring rabbits, goats, pigs, chickens and birds for the kids to interact with, pet and feed — we can hear the squeals of delight already! Ready to cool off? No family member can go past the 4-floor high curved, twin spiral or rollercoaster water slides at the kid-friendly Blue Heaven Pool. If all that is not enough, the kids' room features an indoor ball pit with slides, games and toys, right next door to the family-oriented ice cream and dessert café. Yum!
Thavorn Palm Beach Resort, www.thavornpalmbeach.com
---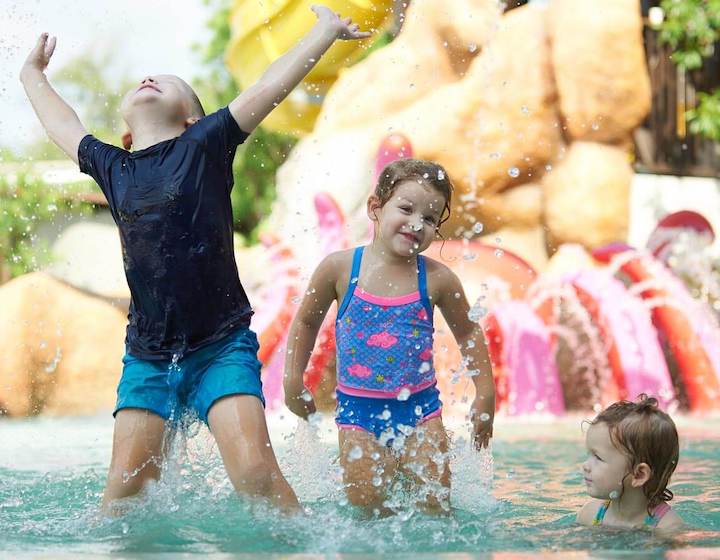 More Phuket Hotels And Resorts For Families
Read More: 101 Things To Do With Kids In Hong Kong
Main image courtesy of Getty, image 1 courtesy of Rosewood Phuket, image 2 courtesy of Laguna Holiday Club, image 3 courtesy of The Slate, image 4 courtesy of Holiday Inn Resort Phuket, image 5 courtesy of Amanpuri, image 6 courtesy of Sunwing Bangtao Beach, image 7 courtesy of Trisara via Facebook, image 8 courtesy of JW Marriot Phuket Resort & Spa, image 9 courtesy of Pullman Phuket Panwa Beach Resort, image 10 courtesy of Splash Beach Resort via Facebook, image 11 courtesy of Anantara Layan Phuket Resort, image 12 courtesy of Thavorn Palm Beach Resort, image 13 courtesy of Ozo Phuket