Trying to decide where to ski this winter? From Japan's legendary powder to family ski resorts in North America and Europe, we're quite the snow seekers!
Grab your skis and snowboards, it's time to hit the slopes! Whether it's a short-haul family ski trip in Japan while taking in the Sapporo Ice Festival, a unique "dance while you ski" experience in South Korea, or an epic snow holiday in Europe or North America, there are endless options out there to create long-lasting frost-filled memories. We have rounded up the best family-friendly ski resorts from around the world that cater to kids.
Jump to:
Ski Resorts In Japan
Ski Resorts In South Korea
Ski Resorts In North America
Ski Resorts In Europe
Ski Resorts In Australia And New Zealand
Read More: Navigating HKIA — Family Facilities At Hong Kong International Airport
---

The Best Family Ski Resorts In Japan
With typically the highest annual snowfall in the world, Japan is undoubtedly one of the world's best destinations for a ski holiday. What's not to love about the iconic Japow – "Japan powder" snow – a once-in-a-lifetime experience for all the family. Head north to Niseko or Tomamu in Hokkaido for frosty family fun or stick with the ski resorts closer to Tokyo for an easy-to-reach snow-filled holiday.
Read More: Sassy Mama's Guide To Hoi An, Vietnam
---
Tomamu, Hokkaido – Ski resort packed with kids' activities
Tomamu is a smaller, more boutique family-friendly ski resort easily accessed from Sapporo city or the city's airport in just 90-minutes. As well as fantastic runs to suit all abilities and English language ski school, there are a host of other winter activities to keep the kids entertained (perhaps try a snow buggy tour or snow karting for an adrenalin rush).
Sassy Mama Tip: Do not miss the stunning Ice Village where you can also stay the night in the Ice Hotel with open-air hot spring baths. A true winter wonderland experience!
How to get there: Shuttle bus from Tomamu station. Find more routes here.
Tomamu, www.snowtomamu.jp
---
Hakuba Valley, Honshu – Kids under 6 ski for free!
Easily reached from Tokyo via bullet train (a must when in Japan!), Hakuba incorporates 10 ski resorts and over 200 runs making it one of the largest ski areas in Japan. All of the resorts cater to beginners with ski lessons in many different languages on offer. There are free shuttles between the resorts ensuring you can access the best of the snowy slopes on any given day.
How to get there: There are various routes from different cities, find all the information here.
Hakuba Valley, www.hakubavalley.com
---
Niseko United, Hokkaido – Ski resort with snow rafting, junior ski school and childcare services
There are four ski towns at Niseko – Hanazono, Grand Hirafu, Niseko Village and Annupuri – all connected by a shuttle bus in winter. Niseko Village provides the most family-oriented accommodation and winter activities such as snow rafting, reindeer sleigh rides and gentle terrain along with Niseko Kids Snow School offering childcare and junior ski/board school.
SassyMama Tip: Niseko offers the IkonPass which provides access to over 50 alpine resorts around the world. Combine a ski trip to Niseko with a southern hemisphere winter adventure in Australia, New Zealand or South America.
How to get there: Fly from Hong Kong to Sapporo and catch the regular coach service from the airport that runs directly to Niseko in 2.5 hours. Alternatively, stop off in Sapporo for a few days to check out the Snow Festival before jumping on the train to Niseko (2.5 hours).
Niseko United, www.nisekotourism.com
Read More: 10 Tips For Flying With Young Kids — What To Pack In Your Carry-On And More
---
More Family Ski Resorts In Japan
Read More: Family Long Weekends — 3 Days In Kuala Lumpur, Malaysia
---
The Best Family Ski Resorts In South Korea
Looking for an alternative to a Japanese ski holiday within Asia? South Korea could be your answer. You will find many smaller, beginner slopes, ideal for introducing snow sports to your kids.
Read More: Where To Find Kids' Luggage And Travel Accessories For Families
---
Elysian Gangchono Ski Resort – Child-friendly ski resort for beginners
With 10 ski slopes and all but two for beginner or intermediate skiers, this beautiful valley resort is the ideal place to introduce your little ones to the joy of skiing or snowboarding. Kids from 3 years can take ski school lessons for a fraction of the price of other larger resorts.
How to get there: Fly direct to Seoul from Hong Kong, hop on the Seoul subway and within an hour, jump out at Elysian Gangchono Ski Resort.
Elysian Gangchono Ski Resort, www.elysian.co.kr
---
Yong Pyong Ski Resort – Ski resort with lesser crowds but steeper slopes
With a growing international reputation as Korea's Ski Mecca, Yong Pyong Resort is located 200km from Seoul and was the 2018 Winter Olympic Games slalom. Accordingly, the terrain is quite steep by Korean standards however beginners are still welcome on the six bunny slopes. Crowds are unlikely here as the resort is a three-and-a-half-hour drive from Seoul.
Yong Pyong Ski Resort, www.yongpyong.co.kr
Read More: Extracurricular Activities In Hong Kong — After-School Classes For Kids
---
More Family Ski Resorts In South Korea
Read More: Koh Samui Family Travel Guide — Resorts, Restaurants And Things To Do
---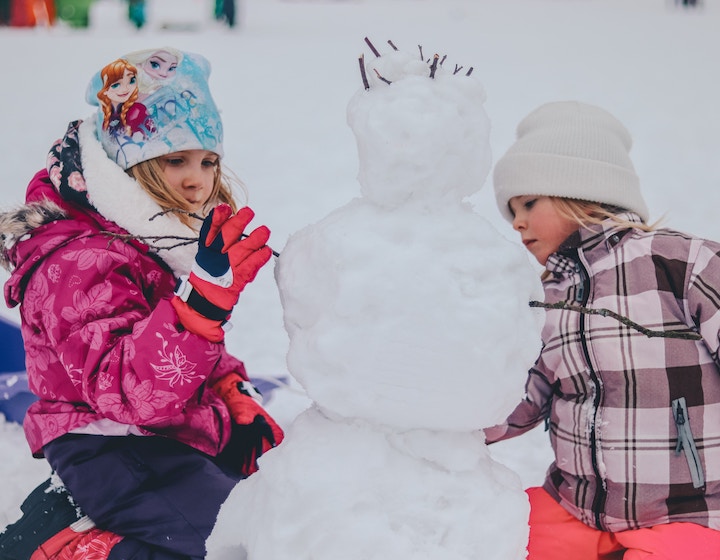 The Best Family Ski Resorts In North America
A tried-and-true favourite, Canada and USA provide some of the most family-friendly ski resorts in the world. With warm and welcoming hospitality and ski-in, ski-out options on many mountains, North American ski resorts tick all the boxes.
Read More: Macau With Kids — Your Family-Friendly Guide To Macau
---
Big White Ski Resort, British Columbia, Canada – Ski lessons for kids and parents
Ski school here offers unique programs like 'Teach your Tot' where instructors will guide you through a two-hour private lesson introducing your child to skiing while providing you with tips on how to teach them using games and fun activities. Flaik Real Time Tracking allows parents to see where the kids are on the mountain during their lessons and to re-live their day with minute-by-minute replays.
How to get there: 55-minute flight from Vancouver and an hour drive from Kelowna's International Airport.
Big White Ski Resort, www.bigwhite.com
---
Diamond Peak, Nevada, USA – Scenic ski resort with ski classes and interchangeable tickets for parents
This family-friendly ski resort is the only one in the beautiful Lake Tahoe region to offer free tickets for kids 6 and under, while the unique interchangeable parent tickets make it easy to switch out who is on the slopes keeping up with the energetic youngsters. The beginner-friendly School House chairlift ensures riders are never more than 15 feet (4.5 metres) off the ground, providing a less intimidating first chairlift experience for those new to the sport.
How to get there: From Reno / Tahoe International Airport (RNO), follow the driving directions from Reno or jump on the North Lake Tahoe Express airport shuttle with direct service to Incline Village. Find more routes here.
Diamond Peak, www.diamondpeak.com
---
Smuggler's Notch Resort, Vermont, USA – Pirate-themed off-piste activities
This family-friendly Vermont resort caters to all ages with childcare for those under 2.5 years, and Learn to Ski or Ride lessons for 3 years up. Appropriately there are several pirate-themed off-piste activities on offer – from a friendly afternoon song and dance show, Pirate Bingo evening, a fireworks and character dance party and a 'Raingutter Regatta' where children create their own sea farin' ship and sail down the rain gutters.
How to get there: Under an hour's drive from Burlington International Airport which has connections to most major US cities.
Smuggler's Notch Resort, www.smuggs.com
---
Whistler-Blackcomb, British Columbia, Canada – Family zones and adventure playgrounds
The three main villages are traffic-free and there is a designated "Family Zone" on both mountains, a beginner snow park where teenagers can practice their first tricks and a Tube Park to keep kids of all ages entertained. Plus, the enchanted Tree Fort and Magic Castle adventure playgrounds are perfect for a break from the slopes.
Sassy Mama Tip: Whistler-Blackcomb is part of Vail Resorts' which offers the Epic Pass with access to over 50 resorts across the United States, Canada, Australia, Japan, France, Switzerland, Italy and Austria.
How to get there: Fly direct from Hong Kong to Vancouver flights and then it's a two-hour transfer to the resort
Whistler-Blackcomb, www.whistlerblackcomb.com
---
More Family Ski Resorts In North America
Read More: Pet-Friendly Hotels And Resorts In Hong Kong

---

The Best Family Ski Resorts In Europe
What's not to love about seeing the iconic Matterhorn or Mt Blanc come into view through a glade of snow-laden trees?
Read More: Top Philippines Destinations To Visit On Your Next Family Holiday
---
Avoriaz, France – The place to be for snowboarding
If you have a family of 'shredders' (or hoping to!), fly to Geneva and a short drive later you will reach Avoriaz. Snowboarding school starts at 3 years old and the Lil'Stash park is perfect for the young ones to learn and develop their skills. Teens will love Stash, a tree-lined course dotted with organic obstacles made from local forestation. Don't miss the reindeer-drawn sleighs providing daytime taxi services through the pedestrian-only, eco-friendly village!
How to get there: Multiple routes from major cities, find out more here.
Avoriaz, www.avoriaz.com
---
Grans-Montana, Switzerland – Ski resort with family-friendly activities
A three-hour train journey or drive from Zurich, Grans-Montana is literally a fairy-tale ski resort. If your kiddos love all things railway, the Swiss Model Train Museum houses over 1,300 model trains. And don't miss out on Snow Island, built on the golf course in winter with snow tubing, drag lifts and magic carpets – perfect for beginner skiers and tobogganers.
How to get there: Various routes available, check for details here.
Grans-Montana, www.crans-montana.ch
---
Passo Tonale, Italy – Ski school for the little ones as well as off-site play areas
At this high altitude, snow is guaranteed at Passo Tonale, one of the four ski areas that make up Pontedilegno-Tonale in Italy. Fantaski Kindergarten is a winter playground offering two easy ski slopes with a travellator for beginner ski school, a bouncy castle area and downhill slopes for sledges, toboggans and snow-tubing. For kids aged 4 to 12 years, the Fantaski Mini-Club focuses on creativity and play with workshops and games.
How to get there: From Hong Kong, fly direct to Milan and drive to Passo Tonale in under 3 hours.
Passo Tonale, www.pontedilegnotonale.com
---
Zell Am See, Austria – An exciting ski resort with mixed difficulty and experience levels
Zell Am See offers a multitude of slopes, playgrounds and adventure courses for kids of all ages and abilities. Start off at Schmittenhöhe's Kinder-Skiland with seating options for those who need a break and then graduate on to Dragon Park where wave tracks, archways and tunnels await before taking on the Funslope XXL with more twists and excitement!
How to get there: A short drive (under 2 hours) from Innsbruck, Munich or Salzburg.
Zell Am See, www.zellamsee-kaprun.com
---
More Family Ski Resorts In Europe
Read More: The Best Family-Friendly Hotels And Resorts In Macau
---
The Best Family Ski Resorts In Australia And New Zealand
While Australian and New Zealand resorts do not generally come top of mind for the best places to ski or board, there is an appeal about being able to hit the slopes during Northern summer!
Read More: 8 Family-Friendly Maldives Resorts And Hotels
---
Mt Hutt, New Zealand – Family-friendly ski resort where kids under 10 ski for free
Mt Hutt has been voted New Zealand's best ski resort for seven years running at the World Ski Awards. The friendly vibes and Kiwi hospitality are always on display at this conveniently cashless resort located just over an hour's drive from Christchurch. An on-mountain early childhood centre, Skiwiland, caters to babies and toddlers under 5 years with snow play, on-snow learning experiences and lunch and snacks provided.
How to get there: There are shuttle buses from Christchurch International Airport
Mt Hutt, www.mthutt.co.nz
---
Thredbo, Australia – Ski resort with off-site activities like movie nights, face painting and more
Located in the Kosciuszko National Park, Thredbo is a 2.5-hour drive from Canberra. Home to Australia's only alpine gondola allowing you to access the country's longest runs and a large variety of terrain. The purpose-built beginner's area at Friday Flat ensures all ages and abilities are well covered. Don't miss the free Saturday night Fireworks Spectacular or the Kids Snow Festival with flare runs, movie nights and face painting. And best of all kids ski free in June and September!
How to get there: Drive roughly 5.5 hours from either Sydney or Melbourne or 2.5 hours from Canberra. Find out more details here.
Thredbo, www.thredbo.com.au
---
More Family Ski Resorts In Australia and New Zealand
Read More: Phuket Hotels And Beach Resorts With Amazing Kids Clubs
---
Editor's Note: "The Best Family Ski Resorts To Visit This Winter" was most recently updated in September 2023.