If your tiny tot is ready for a baby high chair, Hong Kong has many wonderful choices! From high-end options like Stokke and Combi high chair to the more affordable Ikea high chair, here's our pick of the best!
A baby high chair is often not the first thing that comes to mind for most new Mamas and Papas. It is, however, an investment that most wish they had thought about sooner. High chairs are an essential part of feeding your child, especially when they start to hold themselves up on their own, learn to self-feed and eat solid food.
So how do you decide which is right for your family and needs? We've got the low down on the best high chairs for babies and tots and where to find them in Hong Kong. Plus, if you're new to this trip trapp talk, we also tell you what to consider when buying a high chair for your baby.
Jump To:
Investment High Chairs
Budget High Chairs
Outdoor, Portable And Space Saving High Chairs
Elegant And Stylish High Chairs
Booster Seats For Older Children
Read More: Toddler And Baby Stores In Hong Kong – Shop Baby Gear And More
---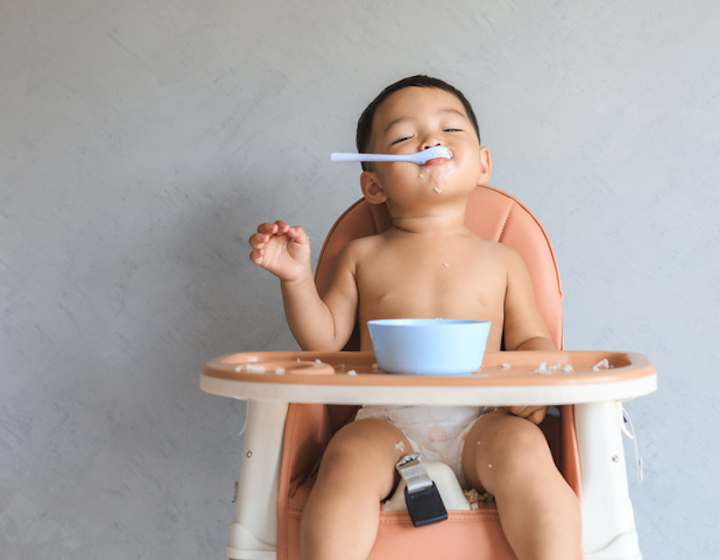 What To Consider When Buying A High Chair
Look for a chair that complies with one or more of the worldwide safety standards (see Hong Kong's highchair safety standards here)
Check for stability, any flaws, cracks etc. before buying or if purchased online (especially second hand), before placing your child in it.
Look for a five-point harness. This harness ensures kids can't stand or fall out of the chair.
Consider what features are important to you and what type of chair you want. Do you want a tray? Do you want one that will grow with your child? Or perhaps something more portable, smaller, or easiest to clean?
Read More: Baby Carriers In Hong Kong – Newborn Baby Slings, Toddler Hip Seats And More
---
Investment High Chairs
Investment high chairs are chairs that can be used for children 6 months and onward meaning they adjust and change to your child's growth. These high chairs are generally a little bit more money than your standard high chair but that is because they are created as a lifetime product.
Stokke Trip Trapp®
This high chair was the first of its kind when it was designed in 1972. It has an intelligent design that provides ergonomic comfort at any age. It's easy to clean and made without any harmful substances.
Ages: Children of all ages.
Price: $2190
Where To Buy: Various retailers around Hong Kong.
---
Katoji High Chair
A well-known Japanese baby brand, the Katoji high chair is made of high-quality oak. You can adjust the foot pedal according to your child's height for optimum comfort. It can be folded and flipped back when you're not using it and it also comes in a variety of colours.
Ages: 6 months to 5 years.
Price: From $1199
Where To Buy: Chopchop Baby and Suchprice.
---
Aprica High Chair
Aprica high chairs have high-low bed and chair functions that can be used for naps, feeding time or playtime.You can recline the seat into 5 levels, plus it comes with a 3-level adjustable children's tray and an adjustable seat.
Ages: Newborn to 4 years.
Price: From $1940
Where To Buy: Rainbow Care Centre, Baby Online and HKTV Mall.
---
Combi Joy(YE) High Chair
This high chair has a toy bar so your baby can stay entertained while you go about your day. It has a reversible seat cushion that can be machine washed and can be adjusted to different angles and heights to suit your baby's comfort.
Ages: Newborn to 4 years.
Price: From $2,735
Where To Buy: Fortress
---
More Investment High Chairs
---
Budget High Chairs
High chairs can be super expensive. If a high chair is something you're not sure you want to spend a lot of money on, or you just want something super minimalist, there are a few options available.
IKEA Antilop High Chair
A super affordable option, this high chair is easy to clean and as a small and lightweight design. You can also purchase accessories like cushions and food trays to go with it.
Ages: 6 months to 3 years.
Price: $129
Where To Buy: IKEA
---
Stokke® Clikk™ High Chair
This high chair assembles in one minute without any tools! It has an adjustable footrest, a detachable dishwasher-safe tray and a five-point harness to keep your baby safe.
Ages: 6 months to 3 years.
Price: $129
Where To Buy: Various retailers around Hong Kong.
---
Budget High Chairs
Baby Bjorn High Chair – Swedish brand with a unique two-step lock and an adjustable tabletop. www.babybjorn.com.hk
Childhome – Evolu one.80° – Has a swivel seat that allows parents to feed in three different positions. www.childhome.com
Ikea Langur High Chair – Affordable option for children of all ages. www.ikea.com.hk
---
Outdoor, Portable and Space-Saving Baby High Chairs
If your family loves to camp or hike, you'll need an outdoor high chair for your tot and all your outdoor adventures. While if you have a smaller apartment, you'll need sturdy, space-saving high chairs for your little one. If you are a new or first-time parent in Hong Kong it may come as surprise to learn that a lot of restaurants here are not all that child friendly. Thankfully there are a lot of great portable options that can make taking your child out for a meal more enjoyable.
Totseat
Made from 100 per cent cotton, this light and super portable material can turn any chair into a high chair! It's versatile and can be taken to any place with a chair!
Ages: 6 months to 2.5 years.
Price: $200
Where To Buy:  Baby Online, Rainbow Care Centre, and BabyPark.
---
Baby Delight's Go With Me Venture High Chair
The perfect adventure chair for babies, this high chair comes with a removable snack tray and sun canopy, perfect for camping, picnics, or spending the day at the beach! Its patented design grows with your child as the seat fabric lifts to reveal leg holes allowing your baby to stand with support.
Ages: 3 months to 4 years.
Price: From $784
Where To Buy: Amazon
Read More: Best Beaches In Hong Kong To Visit With Your Family
---
Joie Mimzy™ Snacker
With one tug on the handle that is in the middle of the seat, the Joie Mimzy™ Snacker folds for super easy storage. It comes in a variety of cute designs and a large storage basket underneath the chair.
Ages: 6 months to 3 years.
Price: From $999
Where To Buy:  Mothercare, Chili Baby, and deBebe.
---
More Outdoor, Portable and Space-Saving Baby High Chairs
---
Elegant And Stylish High Chairs
Just because you're feeding a baby doesn't mean that you can't do it in style! If you want to keep in line with your home décor or just want to feed your growing tot in style there is a high chair just for you.
Fresco Baby High Chair
This high chair exudes luxury. It has a sleek and modern design that you can customise and use at a kitchen counter, island or table. It's also easy to clean and comes with two dishwasher-safe trays.
Ages: Newborn to 8 years.
Price: From $4,250
Where To Buy:  Bloom
---
More Elegant And Stylish High Chairs
MICUNA OVO LUXE ONE  – Iconic design with a variety of prints available. www.smallable.com
MIMA Moon High Chair – Multipurpose design that converts from high chair to lounger to junior seat. www.harrods.com
---
Booster Seat High Chair For Older Children
Once kids are in the toddler years and older they still might need some assistance to reach high kitchen and dining room tables. Booster seats allow kids to continue to eat at a height that they're comfortable with and safely. Booster seats are helpful for younger kids that still, well, need a boost!
BabyBjörn Booster Seat
This booster seat is small, lightweight and made from BPA-free plastic. It attaches to any chair and has a rubber base and childproof straps for your child's safety.
Ages: 3 and over.
Price: From $449
Where To Buy: BabyBjörn
---
Bombol Pop-Up™ Booster
This is an ultra-light, portable and upholstered booster that pops open in the blink of an eye to become a sturdy, comfy seat when you need it. Plus, it folds completely flat when you don't!
Ages: 3 and over.
Price: From $1,157
Where To Buy: BabyBjörn
---
More Booster Seat High Chairs We Love
Keekaroo Café Booster – Easy-to-use toddler booster sets that can be used with most dining chairs. www.keekaroo.com
---
Editor's Note: Where To Find The Perfect Baby High Chair: Stokke, Combi And More was updated most recently in February 2023 by Najuka Redkar.
Main image courtesy of Getty, image 1 courtesy of Getty, image 2 courtesy of Stokke via Facebook, image 3 courtesy of Aprica via Facebook, image 4 courtesy of Getty, image 5 courtesy of Totseat via Facebook, image 6 courtesy of Joie via Facebook, image 7 courtesy of Bloom HK via Facebook, image 8 courtesy of BabyBjörn via Facebook, image 9 courtesy of Getty.