We'll admit, we're all softies for ice cream. Whether it's velvety gelato goodness from Venchi or Hong Kong-themed flavours from Messina, there are lots of options to stay cool this summer!
If you've got a sweet tooth in your family (let's be honest, that's all of us!) who loves all things ice cream, gelato, mochi, froyo and more, then our list of favourite chilled goodies will be sure to satisfy your summer cravings! While the classics like Mister Softee are still a hit, we have plenty of alternatives too, from velvety gelato to ice cream cakes and dairy-free and vegan goodies (great if you or your child are lactose intolerant). Now, get the scoop on the best ice cream in Hong Kong – you can bet your kids won't be the only ones asking for more!
Read More: Hong Kong Cake Shops – Where To Buy Birthday Cake For The Family
---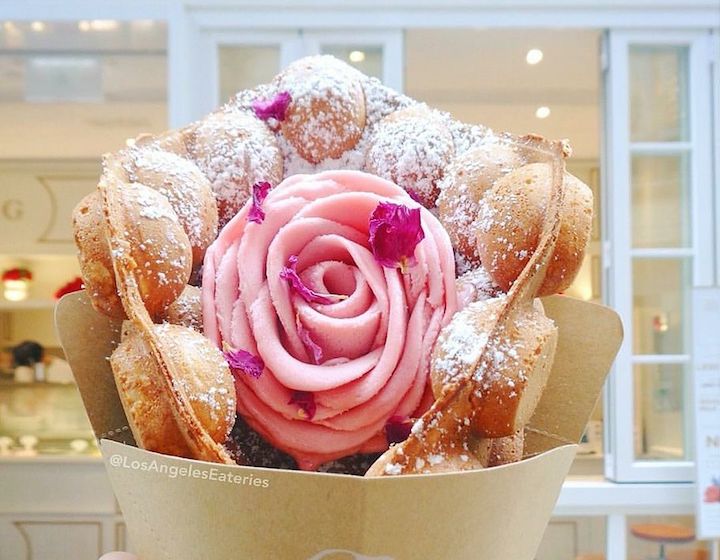 Barista by Givrés – Hidden gem serving rose-shaped gelatos
Mama, is the rose edible? Absolutely! Kids will love Barista by Givrés' signature gelato roses that come in a variety of flavours (you can pick two or three and see the petals being placed one by one). If you want to grab a coffee while the kids wait for their order, get the Floating Rose Coffee that's perfect to have on the go – if you have more time, we recommend the Rose Waffles too.
Barista by Givrés, 7 Staunton Street, Central, Hong Kong, 9659 0816, www.givres.com
Read More: Catering Services In Hong Kong – Party Food, Finger Food And More
---
Gelato Messina – Over 30 Ice Cream Flavours To Choose From!
Who remembers the long queues when Messina first opened? Safe to say, the ice-creamery still draws a crowd every day (but the lines move pretty fast!). This Australian cult-favourite is not to be missed – there are loads of scoops to choose from but in the name of research, we go bold – think Egg Tart, Yuen Yeung (coffee and milk tea!) or Gianduia. Plus, they make real good ice cream cakes too!
Gelato Messina, 37-43 Pottinger Street, Central, Hong Kong
Gelato Messina Pop-Up, Shop 239, Landmark Atrium, Central, Hong Kong, www.gelatomessina.com.hk
---
Kowloon Dairy – Hong Kong-made ice cream and mochi
Count on Kowloon Dairy for the perfect pick-me-up for the kids. With flavours like Peanut Butter, Chocolate King and Ovaltine, have the kids pick out either cones, cups or mochi ice (the one mochi we've been loyal to since day one!).
Kowloon Dairy, Kowloon Dairy Building, 17–19 On Lan Street, Central, Hong Kong, 6196 6572, www.kowloondairy.com
---
Venchi – A cult classic ice cream shop
Famed for its decadent Italian chocolate as well as its heavenly gelato that has had a fan following since 1878, you simply can't go wrong with Venchi. With locations in popular hotpots like Tsim Sha Tsui, Causeway Bay and Tseung Kwan O, chances are you've already spotted this while on your family day trip and had the kids drag you in for a scoop or two!
Venchi, various locations across Hong Kong, www.venchi.com.hk
Read More: The Best Chocolates In Hong Kong
---
Hans & Gretel – Whimsical kid-friendly ice cream cones
Have the little ones step into a whimsical candy house like in Hansel and Gretel (minus the wicked witch!) and be ready to leave with sugar-high kids! From its Cotton Candy Cones to artisanal gelato and palm-tree-shaped slushies as well as candies and bubble waffles, this one truly is a sweet tooth's paradise!
Hans & Gretel, Shop 6-8, G/F – 1/G, Yee On Building, 26 East Point Causeway Bay, Hong Kong, 3568 1192, www.hansgretel.hk
---
Coolhaus – The hottest new ice cream in town
The California born ice-cream brand has landed in Hong Kong and we're all loving it! Made from animal-free dairy and free from lactose and cholesterol, this will soon become a go-to treat for families. Our personal favourite? The Hojicha 'N Boba, but you can have our word that every tub is filled to the brim with creamy goodness.
Coolhaus, available in 7-Eleven and Wellcome, www.cool.haus
---
Twist & Buckle – Churros, Churros, Churros!
Photogenic, hand-crafted and concise menu featuring just the right flavours, Twist & Buckle is always a joy to stumble upon! Its churros paired with sundae give a nice kick (our kids will second this!). Whether you're going for one of the originals like Banoffee or a special creation like the Cookie Monster, you'll be impressed with every bite.
Twist & Buckle, 29-31 Chatham Road South, Tsim Sha Tsui, Hong Kong
Twist & Buckle, 180 Electric Road, North Point, Hong Kong, www.twistandbuckle.com
Read More: That Papa – Juan Gimenez, Co-Founder Of Twist & Buckle
---
XTC Gelato – Natural low-fat gelato and cheesecake gelato stick
With its massive array of unique, seasonal flavours and innovations for festivals, there is always something for everyone. XTC's gelato is curated with fresh, all-natural ingredients, so you don't have to feel too guilty about indulging in this treat! But if it's cheat day, do indulge in its cheesecake gelato stick!
XTC Gelato Central, Shop B, 45 Cochrane Street, Central, Hong Kong, 2541 0500, www.xtc.com.hk
---
ISEE iSEE – Handcrafted milk-based ice pops
Serving up pretty handcrafted fruit and milk-based ice pops with completely natural ingredients and no preservatives at all, this place is a top choice for families. The refreshing ice pop flavours include juicy honeydew melon, Earl Grey pistachio and much more – perfect for grabbing on the go!
ISEE iSEE, Shop 115, Peak Galleria, 118 Peak Road, The Peak, Hong Kong

ISEE iSEE, MC 04, Avenue of Stars, Tsim Sha Tsui Promenade, Kowloon, Hong Kong, www.iseeisee.com
Read More: Afternoon Tea In Hong Kong – Hotels And Restaurants With High Tea

---
Yo Mama – Low-sugar froyo
If you're opting for a lower sugar kick, Hong Kong's favourite Yo Mama is a frozen yoghurt lover's delight. Choose the size you want, the base flavour and load it up with a generous amount of toppings. Toppings include fresh fruit and an exclusive line of sugar-free, gluten-free, raw and organic toppings in the "superfoods" selection. Talk about ticking all the boxes!
Yo Mama, various locations across Hong Kong, www.yomama.com.hk
---
More Ice Cream Shops In Hong Kong
Read More: Breakfast In Hong Kong – Family-Friendly Breakfast Spots Across The City
---
Editor's Note: "Ice Cream In Hong Kong: Gelato, Soft-Serve, Ice-Cream Cakes And More" was originally published by Anita Balagopalan and most recently updated in May 2023 by Fashila Kanakka.