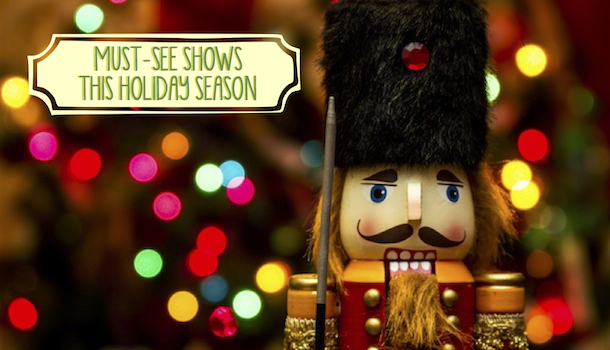 The holidays are fast approaching… This normally means three things for mamas: eating, shopping and stress. There are simple ways to relieve your stress and one of those ways is to take a break and enjoy one of Hong Kong's many theatrical events happening over the next 10 weeks. There are plenty of options from the traditional holiday fare to big budget musicals. I've done my best to comb through all the upcoming productions and pick what I think are sure to be pleasing for the whole family!

Holiday Traditions 
Puss-n-Boots, The Hong Kong Players
The first time I heard of Christmas Pantomime I was a bit confused. Why would someone want to watch two hours of mimes? Then I got my education on the English tradition that is Christmas Panto. It's fun (with a poke at pop-culture!), interactive for the audience and over the top in its presentation style. It's got a bit of blue humour in it that goes over the kids' heads, but is a show that the whole family will enjoy. Presented at the Shouson from December 4th, there are some performances that are already sold out, so if you're wanting to see it, book now!
When: 4-7, 11-14, December, 7:30pm, 2:30pm matinees on Saturday, 12:30 and 5pm matinees on Sunday
Where: Shouson Theatre, 2 Harbour Road, Wan Chai, Hong Kong
How Much: $290, $330
Tickets: Buy from URBTIX here.
The Nutcracker, The Hong Kong Ballet
Is it really Christmas until we've stepped through Clara's world and danced with the Sugarplum Fairies? This was my family's tradition and I'm a big fan of hitting the theatre every Christmas for my yearly dose of Tchaikovsky. Hong Kong Ballet's production was reinvented a few years ago with new choreography by Terrence Kohler and brand new costumes and sets. They also streamlined the story a bit to help remove part of the exposition and presentation from Act One. There are performances from 19-21 and 24-28 December, with matinees included. There are special times for performances on Christmas Eve and Christmas Day and live orchestrations by the Hong Kong Sinfionetta.
When: 19-21, 24-28, December, 7:30pm and 2:30pm (Special times on 12/24 and 12/25 – check with the box office.)
Where: Grand Theatre, Cultural Centre, 10 Salisbury Road, Tsim Sha Tsui, Hong Kong
How much: 140-1,000
Tickets: Buy tickets from URBTIX here.
Something Different
Storm Clouds, Hong Kong Dance Company
Based on a well-loved martial arts comic series by Hong Kong's renowned comic book artist Ma Wing-shing, Storm Clouds brings memorable characters and their fantastical, imaginative world to life. It's a great choice for those looking for a theatre show more aimed towards young boys and teens. This explosive creative union of dance, theatre, music and comic arts is a coda for this comic book masterpiece, coinciding with the series final publication in 2014. Expect to be blown away by era-defining performances in this heartfelt tribute to Hong Kong's popular culture.
When: 12-14, December, 2:30pm and 7:45pm
Where: Grand Theatre, Cultural Centre, 10 Salisbury Road, Tsim Sha Tsui, Hong Kong
How much: $160-360
Tickets: Buy tickets from URBTIX here.   
The Bluebird of Happiness, MQ Musical Theatre
Presented by local music group, MQ Musical Theatre, Bluebird is a mixture of Hong Kong kids on stage and professional actors. The award-winning children's book by Maurice Maeterlinck was also turned into a film starring Shirley Temple in 1940 and tells the story of two children and their search for happiness. Presented at the HKAPA from 19 December, it's a great option for parents wanting to take their kids to a show that leaves the feelings of Christmas but isn't covered in snowmen or reindeer. There's also currently a crowdfunding campaign happening where you can buy your tickets at a discount and get your child onstage as part of the show!
When: 19-21 December, 7:30pm and 11am matinee on Sunday
Where: HKAPA, Drama Theatre, 1 Gloucester Road, Wan Chai, Hong Kong
How much: $280-580
Tickets: Tickets available at HKticketing.com.
Big Budget Musical
The Phantom of the Opera, Lunchbox Productions
Andrew Lloyd Webber's hit musical is returning to Hong Kong in a newly fashioned way with screens to help the audience see the theatre classic from a different perspective. Fans of the musical will be able to see the theatrical tricks up close and personal for the first time thanks to screens and cameras in the theatre. Presented at a 4,000 seat arena style seating at the Asia World Expo, The Phantom is one of those musicals that always pleases audiences. This production will be performed with a live 24 piece orchestra and have all the flash of the West End production and it stars Brad Little, who has been starring in the show since 1996, both on tour and on Broadway. The Phantom of the Opera will have special showtimes on Christmas Eve, Christmas Day, New Years Eve and New Years Day; making it a special gift for your family.
When: December 21-January 11, 8pm and other various showtimes (Please check with box office.)
Where: Asia World Expo
How much: $295-1,000
Tickets: Buy at HKticketing.com.