Hong Kong Wetland Park makes for a fun, educational day out with the family. With outdoor boardwalks, interactive indoor exhibits and a fun playroom, a visit to the Hong Kong wetlands is a winner.
We're always on the hunt for easy family day trips. A visit to Hong Kong Wetland Park won't disappoint! With 60 hectares of stroller-friendly Hong Kong wetland boardwalks to navigate, plus fun indoor activities at the modern Visitor Centre, an indoor playroom and a crowd-pleasing family restaurant, it has everything you need for a fun Hong Kong day trip!
Read More: The Ultimate List Of Things To Do In Hong Kong With Kids
---
Outdoor Boardwalks At Hong Kong Wetland Park
There are a variety of flat, stroller-friendly boardwalks that let you explore the different environments within the 60-hectare wetland reserve. Along the way, you'll see streams and ponds, the mangrove swamp, a butterfly garden and mudflats. There are a number of bird hides that let you quietly observe the local wildlife.
It's quite striking to see such a special ecosystem set against the highrise apartment blocks of Yuen Long and with the skyscrapers of Shenzhen in the distance.
Read More: Stroller-Friendly Hikes In Hong Kong — Easy Hiking Trails And Accessible Walks
---
Indoor Exhibitions At Hong Kong Wetland Park
We were just getting ready to head off after a fun morning exploring the boardwalks when we decided to have a quick look through the exhibits. Thank goodness we did! The kids easily could have spent an hour or more exploring the interactive exhibits.
We entered through the Frozen North gallery which explains just how far some of those migratory birds travel, before heading into the Tropical Swamp. This was a truly impressive set up that housed snakes, lizards, frogs and fish.
Then it was on to the Human Culture gallery, which despite its somewhat dry name, was a true highlight of the day. There were tables full of puzzles and games, interactive visual displays and more. We had to drag the kids away.
If you're visiting in the summer, these indoor activities will be a welcome respite from the heat and humidity and will make the journey worthwhile.
Read More: Family-Friendly Places To See And Interact With Animals
---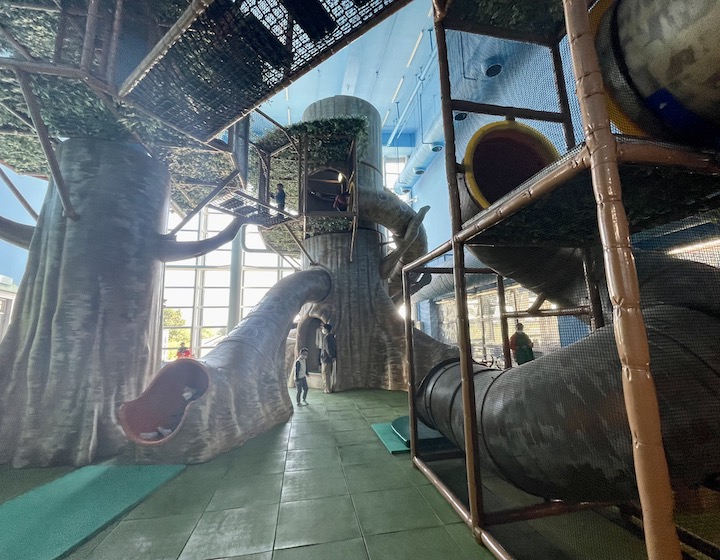 Indoor Playground At Hong Kong Wetland Park
Our kids couldn't walk past the Swamp Adventure indoor playroom without going inside! Sessions are 15 minutes long and entry numbers are limited to 40 kids a time, but as it wasn't busy when we visited there was no problem walking straight inside. Don't forget socks!
There are a series of ladders and large slides designed like mangrove trees and a small toddler slide off to the side.
Read More: The Best Indoor Playgrounds And Play Rooms In Hong Kong
---
Hong Kong Wetland Park Restaurant
There's a large cafeteria-style restaurant in the Visitor's Centre of Hong Kong Wetland Park. It dishes up basic affordable meals that satisfied this hungry Sassy family and offers views out over the wetlands. The menu includes western meals like burgers with fries as well as rice and noodle dishes.
Read More: Family-Friendly Restaurants In Hong Kong
---
Kids' Facilities At Hong Kong Wetland Park
Hong Kong Wetland Park sure does cater to its family clientele. Parents can rest assured knowing that all bathrooms are equipped with changing tables, child toilet seats and appropriately sized basins for hand washing. There is also a private parents' room with a nursing chair and changing facilities.
Read More: Picnics In Hong Kong — The Best Picnic Spots For The Family
---
How To Get To Hong Kong Wetland Park
Hong Kong Wetland Park is located in Tin Shui Wai in the far north of the New Territories near Yuen Long. It's about a 40-minute taxi/ Uber ride from Central. You could also take the MTR to Tin Shui Wai Station and then it is a short taxi ride to the wetlands. There is a small car park next to the visitor centre that offers car parking for $8 per hour. Click here to read more about how to get to Hong Kong Wetland Park.
Read More: Chi Lin Nunnery And Kowloon Walled City Park: A Family-Friendly Day Out
---
Hong Kong Wetland Park Opening Hours
Opening Hours: 10am to 5pm (tickets sold 9:30am to 4pm)
Hong Kong Wetland Park is closed on Tuesdays.
Read More: Best Beaches In Hong Kong To Visit With Your Family
---
Hong Kong Wetland Park Tickets
You can purchase individual or annual tickets for Hong Kong Wetland Park at the entrance to the park and group tickets can be purchased online.
Single Entry Tickets To Hong Kong Wetland Park
Adult Tickets: $30
Concession/ Child Tickets*: $15
Annual Pass To Hong Kong Wetland Park
Adults: $100
Concession/ Child*: $50
Family (4 people): $200
* Child aged 3 to 17 years; full-time students, people with disabilities and one carer, seniors aged 65 years or older.
Read More: Kids' Activities — Things To Do In Hong Kong This Month With Kids
All images courtesy of Jess Mizzi.