Jump on the Cheung Chau ferry for an unforgettable day trip to one of Hong Kong's best islands! Packed with restaurants, hikes and pristine beaches, Cheung Chau Island is in no doubt one of our go-to getaways.
There are more than 260 islands in Hong Kong so you're never more than a hop, hike or ferry ride away from an island paradise. So, grab your masks and your sunnies, slather on the sunscreen and head straight to the charming Cheung Chau Island. Its pristine golden sand beaches are known for two things – the windsurfing mecca it has become and the Bun Festival. Though the Bun Festival now stands cancelled, you can still gorge on the fluffy delights, witness the lion dances, deities' procession and the bun tower exhibits.
Jump To:
Cheung Chau Ferry
Cheung Chau Bun Festival
Cheung Chau Beaches
Cycling On Cheung Chau
Cheung Chau Hikes
Kids Activities On Cheung Chau
Things To See On Cheung Chau
Cheung Chau Restaurants
Cheung Chau Hotels And Camping
Read more: Discovery Bay Family-Friendly Neighbourhood Guide 
---
Cheung Chau Ferry: Central To Cheung Chau Island
Ferries to Cheung Chau leave from Central Pier 5. They alternate between the slow or ordinary ferry, which takes about an hour, and the fast ferry, which will zip you there in around 30 minutes. Grab window seats on the Cheung Chau fast ferry or jaunt to the open deck on the slow ferry ride for unbeatable views.
Lantau Island residents can use the inter-island ferry service that covers Cheung Chau, Chi Ma Wan, Mui Wo and Peng Chau Island.
The Cheung Chau ferry is operated by Sun Ferry.
Sassy Mama tip: Go for the slow ferry if you have a love-hate relationship with seasickness. And remember, if you're bringing along any furry friends, you'll have to take the slow ferry.
Read more: Family-Friendly Junk Boats In Hong Kong
---
Cheung Chau Bun Festival
Also known as Cheung Chau Da Jiu Festival, the Bun Festival is a Taoist sacrificial ceremony that's celebrated annually and lasts for seven days. It originated when Cheung Chau (then infiltrated by pirates) was affected by a plague in the 18th century. Residents and local fishermen paraded the village disguised as deities to drive away evil spirit.
The festival falls on the eighth day of the fourth month of the Lunar calendar (so dates slightly vary each year) and it usually coincides with Buddha's Birthday (which means you can make the most of the public holiday!). 
Each year, the Bun Festival attracts thousands of goers who gather to witness the colourful parades coupled with traditional lion and dragon dance, and the "bun snatching competition". Three towers are placed by the Pak Tai Temple and are entirely covered by buns (plastic ones) and each "Bun Mountain" has one competitor racing to the top to snatch as many buns as possible (the more the buns, the better the fortune). It definitely gets the adrenaline pumping for the watchers (the kids love it)!
Also note that, during the Bun Festival, the entire island goes vegetarian for three days – most of the restaurants also adhere to this traditional so meat and seafood options may be removed from the menu during these days.
Read more: Dragon Boat Races: Where To Watch Them And How To Get There
---
Cheung Chau Beaches
What sort of beach experience are you looking for? Buzzing, chilled-out or something in between? Cheung Chau has got something for everyone who's into the sun and sand.
Tung Wan Beach, Cheung Chau
Walk straight down the ferry pier, past the old Chinese Banyan tree, the love-lock assemblage, the numerous quaint cafés and department stores – buy drinks and snacks from Wellcome or 7-Eleven – and head to Tung Wan Beach. Pitch a tent, let the kids make sand castles and soak in the laidback atmosphere.
The beach has coarse golden sand, the water is clear, armed with shark nets; but it does tend to get crowded on weekends. Best part? You don't have to pack chairs or umbrellas, as there are rental places to provide what you need when you need it.
Read more: Best Beaches In Hong Kong To Visit With Your Family
---
Kwun Yam Wan Beach, Cheung Chau
Are secluded and serene stretches of sand more your scene? Then stroll 15 minutes further down and find a good spot on the picturesque shoreline of Kwun Yam Wan Beach. Kick back, soak up the rays and enjoy the peace and quiet.
---
Tung Wan Tsai Beach, Cheung Chau
If you want something off the beaten track, we suggest walking further north to Tung Wan Tsai Beach, aka Coral Beach. This one is best attempted with older kids as you'll encounter a fair number of stairs that will take you uphill by way of the North Lookout Pavilion and then downhill to the beach.
Read more: Summer Safety: Top Sunscreens For Babies And Kids In Hong Kong
---
Pak Tso Wan Beach, Cheung Chau
This southernmost beach of the island is accessible from the Cheung Chau Family Walk. This out-of-the-way little beach – also called Italian Beach or Afternoon Beach – is hardly ever crowded and the water is quite calm. It's a great spot to catch the sunset as it's one of the few west-facing beaches on the island.
Read more: Sai Kung Neighbourhood Guide For Families In Hong Kong
---
Wind Surfing, Kayaking And Other Water Sports On Cheung Chau
If there's a mini surfer or sailor in your brood, Kwun Yam Wan Beach is unmissable. After all, here is where Olympic gold medallist Lee Lai Shan used to train with her uncle, Lee Lai Gun. He runs the Cheung Chau Windsurfing Centre and teaches water sports there.
Hire windsurfers, kayaks, SUPs and all the necessary equipment or get serious and sign up for lessons or even a membership. It also offers a great little waterfront café perfect for grabbing a bite post-paddle.
Cheung Chau Windsurfing Centre, 1 Hak Pai Road, Cheung Chau, Hong Kong, 2981 8316, ccwindc@gmail.com, www.ccwindc.com.hk
Read more: Water Sports To Try In Hong Kong This Summer
---
Cycling On Cheung Chau
Rent bikes or, if you have the muscle to pull a three-wheeler, plonk your fam in the backseat and ride along the seafront and the cobbled streets of this charming old town. There are lots of shops offering bike rental, with prices starting around $50 per hour (and you can expect to leave a refundable deposit!). Bikes come with baskets for your bags and many will have options for kids' seats and junior bikes (and even some with training wheels).
Sassy Mama tip: You won't be able to take your bike if you go hiking as there are stairs on many of the paths. So, you may want to rent a lock to secure your bike when you park it pre-hike.
Read more: Cycling With Kids: Where To Ride Your Bike In Hong Kong
---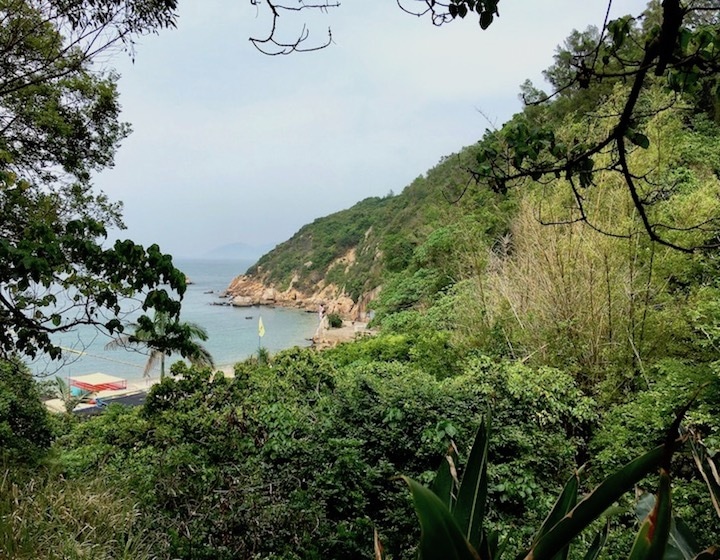 Family Hikes On Cheung Chau
While walking within the commercial areas of Cheung Chau can take up a fair amount of time (and energy!), there are a couple of trails you can undertake with kids if you want some time some time in nature. 
The Cheung Chau Family Trail
This meandering hike takes you along the northern and western perimeters of Cheung Chau, as well as some of the inner sections of the island. It merges with main streets such as Pak She Praya Road and Tai Hing Tai Road and then branches off to paths that take you to the North Lookout Pavilion (the highest point on the island) and the cemetery in the south.
---
The Mini Great Wall Hiking Trail
Hike the less wild, far tamer rip-off of the Great Wall right here in Hong Kong. The Great Mini Wall is a gentle, cemented, relaxed climb even for kids. And you're sure to be rewarded with sights of interesting rock formations, pristine views of the South China Sea and Insta-worthy pictures of the quaint path on the way. This hiking trail is about a 1.2-kilometre walk from the ferry pier.
Read more: Hiking Hong Kong With Kids: The Best Hikes For Families
---
Kids' Activities On Cheung Chau
Not quite the outdoorsy type? There are a couple of things you can do in the DIY department right on Cheung Chau, some of which are unique to this neighbourhood.
Souvenir-Making At BnB The Creative Workshop
Looking for a quick hands-on activity for the kids? Then stop over at BnB The Creative Workshop, walk around the store and have your children choose what they'd like to paint. The painting activities are an hour long and are suitable for kids aged 3 and above. Kids can choose whatever is on display at the store, whether it's a wooden postcard ($45, with a $40 charge for the paints), wooden alphabets of different sizes ($40-$80, with an extra $40 for the paint) or a wooden heart ($260, with a set of paints included).
BnB The Creative Workshop, 82 Tung Wan Road, Cheung Chau, Hong Kong, 2986 9990, www.facebook.com/bnbthecreativeworkshop
Read more: Kids' Activities In Hong Kong: Things To Do With The Kids This Month
---
Henna And Art At Ms Cheung Studio
Charlotte, who used to be over at BnB The Creative Workshop, has started her own studio where she gives kids (and adults) original designs in henna, starting at $60. But if kiddos have their hearts set on a fave cartoon character, she'll oblige with a freehand design. She also conducts art classes for children aged 4-10 in a variety of media such as soft clay, acrylic and watercolours. If you don't live too far away from Cheung Chau, you could sign up for her regular four-session classes at $560. However, if you're only interested in a one-off session, it's $160 per class. Classes are available on weekdays and weekends, but you need to make an appointment first.
Ms Cheung Studio, G/F, 331A Tai Choi Yuen Road, Cheung Chau, Hong Kong, 9256 4429, www.instagram.com/mscheung_studio
Read more: Art Classes In Hong Kong: Creative Courses And Workshops For Kids
---
Chinese Candy-Making By Sugarman HK
If you want to give your kids a taste of traditional Chinese candy-making, look no further than Cheung Chau's very own Louis To, known to the locals as Sugarman. Louis specialises in making miniature animal sculptures and teaches children the basics. His workshops are suitable for anyone aged over 5 years old and include a candy-sculpting performance, hands-on candy-making, candy-blowing and, of course, gorging on candy! These $5,000 workshops can be up to two hours long, need to be pre-booked and accommodate up to 15 people at a time.
Sugarman Shop, 147 Sun Hing Back Street, Cheung Chau, Hong Kong, 9226 8961, www.facebook.com/Sugarman-HK
---
Shopping On Cheung Chau
The rabbit warren of streets is lined with design boutiques that sell keepsakes, trinkets, keychains, T-shirts and even "bun festival souvenirs".  And for mamas on the lookout for something more hip with a local spin, spot the Myarts Mart on the main Tung Wan Road. With egg tart-shaped earrings and hand-drawn postcards, this pop-up store has something unique for everyone. If you fancy something unique, hop on over to Little Island Little Taste, which takes orders for customised accessories.
It's also worth popping by Island Workbench for its gorgeous selection of Cheung Chau-made products such as jewellery, bags, cards and accessories. Fans of upcycling will love the string bags made from recycled fishing nets. As well as its store, there is a small café just up the road that serves a selection of coffees, teas, pastries and omelettes.
Read more: Hong Kong Brands: Best Hong Kong Souvenirs And Gift Ideas
---
Things To See On Cheung Chau
There's a lot more to the Cheung Chau vibe than the Kwun Yam Wan and the Tung Wan beaches. Come prepared to take a hike, ride a bike or just have a stroll, because you'll want to see all the fun things this little island has to offer.
Cheung Po Tsai Cave
Get the kids to use a little bit of imagination to conjure up images of what times were like when pirates were sailing the seven seas! It's said that the notorious pirate Cheung Po Tsai used to hide his treasure stash right here on Cheung Chau, so it's worth going exploring. It gets dark inside, so remember to either bring a small handheld torch or use your phone flashlight. To get there, take a right after you get off the ferry, and walk for about 20 minutes toward the Sai Wan Tin Hau Temple. When you get to the temple, walk up the hill for about 10 minutes and you'll find the cave.
Sassy Mama tip: The cave is in the southern region of Cheung Chau, which isn't quite walking distance for little legs from the main ferry pier. To get there, you can take the sampan that runs between this pier and the Sai Wan pier, which is near Cheung Po Tsai cave.
---
Love Lock Garden
Lock up all your love, throw away the key and don't tell a soul. If that's your idea of a romantic statement, walk down from the ferry dock to Tung Wan Beach where the Love Lock wall will be hard to miss. BnB The Creative Workshop, which is right opposite the wall, sells locks at $45. Inscribe as you please, snap a picture, seal the deal and Instagram away!
---
Ancient Cheung Chau Rock Carvings
If you're in the vicinity of Tung Wan Beach, take the pedestrian walkway parallel to it and head south. Look for a glass enclosure in which you will see the famed Cheung Chau rock carvings that date back to 1000 BCE. These declared monuments comprise two groups of rocks with geometric and animal designs and are worth getting a peek at before you get to Kwun Yam Wan Beach.
Read more: Sassy Mama Field Trips: Hong Kong Heritage Museum
---
Check Out The Cheung Chau Temples
Since Cheung Chau is an island, it's hardly surprising that there are quite a few temples dedicated to Tin Hau, the Goddess of the Sea. If you want to stay near the commercial parts of Cheung Chau, you can check out the Pak She Tin Hau Temple. But if you're walking to the southern part of the island, take your pick from the Tai Shek Hau, Sai Wan or Nam Tam Wan Tin Hau temples.
---
Eat With Kids At Cheung Chau Restaurants
Worked up an appetite after all the hiking and the strolling? The seafood on the island isn't as famous as on neighbouring Lamma Island, but it is well worth the trip and doesn't break the bank either. Consider gorging on fish balls and prawn fritters, shucking some oysters, downing some clams, digging into crispy, fried squid, sipping wine, keeping it simple and slowing your roll. Kids are also sure to love the variety of iconic Cheung Chau street food, so feel free to ditch the restaurants and snack your way around town! After all, who can say no to some delicious mango mochi, giant frozen watermelon or refreshing fruit shakes?
Read more: Exploring Lamma Island With Kids: Where To Eat, Shop And Things To Do
---
Chinese Bayview Restaurant
If a Cantonese meal is generally on your outlying islands trip checklist, we suggest stopping by Chinese Bayview Restaurant at the Warwick Hotel. Grab an early dinner to take advantage of the restaurant's ocean views while you enjoy your meal.
Chinese Bayview Restaurant, Warwick Hotel, Cheung Chau, Hong Kong, 3176 6312, sales@warwickhotel.com.hk, warwickhotel.com.hk/dining
Read more: Hong Kong Dim Sum Restaurants: Our Favourite Yum Cha Spots To Take The Kids
---
The Outdoor Café
The Outdoor Café, which is perched on top of a hill overlooking the swells and surfs of the South China Sea, is a part of the Cheung Chau Windsurfing Centre. Dishes on the menu include vegetarian samosas, spring rolls, chorizos, tapas and Hong Kong-style fried chicken wings, amongst others. They have an extensive wine and iced drinks menu served with spectacular panoramas of beautiful coastline. Make a note that this one is closed on Wednesdays.
The Outdoor Café, 1 Hak Pai Road, Cheung Chau, Hong Kong, 2981 8316, ccwindc@gmail.com, www.ccwindc.com.hk/menu
---

Heima Heima
Stop, pause, take a moment to reflect on things that matter to you, with people who are truly important in this intimate, Scandinavian-inspired café. 'Heima' means home in 'Icelandic' and the simplicity of this café, its pastel décor and the tatami-style dining replete with handpicked wall art will totally floor you. Mamas, this one-woman run bistro is the stuff of Insta-dreams. We are totally in love with their apple pies, fig cakes and cold brew coffees. It's open only on Thursday, Friday and Saturday.
Heima heima, G/F, 25 Tsan Tuen Road, Cheung Chau, Hong Kong, 6078 3417, www.facebook.com/heimaheimahk
---
New Baccarat Seafood Restaurant
No visit to an outlying island in Hong Kong is complete without a seafood meal. If you're willing to walk to the northern part of Cheung Chau's commercial area, we suggest checking New Baccarat Seafood Restaurant. This is the ideal place on the island for an unfussy meal with a sea-facing view. It's been around for 20 years and regulars usually go for the salt and pepper squid, fresh steamed shrimp, and scallops with glass noodles.
New Baccarat Seafood Restaurant, G/F, 9A Pak She Praya Road, Cheung Chau, Hong Kong, 2981 0606
---
Cheung Chau Corner
Did you spot the Hong Kong MTR's trademark mosaic walls in Cheung Chau? No, you haven't come across a station on this island. This is actually yoghurt and Instagram hotspot Cheung Chau corner, which serves up seasonal treats that you can have at the restaurant or on the go, especially if you're planning an afternoon hike.
Cheung Chau Corner, 78 Sun Hing Street, Cheung Chau, Hong Kong, 8489 3140, cheungchaucorner@gmail.com, www.facebook.com/cheungchaucorner/
Read more: Sassy Mama's Favourite Icy Treats For This Summer
---
More Cheung Chau Restaurants
Read more: Our Favourite Family-Friendly Breakfast Spots In Hong Kong
---
Cheung Chau Street Food
Kam Wing Tai Fish Balls – This humble eatery is a celebrated pit stop on the island – it has been offering up Hong Kong's favourite snack on skewers for over 40 years!
Kwok Kam Kee Cake Shop – Get a taste of the white fluffy dough of the ping on bao (peace bun) that Chueng Chau is famous for. There's no English signage, so just keep your eye out for the signature white buns with the red lucky stamp on top (that and the long queues!). Buns come in sesame, red-bean and lotus-seed flavours. www.kwokkamkee.com
Cheung Chau Bing Sutt – Old school traditional Chinese desserts. www.facebook.com/cheungchaubingsutt
Gogi Ice House – Those in the know go  for its dumplings. Play it safe with their traditional pork and chive dumplings or try innovative flavours like salted egg yolk with pork, beef with shallots, curry potato and kimchi. www.instagram.com/gogi_icehouse
Read more: Family Restaurants: Eat With The Kids At These Hong Kong Restaurants
---
Cheung Chau Hotels And Camping
Can't bear to leave island life behind so quickly? No sweat. Cheung Chau has everything from B&B options to star-hotel digs to glamping sites.
Cheung Chau Camping: Glamping At Saiyuen Camping & Adventure Park
Glam up your camping experience at this outdoor adventure playground that's spread over 11 acres on the southwestern tip of Cheung Chau. Take your pick from five camping options – Sunset Vista, Native American teepees, African safari tents, star-gazing geodesic domes and Mongoliangers – all of which come with beds, air-conditioning and USB port chargers, among a range of other amenities. You could also sign up for their adventure programmes that include bubble soccer, tree-climbing and junior abseiling. There's something for everyone, whether it's playing around with model boats, rolling up your sleeves for pottery workshops or taking a shot at archery.
Saiyuen Camping & Adventure Park, DD CC Lot 12, Sai Wan, Cheung Chau, Hong Kong, 2981 1010, booking@saiyuen.com, www.saiyuen.com
Read more: Kid-Friendly Adventures: Our Favourite Camping Spots For The Whole Family
---
Warwick Hotel Cheung Chau
The three-star Warwick Hotel has private junk boats for hire, family rooms and suites with play areas for kids, and a wide range of dining options.
Warwick Hotel, East Bay, Cheung Chau, Hong Kong, 2981 0976, sales@warwickhotel.com.hk, www.warwickhotel.com.hk
---
Miami Resort Cheung Chau
A budget Cheung Chau hotel option, with great sea views and barbecue spaces to rent. Just check whether there are additional charges for any of their amenities before you book them.
Miami Resort, G/F, Block 12H, Bela Vista, Cheung Chau, Hong Kong, 2981 7299, booking@miamicheungchau.com.hk, www.miamicheungchau.com.hk
---
Lychee Sunset Hotel
Situated bang in the middle of Cheung Chau town, is perhaps more suited to families with older children.
Lychee Sunset Hotel, 94-95 Lai Chi Yuen, Cheung Chau, Hong Kong, 2986 9992, info@lycheehotel.hk, www.lycheehotel.hk
Read more: Staycations In Hong Kong: Hotels And Packages To Book With The Family
---
Bed And Breakfast
If you go the B&B route for your staycation in Cheung Chau and want to be in the thick of all the action on the island, we recommend The B&B Cheung Chau next to Tung Wan Beach. They also run The Creative Workshop where you and your kids can make your own memento of your time spent on the island. Want something that's more geared towards toddlers and young children? Try Kidz Paradise, which has indoor play equipment and monkey bars outdoors.
---
Editor's Note: This article was originally written by Nikita Mishra and published on May 2018, and has been updated most recently by Anjali Muthanna in 2022.
Featured image courtesy of Getty, image 1 courtesy of Paulo Evangelista via Unsplash, image 2 courtesy of Getty, image 3, 5, 8 and 12 courtesy of Nikita Mishra, image 4 courtesy of Getty, image 6 courtesy of BnB The Creative Workshop, image 7 courtesy of Ms Cheung Studio via Facebook, image 9 courtesy of Getty image 10 courtesy of Heima Heima via Facebook, image 11 courtesy of Cheung Chau Corner via Facebook, image 13 courtesy of Saiyuen Camping & Adventure Park via Facebook.