A day out at Repulse Bay is a whole package for Hong Kong families. From The Pulse to The Verandah, the Repulse Bay beach and restaurants like Limewood, Amalfitana and more, there's plenty to do (and eat)!
While we like setting out to islands like Cheung Chau or off-beaten areas in Lantau like Tai O for a family day trip, we can't deny the convenience of reaching Repulse Bay from Hong Kong Island and even Kowloon. Parents and their little ones will not fall short of things to do, from letting loose at indoor playgrounds to sipping cocktails at Limewood (while the kids get smoothies or juices!) and getting sandy at the beach. Plus, you can even hike to Stanley if you're feeling a little adventurous! Here's our ultimate guide to Repulse Bay.
Read More: Where To Take Your Kids In Stanley Hong Kong
Jump To:
Getting To Repulse Bay
Repulse Bay Restaurants
Things To Do In Repulse Bay
Where To Shop In Repulse Bay
Living In Repulse Bay
---
Getting To Repulse Bay
The easy accessibility of Repulse Bay sure draws its crowds (just 15 minutes away from Central!), here are the bus routes from Hong Kong Island.
From Hong Kong Island: 
Bus routes 6, 6A, 6X, 66 or 260 run between the Exchange Square Bus Terminus in Central, Admiralty and Stanley via Repulse Bay Beach.
Bus route 73 from Cyberport to Stanley via Repulse Bay.
Bus route 63 from North Point Ferry Pier.
Minibus routes 40, 40X or N40 run between Jardine's Bazaar in Causeway Bay and Stanley via Repulse Bay Beach.
A taxi ride from Central to Repulse Bay will roughly cost about $80-$100
From Kowloon:
Bus route 973 from Tsim Sha Tsui to Stanley Market via Repulse Bay
If you're driving to Repulse Bay, especially on public holidays or weekends, be prepared to wait a bit for parking. We'd suggest getting there earlier as we've had to do loops to find a spot.
---
Repulse Bay Restaurants: Where To Eat With Kids
Amalfitana – Italian restaurant located at The Pulse
Get a taste of the Amalfi Coast by the shores of Hong Kong! Amalfitana will transport you straight to Europe with its comprehensive choice of artisan pizzas (though it's a bit limited for vegetarians). Kids can savour the bambino pizzas that pack a punch (there's even a sweet Nutella pizza!) and pair well with a shake — Mamas and Papas go for pitchers to share (guilt-free!). 
Amalfitana, Shop 105, G/F, The Pulse, 28 Beach Road, Repulse Bay, Hong Kong, 2388 7787, www.amalfitana.hk
Read More: The Best Family-Friendly Pizza Places In Hong Kong
---
Classified – Laid-back Western eatery with vegetarian and pescatarian options
Laid back with wooden swings right by the entrance, Classified is another family-friendly restaurant in Repulse Bay. The kids' all-day dining menu includes favourites like mac and cheese, spaghetti bolognese and scrambled eggs on sourdough (all served with either milk or juice). We're all suckers for Classified's smoothies and pressed juices and they're only extra refreshing under the sun at Repulse.
Classified, Shop 107, 1/F, The Pulse, 28 Beach Road, Repulse Bay, Hong Kong, 2351 3454, www.classifiedfood.com
---
Fratelli – Artisan pasta bar at The Pulse
If you're looking for a romantic restaurant at Repulse Bay, Fratelli serves homey pasta, oysters, steak and more with fun cocktails and wines to pair. We particularly like dining in the evening and catching the moon glimmer on the surface of the sea (the resto closes at 9pm so don't get there too late!).
Fratelli, Shop 112B, 28 Beach Road, Repulse Bay, Hong Kong, 2887 0082, www.fratelli.hk
Read More: Romantic Restaurants In Hong Kong: Where To Go For Date Night

---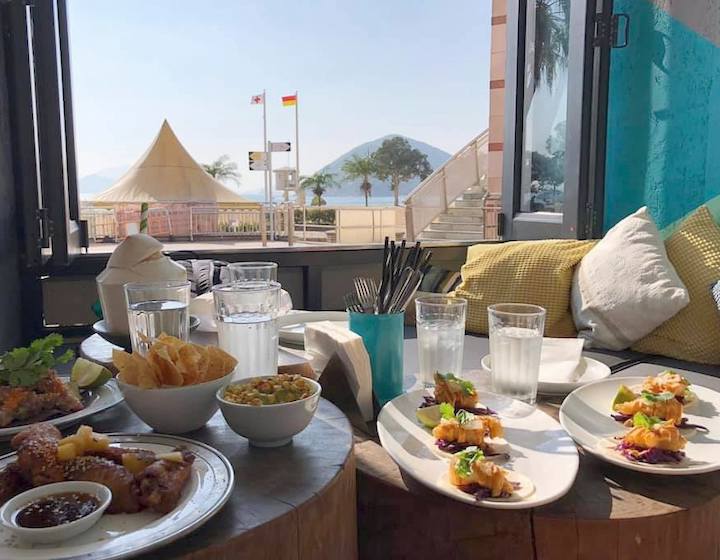 Limewood – A Repulse Bay classic!
Did you really go to Repulse Bay if you didn't go to Limewood? The menu here offers a large variety of fresh seafood and BBQ delights and serves up some serious coastal chic vibes so you almost feel like you're on vacation. The team mixes Hawaiian, South American, Caribbean and South East Asian flavours to create beautiful, healthy and delicious food (if that doesn't sound appetising, we don't know what will). We absolutely love that they have kids-friendly mocktails so we have can cheers together!
Limewood, Show 103/104, The Pulse, 28 Beach Road, Repulse Bay, Hong Kong, 2866 8668, www.limewood.hk
---
Meen & Rice – Cantonese eatery with modern takes on Hong Kong classics
Meen (noodles) and rice are undeniable staples in Hong Kong cuisine and you'll get just that and more at this casual restaurant. From tossed noodles to fried mud crab and roast goose, you're in for a humble feast! Plus, Meen & Rice is dog-friendly much like other restaurants at Repulse Bay!
Meen & Rice, Shop 113, Level 1, The Pulse, 28 Beach Road, Repulse Bay, Hong Kong, 2566 8886, www.meenandrice.com
Read More: Dog-Friendly Restaurants In Hong Kong: Where To Eat With Your Pets
---
Sip Song – Refreshing Thai cuisine facing Repulse Bay Beach
Thai food, need we say more? A cracking good time by the sun, sand and sea awaits at Sip Song, no matter the time of the day. The menu here features a whole array of flavourful pad thai, satays, tom yum goong and more. While this restaurant may not be the most child-friendly, older kids will definitely enjoy the dishes and dig right into dessert (mango sticky rice!).
Sip Song, The Pulse, 28 Beach Road, Repulse Bay, Hong Kong, 2328 8385, www.sip-song.com
---
Spices – East-Asian fusion restaurant located inside The Repulse Bay Arcade
Set to resemble a lively and colourful Eastern spice market, Spices is an Instagrammable restaurant that boasts plenty of outdoor seating. Whether it's a Thai papaya salad you're after, a seafood laksa, Korean-style fried chicken or lamb rogan josh, it's definitely going to get hot and spicy here but fear not, the refreshing cocktails have got your back (or you know, water!).
Spices, The Repulse Bay Arcade, 109 Repulse Bay Road, Repulse Bay, Hong Kong, 2292 2821, www.therepulsebay.com/spices
Read More: Ethnic Grocery Stores: Indian, Thai, Japanese And Korean Supermarkets
---
The Verandah – Perfect for afternoon tea (with a stunning setting)
Sophisticated and refined, The Verandah retains the relaxed charm of the original Repulse Bay Hotel. Offering a gourmet set lunch, English-style afternoon tea and a lavish weekend brunch, have your pick of when you want to drop by, it'll never disappoint. The Verandah also hosts birthday parties, 100-days celebrations and hosts private dining – how handy is that (make sure you bookmark this bit for future plans!).
The Verandah, The Repulse Bay Arcade, 109 Repulse Bay Road, Hong Kong, 2292 2822, www.therepulsebay.com/verandah
Read More: Hong Kong Brunch: Where To Take The Kids For A Free-Flow Buffet
---
Things To Do At Repulse Bay: The Beach, Indoor Playground, The Pulse And More
Hikes To Explore Around Repulse Bay
The Twins
Notoriously known for its never-ending steps, do not try to tackle this hike with young kids. You will first conquer the Violet Hills from Wong Nai Chung Gap which ends at Repulse Bay Gap from where you can make your way to the main area of Repulse. The hike will take roughly two and a half hours to complete but you'll be rewarded with good food and the sea! Be warned, this is not a shaded hike so slather enough sunscreen. 
Tsz Lo Lan Shan Path
This is a much easier alternative to the Twin Peaks and Violet Hill hike but still offers stunning, bird's eye views of Repulse Bay from above. This path ends at Tai Tam Country Park South but you can make a turn when intersecting with Wilson Trail to reach Repulse. Do note that this path is pretty narrow but it's well-shaded, well-paved and flat for the most part so it's suitable for older children and families.
Walk to Deep Water Bay
And well, if you're looking for a good walk that won't cut you through bushes, barks and whatnot, simply walk along the Seaview Promenade to reach Deep Water Bay. It offers shade here and there and if your kids have bikes, bring them along, this is the perfect place to cycle along the sea!
Read More: Hiking Hong Kong With Kids: The Best Hikes For Families
---
Maggie & Rose Indoor Playground
You'll need to be a member to get into Maggie & Rose (one membership for one family), or you can book yourself a free tour before deciding on the membership. Members get access to various creative classes from baking, drama, art and more. The indoor playground is pure joy for kids to let loose with epic ball ponds, rope bridges, tunnels and more.
Maggie & Rose, 301 The Pulse, 28 Beach Road, Repulse Bay, Hong Kong, 2638 7191, hk.maggieandrose.com
Read More: The Best Indoor Playgrounds And Playrooms In Hong Kong
---
Repulse Bay Beach
Alas, the main attraction of the area! The beach is relatively clean and the waves are gentle so new swimmers can comfortably go for a dip. Contrary to most popular beaches in Hong Kong, Repulse Bay does not have vendors that sell chairs, umbrellas or snacks so be sure to pack your own. Fret not, there are plenty of trees to give you shade — just get there early enough before all the spots are taken up. Other facilities on the beach include changing rooms, lifeguard services, kids' playgrounds and showers.
Read More: Best Beaches In Hong Kong To Visit With Your Family
---
Repulse Bay Tin Hau Temple
Yes, there's a temple in Repulse Bay that most aren't aware of! This Tin Hau temple is one of the oldest in Hong Kong and is dedicated to the Goddess of the Sea and the Goddess of Mercy. You can also find statues of lions and different animals of the Zodiac, which are situated right by the Bridge of Longevity. Legend has it that you extend your lifespan by three days each time you cross it! And then towards the very end, you can find a short path leading to the sea.
---
Sense of Touch Spa
The whole purpose of this day trip is to unwind, yes? Take it up a notch and book a slot at Sense of Touch. The spa treatments include facials, hair removal, mani-pedis and more. There's also a kids spa offering aromatherapy massage and facials with a gentle cleanse, cooling cucumber eye masque and softening moisturiser, so you and your little one can put your feet up!
Sense of Touch Spa, G211, 1/F, The Repulse Bay Arcade, 109 Repulse Bay Road, Hong Kong, 2592 9668, www.senseoftouch.com.hk
Read More: Facial Treatments: Best Spas For Facials In Hong Kong
---
The Pulse
This mall not only packs eateries and cafes but also offers much-needed shade on a hot day. If you're looking for some alternative kids' activities, definitely book a session at LOST, an escape room with different difficulties and themes. And you're bound to make a pit stop at Brick Shop to restock on toys!
The Pulse, 28 Beach Road, Repulse Bay, Hong Kong, 2815 8888, www.thepulse.com.hk
Read More: Kids' Activities: Things To Do With Kids In Hong Kong
---
Where To Shop In Repulse Bay
The majority of the shops at Repulse Bay are located at The Pulse, where you can find everything from chic furniture stores to transform your living space, pet supply, adorable kids' clothing, party supply stores, toy shops and more. Want to grab a book to read whilst sunbathing? Stop by Bookazine at The Repulse Bay Arcade, and as a bonus, this mall also houses doctors like dentists, physiotherapists and paediatricians. We meant it when we said Repulse Bay is a whole package that's easily reachable!
Read More: Where To Buy Kids' Clothes In Hong Kong
---
Living In Repulse Bay
By now, we wouldn't be surprised if you want to shift your luggage and move to Repulse Bay (count us in!). After all, the place is buzzing with kids-friendly restaurants, family-friendly activities, luxurious apartments and more.
Apartments At Repulse Bay: South Bay Villas, Repulse Bay Towers, The Lily
South Bay Villas is the place to live at Repulse if you're looking for spacious, short-storey apartment buildings with a generous balcony space for each flat (no clubhouses or private pools here) and towards the end of the private estate lies Hong Kong International School (Upper Primary). If you're looking for more amenities, consider The Lily (which has a stunning indoor swimming pool for starters!) or Repulse Bay Towers instead. For temporary stays, you can book into serviced apartments like The Repulse Bay.
Recreation At Repulse Bay
Aside from private pools and gyms at clubhouses, there's also PURE Yoga and PURE Fitness to get active, and Sense of Touch for a spa treat.
Things To Do Around Repulse Bay
Given Repulse Bay's happening vicinity, getting to Stanley is a stone's throw away; for those with cars, this will only take you about 10 minutes. There are also lesser-known beaches like Middle Bay Beach and South Bay Beach for a quieter day under the sun. What's more, you're a 15-minute ride away from Ocean Park!
Read More: Visiting Ocean Park Hong Kong With Kids: Ocean Park Rides, Animals, Tips And More
---
Main image courtesy of Getty, image 1 courtesy of April Yau, image 2 courtesy of Amalfitana Repulse Bay via Facebook, image 3 courtesy of Classified via Facebook, image 4 courtesy of Limewood via Facebook, image 5 courtesy of Sip Song via Facebook, image 6 courtesy of The Repulse Bay via Facebook, image 7 courtesy of Jess Mizzi, image 8 courtesy of @maggieandrosehk via Instagram, image 9 courtesy of Kiran Advani, image 10 courtesy of Kiran Advani, image 11 courtesy of Fashila Kanakka.