Passing through HKIA looks a little different these days. Perhaps the last time you travelled was during the height of the pandemic, or maybe it was even pre-kids! Whether you're departing or arriving, let us point you in the direction of all the family facilities at Hong Kong International Airport.
Travelling with kids is stressful at the best of times. You might be so worried about the long flight, the jet lag or what to pack that you haven't actually thought about navigating Hong Kong International Airport. Thankfully, after a few years of travelling with a baby, then a toddler and now with two kids in tow, it's safe to say HKIA is one of the easiest to get around with kids.
Jump to:
Transport to Hong Kong International Airport
Hong Kong Airport Departures: Checking in
Security And Immigration At HKIA
Family Facilities At Hong Kong Airport
Transiting Through Hong Kong
Baggage Claim And Airport Arrival
Read More: Travel Tips — How To Help Babies And Toddlers Overcome Jetlag
---
Transport To Hong Kong International Airport
Pre-kids it was all so easy! A checked suitcase and a carry-on and off we went. Now, you have children and all the stuff they need to travel with. You've got their things crammed into your suitcase (or maybe extra luggage for them), plus everything you need for the flight, and that's before we even get to the stroller and perhaps a car seat and travel cot.
With all the extra bits and pieces, you may find it easier to get a taxi or Uber all the way to the terminal.
Taking the Airport Express is still an excellent option when you're with kids. At the time of publication, the in-town check-in is closed but set to reopen early in July.
Sassy Mama Tip: There are baby care and breastfeeding rooms in the paid area (after you have scanned your ticket) of Hong Kong, Kowloon and Tsing Yi Stations. They are hidden away, so you just need to ask the staff and they will take you.
Read More: Car Seat Laws When Travelling — What You Need To Know
---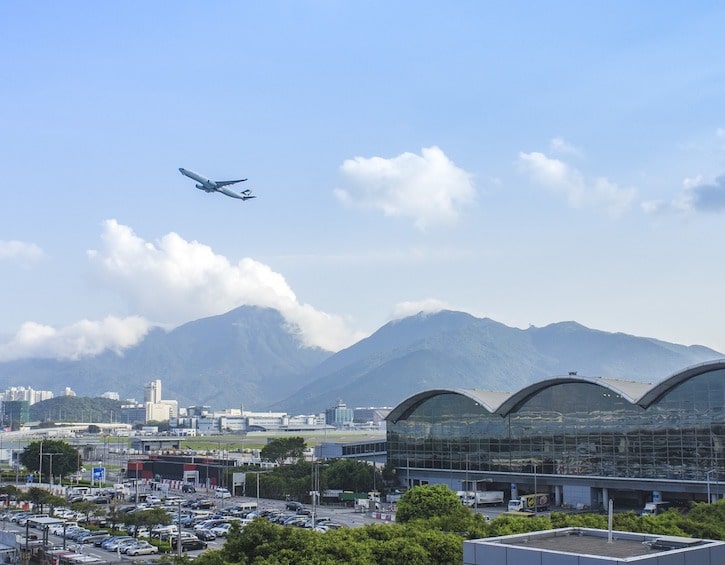 Hong Kong Airport Departures: Checking In
It is definitely worth taking advantage of the in-town check-in. The lines are often very manageable and you can be rid of your bulky items quickly so that you are just travelling on the train and through the airport with your necessities for the flight. The service is available for most major airlines and opens 24 hours before departure (and closes 90 minutes before).
If you are arriving by car or bus, you'll need to make your way to the departure area. Check the HKIA website to see which aisle your airline is checking in from. Many airlines also offer self-check-in kiosks.
Most airlines will allow you to gate-check your stroller so that you can have it with you until you reach your gate.
Read More: Phuket Hotels And Resorts With Amazing Kids Clubs
---
Security And Immigration At Hong Kong International Airport
The security staff make travelling with family, especially babies and young kids a breeze. Before you go through, look for the priority line (it's also where the flight crew enter, so follow the uniforms). You still need to empty your pockets and take out your laptops, but there's no problem having extra liquids for baby including expressed breast milk, baby food and water (and you don't need to take them out of your bag). Infants can even stay in the stroller (just be sure to empty the basket and any pockets) and the staff will do a quick visual check. It certainly makes for a nice change from the stern faces and strict rules at other airports the Sassy Mama team have encountered.
At immigration, you'll need to go through the counter with staff when travelling with children under 12. Is anyone else counting down the days until they can use the automatic gates and HKID card again?
Read More: 15 Bali Resorts And Hotels With Amazing Kids' Clubs
---
Hong Kong International Airport Children's Play Areas
The newly opened kids' play area certainly comes as a welcome surprise for families travelling through HKIA. It's easy to find near Gate 11. It offers exciting adventures for kids aged 6 to 12 years (but our fearless toddler and 5-year-old gave it a good go!). There are also short, Hong Kong-themed virtual reality games located at various gates that are fun for teens and adults to kill some time before boarding.
Read More: The Best Indoor Playrooms And Playgrounds In Hong Kong
---
Where To Eat With Kids At Hong Kong Airport
You can check out the full list of dining options at Hong Kong Airport online before you travel. There's everything from fast food like McDonald's to grab-and-go options from Eric Kayser or Gordon Ramsey Plane Food To Go. For a sit-down meal that ticks all the boxes, we're big fans of Beef & Liberty, located on Level 7 just after you pass through immigration.
Read More: Family Restaurants — Eat With The Kids At These Hong Kong Restaurants
---
HKIA Nursing And Changing Rooms
Juggling breastfeeding or pumping around flight schedules is the source of much anxiety for many Mamas. Thankfully there are 33 well-equipped nursing and changing rooms at various locations throughout Hong Kong International Airport (there are also changing tables in most female toilets). In these rooms, you'll find at least one (but usually two) changing areas, a chair in a private room for feeding or pumping, as well as a bottle warmer.
Read More: How To Travel With A Newborn Baby
---
Hong Kong Airport Medical Facilities
As much as we hope our families don't need it, there's something quite comforting about knowing that Raffles Medical Group provides 24-hour medical services at Hong Kong International Airport. There is a clinic located on Level 6 of the non-restricted area (before check-in, security and immigration) which can provide general practitioners, x-rays, vaccinations and emergency care. There is also a medical post located near Gate 34 in the restricted area (after security and immigration) which is covered by a nurse from 9am to 6pm daily.
Read More: Hong Kong Public And Private Hospitals — Where To Go In An Emergency
---
Airport Lounges At Hong Kong International Airport
If you've got a bit of time, you might like to think about buying a lounge pass (unless you're lucky enough to have it included in your ticket!). There are Plaza Premium lounges near Gates 1, 35 and 60, or for a little bit of luxury before you fly, a Plaza Premium First Lounge (the premium Champagne, wines, cocktails and whiskey, as well as a la carte dining, are a lovely pre-flight indulgence) near Gate 1. There is also a Centurian Lounge near Gate 60 for selected American Express cardholders.
Sassy Mama Tip: If you are relying on your airline lounge, do check whether it has reopened since the pandemic.
Read More: The Best Ski Resorts To Visit With Family This Winter
---
Other Handy Hong Kong Airport Tips
Drinking water is readily available at water fountains so bring an empty bottle so that once you're through security you can fill it up. If you've decided to leave the stroller at home (or checked it in with your luggage), there are infant strollers you can use free of charge. They may not be the most comfortable mode of transport, but they do provide respite for little legs and some luggage storage for your bags.
Read More: The Best Baby Strollers In Hong Kong And Where To Buy Them
---
Transiting Through Hong Kong Airport
If Hong Kong isn't your final destination after you land, it's worth knowing that there are complimentary showers near Gate 12 and 43. Just make sure you visit before you pass through the transit area (to get to your connecting flight) or immigration. There are complimentary hair dryers, shampoo and body gel, and towels available from a vending machine.
This is also a handy one to keep up your sleeve if you have just landed and can't make it home before changing clothes (all parents will know the pain of kids destroying even your spare set of clothes!).
Read More: 8 Family-Friendly Maldives Resorts And Hotels
---
Baggage Claim And Arrival Information
Once you arrive, it's all pretty straightforward. Proceed through immigration and to baggage claim before exiting into the arrivals hall. Then you either proceed straight ahead to get on the Airport Express, or follow the signs to the taxi rank. If you're taking an Uber, there are two pick-up locations, one near the Regal Hotel and the other in the car park (on your right as you come out of arrivals).
Happy travels!
Read More: Where To Find Kids' Luggage And Travel Accessories