Looking for physiotherapy in Hong Kong? Here are the best physiotherapists for recovering from injuries, chronic pain, post-operative pain and more.
Wondering if you need to see a physiotherapist in Hong Kong? A physiotherapist is trained to assess and treat physical disabilities through means of exercises, manual therapy, and thermal or electrical energy. Whether you suffer from sports injuries, posture issues or recovering from post-operative pain, we've rounded up the best places for physiotherapy in Hong Kong for all the family.
You can choose to pursue treatment within the public sector in Hong Kong for a nominal fee, however, be expected to wait a year or two before being seen. You can also book consultations at various government-regulated locations. Below are some of the best clinics for physiotherapy in Hong Kong in the private sector.
Read More: Your Guide To Chiropractors And Osteopaths In Hong Kong
---

The Round Clinic – Women's health physiotherapy specialist in Hong Kong
Head to The Round Clinic for a wide range of services including Women's Health Physiotherapy, Sports Physiotherapy, Osteopathy, Pediatric Osteopathy, Sports Massage, Acupuncture, TCM and Kinesiology. Its new Women's Health Physiotherapist Eléonore Boonen is highly qualified in helping women at all stages of life, whether you're in need of Pre and Postnatal Physiotherapy, Pelvic Floor or Abdominal Rehabilitation, restoring Perineal Strength, treating Diastasis or Incontinence.

Use code SM10TRC to enjoy 10% off your first session. Valid until Sunday, 30 June 2024.
The Round Clinic, 6/F, 602-03, 2 Heung Yip Road, Wong Chuk Hang, Hong Kong, 2648 2612, Facebook: The Round Clinic, Instagram: @perifitphysio, www.theroundclinic.com/womens-health-physiotherapy
---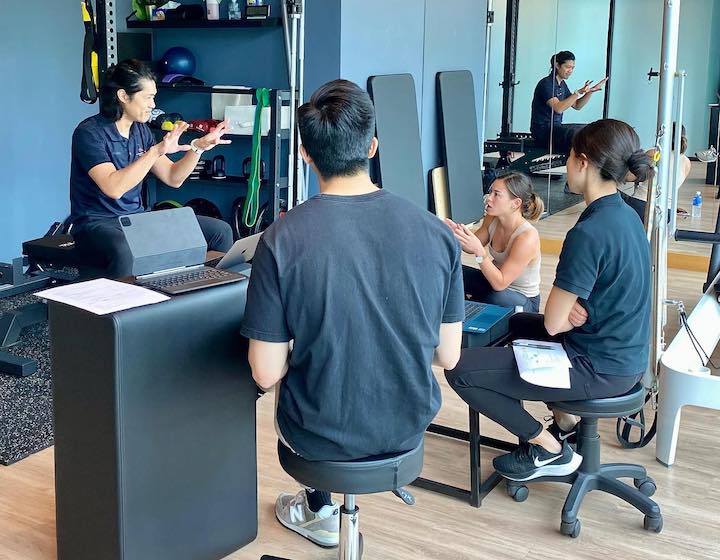 PhysioCentral – Paediatric physiotherapy and women's health physiotherapy in Hong Kong
PhysioCentral provides an extensive range of services, with everything from Pilates to paediatric physiotherapy and women's health physiotherapy on offer. With three practices located across Hong Kong, it has ample space to do assessments and rehabilitation programs.
PhysioCentral, various locations across Hong Kong, www.physio-central.com
---
PhysioMotion – Physiotherapy in Hong Kong with tailor-made treatment programs
PhysioMotion specialises in physiotherapy and stretches therapy, Pilates, sports performance analysis, dry needling and acupuncture, and nutritional services. It has an internationally trained team that uses tailor-made treatment programs that are used to meet your specific needs and goals.
PhysioMotion (Central), 4/F, Kailey Tower, 16 Stanley Street, Central, Hong Kong.
PhysioMotion (Yun Wellness), Level 8, Island Shangri-La, Supreme Court Road, Central, Hong Kong, WhatsApp: 6996 0495, www.physiomotion.com.hk
Read More: Dermatologists In Hong Kong – Skin Care Clinics For The Whole Family
---
Prohealth Sport and Spinal – Hong Kong's trusted physiotherapy and rehabilitation clinic offering post-natal therapy
Prohealth Sport and Spinal offers physiotherapy in Hong Kong to treat various ailments, from post-natal therapy to even breast cancer recovery aid. Sport-specific performance and assessment resources are available as well as Pilates, acupuncture and dry needling, and manual and massage therapy.
Prohealth Sport And Spinal (Wellington Street Branch), Room 1201, 15/F & Room 1901 Winway Building, 50 Wellington Street, Central, Hong Kong, WhatsApp: 5542 0407
Prohealth Sport And Spinal (Jardine House Branch), 715 Jardine House, 1 Connaught Place, Central, WhatsApp: 5422 3760, www.sportsandspinal.hk
---
Quality HealthCare Physiotherapy Center – Physiotherapy at over 10 locations around Hong Kong
The physiotherapists at Quality Healthcare specialise in manipulative therapy, women's health, acupuncture, occupational health and safety and shockwave therapy. It has over 10 physiotherapy centres in Hong Kong.
Quality HealthCare Physiotherapy Center, various locations across Hong Kong, www.qhms.com/physiotherapy
Read More: Alternative Therapy In Hong Kong – Acupuncture, Hypnotherapy And More
---
Momentum – Physiotherapists in Hong Kong with a holistic approach
Not only does Momentum provide physiotherapy services in Hong Kong, it also goes one step further to enhance the physical, mental, nutritional and social elements of your life. It offers pain management, foundation training and performance optimisation sessions to suit your needs.
Momentum, 6F Winsome House, 73 Wyndham Street, Central, Hong Kong, 9339 3202, www.lifeinmomentum.com
---
New York Medical Group – Hong Kong physiotherapists offering same-day consultation
New York Spine and Physiotherapy Center has been providing one-stop pain management services since 2006. It has a multidisciplinary team of international pain specialists and offers same-day medical consultation and appointment.
New York Medical Group, various locations across Hong Kong, www.nymg.com.hk
Read More:Where To Book Kids Yoga Classes In Hong Kong
---
More Clinics That Offer Physiotherapy In Hong Kong